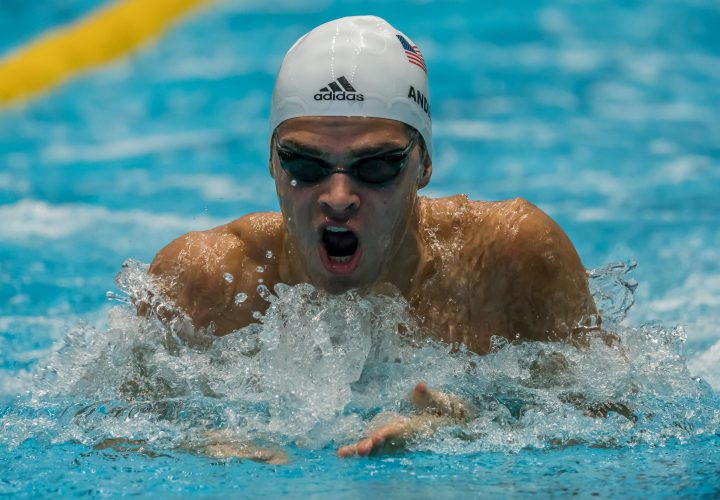 Photo Courtesy: Peter H. Bick
Technique Misconceptions: Breaststroke and Butterfly Breathing Revisited
Many people believe that it is worth copying the technique of the fastest swimmers. In reality, even the fastest swimmers have technique limitations, but they offset them with strength and conditioning. The purpose of this series of articles is to address scientifically the technique misconceptions that have become "conventional wisdom," and to present options that are more effective.
A previous "Misconceptions" article on breaststroke breathing (SW June 2015) explained the common technique misconception of lifting the "head, neck, and upper chest out of the water." One coach described this ineffective technique by saying that the angle at the neck was fixed so that it was like the head was "in a cast with your neck and your shoulder" (Urbanchek, 1995).
To achieve a more effective breathing position, a swimmer must extend at the neck while keeping the chin at the surface of the water. The result is less vertical motion and a more level body position that generates less resistance and more propulsion.
This month's article presents a continuation of that article with examples of elite swimmers.
In most cases, conventional wisdom develops from observing and modeling the technique of top swimmers. A fast performance time is usually sufficient justification for adopting a given element.
A technique element based "only" on science and research, however, requires considerably more justification! This article covers a scientifically-based technique element used by a fast swimmer as part of that justification.
Dr. Rod Havriluk is a sports scientist and consultant who specializes in swimming technique instruction and analysis. His unique strategies provide rapid improvement while avoiding injury. Learn more at the STR website, or contact Rod through info@swimmingtechnology.com.
To read more about the technique misconceptions surrounding breaststroke and butterfly breathing, check out the December 2017 issue of Swimming World Magazine, available now!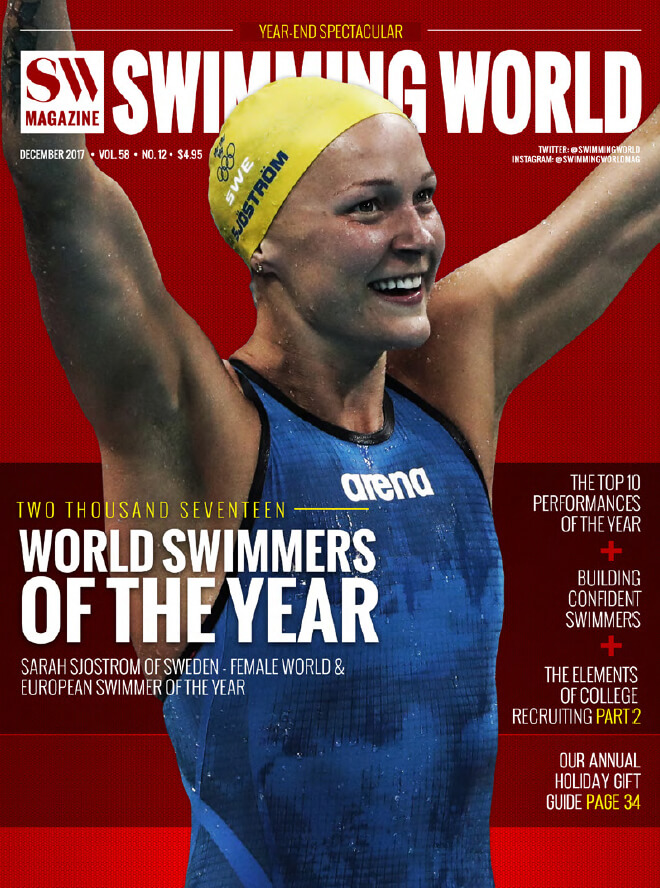 [PHOTO BY ROB SCHUMACHER, USA TODAY SPORTS ]
Give Swimming World Magazine as a Gift Today To Your Special Swimmer
Not a subscriber?  Subscribe With This Special 3-Year Offer! Swimming World Magazine gives you access to all of the back issues of Swimming World Magazine dating back to 1960!  Visit the Swimming World Magazine Vault.
FEATURES
2017 SWIMMERS OF THE YEAR
by Annie Grevers and David Rieder
World: Sarah Sjostrom (Female European) & Caeleb Dressel (Male American)
Female American: Katie Ledecky
Male European: Adam Peaty
Pacific Rim: Emily Seebohm & Sun Yang
African: Farida Osman & Chad le Clos
5 BEST WOMEN'S & 5 BEST MEN'S PERFORMANCES OF 2017
by David Rieder
Nothing can quite top the magic of the Olympic Games, but as far as encores go, this year's FINA World Championships emphatically delivered, with nine of this year's top 10 performances coming in Budapest.
COACHING
010 LESSONS WITH THE LEGENDS: MARY FREEMAN
by Michael J. Stott
COLLEGE RECRUITING: THE CHANGING LANDSCAPE
by Michael J. Stott
In the second of a multi-part series, Swimming World explores social media and its effect on recruiting.
SWIMMING TECHNIQUE MISCONCEPTIONS: BREASTSTROKE AND BUTTERFLY BREATHING REVISITED
by Rod Havriluk
Following the conventional wisdom for both breaststroke and butterfly breathing results in excess vertical motion that has a negative impact on performance. An effective breathing motion requires a swimmer to extend completely at the neck so that the body remains more level, thereby minimizing resistance and maximizing propulsion.
SPECIAL SETS: CHRISTMAS HOLIDAY SETS
by Michael J. Stott
041 Q&A WITH COACH PETER CASARES
by Michael J. Stott
042 HOW THEY TRAIN SARA DAHER
by Michael J. Stott
TRAINING
030 DRYSIDE TRAINING:HOLIDAY TRAINING—DAMAGE CONTROL
by J.R. Rosania
JUNIOR SWIMMER
GOLDMINDS: BUILDING CONFIDENT SWIMMERS
by Wayne Goldsmith
Here's a "babies-to-the-best" way of developing confidence in swimmers.
045 UP & COMERS
by Taylor Brien
COLUMNS & SPECIAL SECTIONS
008 A VOICE FOR THE SPORT
033 DADS ON DECK
034 HOLIDAY GIFT GUIDE
046 GUTTER TALK
048 PARTING SHOT