Photo Courtesy: Ohio State Athletics
Lessons with the Legends: Mike Peppe
Swimming World continues a series in which top coaches share some of the secrets of their success. The March issue of Swimming World Magazine highlights the many accomplishments of Coach Mike Peppe of Ohio State.
Last March when Texas coach Eddie Reese won his 12th national men's crown, he became the most titled leader in NCAA D-I college aquatic history, surpassing Ohio State's Peppe, who won 11 championships between 1943 and 1962.
Peppe was a renowned swimming and diving coach. He was the head man at Ohio State (1931-62) for 31 years. He served as U.S. Olympic diving coach in 1948 and 1952, and was also the first head coach (swimming and diving) of the U.S. Pan Am Games team that went to Buenos Aires in 1951.
To learn more about Coach Peppe check out the March issue, available now!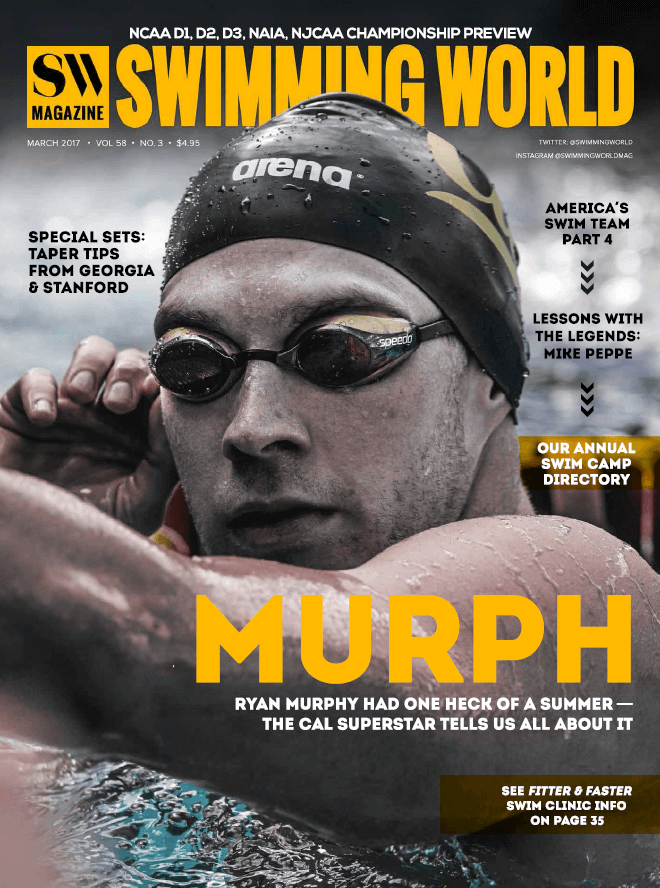 [PHOTO BY MATT RUBEL OF RUBEL PHOTOGRAPHY]
Not a subscriber?  Subscribe With This Special 3-Year Offer! Swimming World Magazine gives you unlimited access to all online content on SwimmingWorldMagazine.com and access to all of the back issues of Swimming World Magazine dating back to 1960!  Visit the Swimming World Magazine Vault.  
Take a video tour of the current issue of Swimming World Magazine…
FEATURES
014 AMERICAN SWIMMING TEAM (Part IV): PRESENT—THE CORE AND BASE OF THE TEAM
by Chuck Warner
In this fourth of a six-part series on the American Swimming Team, Swimming World addresses the questions: Where do American world-ranked swimmers come from? Which LSCs are most successful at developing them? And why?
016 TEXAS—NOBODY BETTER
by Dan D'Addona
After dominating the last two NCAA Division I Men's Swimming and Diving Championships, the University of Texas is poised for a three-peat…and they have the talent to win big again!
020 STANFORD—THE PROHIBITIVE FAVORITE
by Dan D'Addona
Not even a relay disqualification—which hurt Stanford's chances of winning last year's NCAA Division I Women's Swimming and Diving Championships—can prevent the Cardinal from taking the title at this year's meet.
024 FAMILIAR FAVORITES
by James Sica, Diana Pimer and David Rieder
At the start of every season, there's always hope for a new team to make its way to the top. But in NCAA Division II, Division III, NAIA and NJCAA swimming circles, the top teams just have a way of continuing their winning traditions.
028 OLYMPIC-SIZED DREAMS COME TRUE
by Annie Grevers
Twenty-one-year-old Rio rookie Ryan Murphy navigated the Olympic waters last summer like a seasoned sailor and produced golden results, winning three gold medals and setting a world record in the 100 meter backstroke.
COACHING
009 SPECIAL SETS: TAPER TIPS
by Michael J. Stott
University of Georgia associate head coach Harvey Humphries along with Stanford women's head coach Greg Meehan and associate head coach Tracy Slusser talk taper
010 LESSONS WITH THE LEGENDS: MIKE PEPPE
by Michael J. Stott
012 SWIMMING TECHNIQUE MISCONCEPTIONS: VIDEO
by Rod Havriluk
Two common misconceptions are that video is an appropriate technology to evaluate the technique of competitive swimmers…and that the video of a champion provides an appropriate model for effective technique. In reality, video does not provide the quantitative data necessary to evaluate technique accurately and unequivocally.
032 RESISTANCE TRAINING: DRAGSOX, PARACHUTES AND OTHER TOOLS
by Michael J. Stott
This is the third and final article of a multipart series on resistance training and how coaches are using it to make their athletes stronger and faster in the water.
043 Q&A WITH COACH BILL WADLEY
by Michael J. Stott
044 HOW THEY TRAIN MATT McHUGH
by Michael J. Stott
TRAINING
027 DRYSIDE TRAINING: THE IM DRYLAND WORKOUT
by J.R. Rosania
JUNIOR SWIMMER
047 UP & COMERS
by Taylor Brien
COLUMNS & SPECIAL SECTIONS
008 A VOICE FOR THE SPORT
034 2017 SWIM CAMP DIRECTORY
048 GUTTER TALK
050 PARTING SHOT