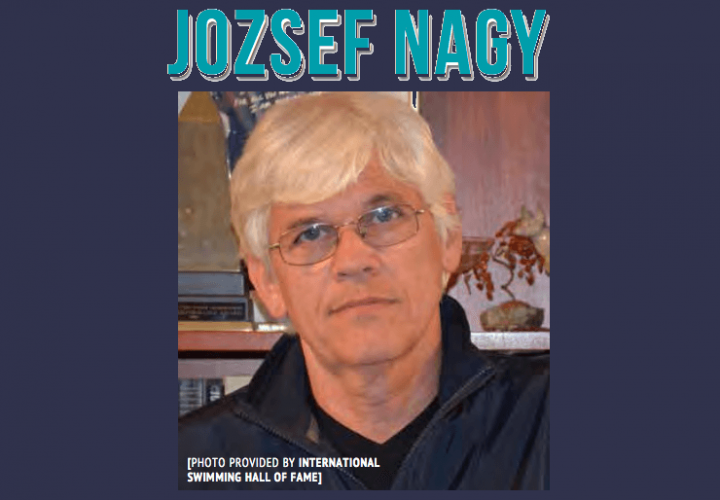 Photo Courtesy: International Swimming Hall of Fame
Lessons with the Legends: Joszef Nagy
Swimming World continues a series in which top coaches share some of the secrets of their success. The April issue of Swimming World Magazine highlights the many accomplishments of Coach Jozsef Nagy.
Nagy has been a stalwart on the coaching scene for more than four decades, coaching athletes to international and Olympic success in the United States, Canada, Hungary, and Spain.
Nagy had world-class athletes, among them Spain's Sergio Lopez, USA's Roque Santos, Hungary's Gabriella Cespo and Norbert Rozsa, and Canada's Annamay Pierse. Nagy also developed numerous dryland exercises and swim sets, now widely used, sharing them globally via articles, speeches and lectures.
To read more about Nagy check out the April issue of Swimming World Magazine, available now!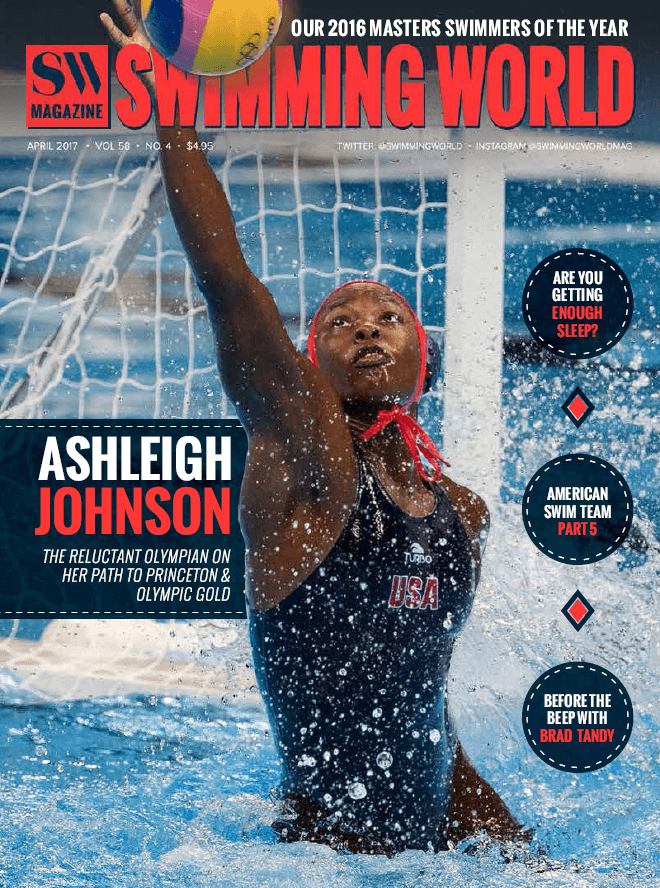 [PHOTO PROVIDED BY Jeff Cable/USA WATER POLO]
Not a subscriber?  Subscribe With This Special 3-Year Offer! Swimming World Magazine gives you unlimited access to all online content on SwimmingWorldMagazine.com and access to all of the back issues of Swimming World Magazine dating back to 1960!  Visit the Swimming World Magazine Vault.  
Take a video tour of the current issue of Swimming World Magazine…
FEATURES
014 AMERICAN SWIMMING TEAM (Part V): FUTURE—THE BASE AND CORE OF THE TEAM
by Chuck Warner
In this fifth of a six-part series, Swimming World takes a look into the possible future of the American Swimming Team, beginning with learn-to-swim programs and progressing through more challenging levels of training that stress the importance of excellent technique, cardiovascular fitness, muscular endurance and a strong self-image.
016 2016 TOP 12 WORLD MASTERS SWIMMERS OF THE YEAR
by Taylor Brien, David Rieder and Annie Grevers
024 MENTAL PREP: BEFORE THE BEEP WITH BRADLEY TANDY
by Annie Grevers
None of Bradley Tandy's success is accidental. Every step of his day leading up to a big race revolves around visions of future moments of triumph. Here's a glimpse into the mind of South African Olympian Bradley Tandy on race day.
026 ASHLEIGH JOHNSON: THE RELUCTANT OLYMPIAN
by Annie Grevers
Most Olympians dream about competing in the Olympics by the time they're 10 years old. But Ashleigh Johnson—Team USA's water polo player who was named "Goalkeeper of the Games" at last summer's Olympics— didn't start thinking about it until the year before Rio.
030 NUTRITION: AROUND THE TABLE WITH MICHAEL CHADWICK
by Annie Grevers and Tasija Korosas
After being part of an American record-setting 4×100 free relay in his international debut at the 2015 Duel in the Pool, then winning four medals at last December's World Short Course Championships, University of Missouri senior Michael Chadwick is hungry for more collegiate and global swimming success. Let's see what this sprinting stud consumes to keep his body moving at lightning speeds.
COACHING
009 SPECIAL SETS: SHORT COURSE TO LONG COURSE TRAINING
by Michael J. Stott
Moving from short course to long course training presents challenges for swimmers and coaches alike. With long course on the horizon, it now becomes incumbent on coaches to ease swimmers effectively and seamlessly from one season to the next.
010 LESSONS WITH THE LEGENDS: JOZSEF NAGY
by Michael J. Stott
012 SWIMMING TECHNIQUE MISCONCEPTIONS: TRAINING DISTANCE
by Rod Havriluk
This month's misconception is that "total training distance" is the best indicator of the value of a training session. In reality, the total distance typically includes many strokes executed with a less than optimal technique that do not comply with the coach's instructions.
032 WHOOP! (THERE IT IS)
by Michael J. Stott
College coaches are examining a new way to help change habits and alter the way they and their athletes look at sleep. The device, in bracelet form, is called WHOOP. It was used by some American Olympians in Rio, and has found favor with more than 50 college sports programs across the United States.
042 Q&A WITH COACH JESSEN BOOK
by Michael J. Stott
043 HOW THEY TRAIN ARTHUR CONOVER
by Michael J. Stott 
TRAINING
041 DRYSIDE TRAINING: HOW'S YOUR KICK?
by J.R. Rosania
JUNIOR SWIMMER
035 GOLDMINDS: SWIMMING AND NEUROSCIENCE—TRAIN THE BRAIN TO WIN IN THE LANE
by Wayne Goldsmith
Neuroscience is a fancy way of saying that your brain and your body can—and should— work together as a team in helping you to realize your full potential.
045 UP & COMERS
by Taylor Brien
COLUMNS
008 A VOICE FOR THE SPORT
038 MOMS AT MEETS
046 GUTTER TALK
048 PARTING SHOT