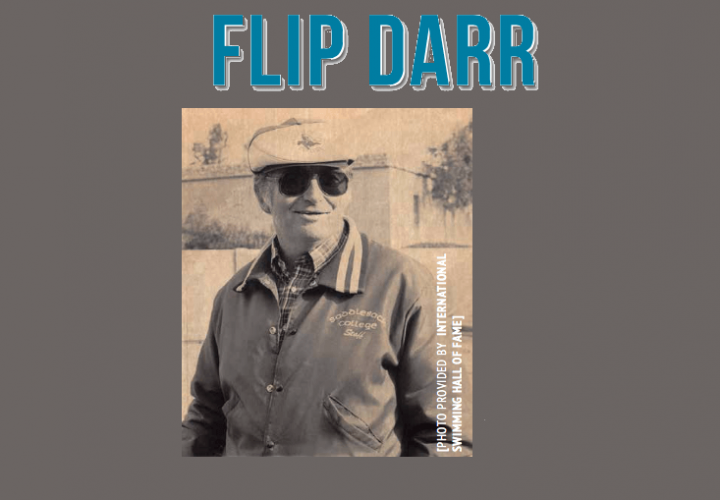 Lessons with the Legends: Flip Darr
Swimming World continues a series in which top coaches share some of the secrets of their success. The February issue of Swimming World Magazine highlights the many accomplishments of Coach Flip Darr. 
Coach Darr placed U.S. swimmers on international teams for four decades, including the 1968, 1972, 1976, and 1984 Olympic teams. The International Swimming Hall of Fame credits Darr as the first coach to the bring the use of hand paddles into mainstream use.
Some of Darr's most well-known swimmers include Gary Hall Sr., Shirley Babashoff, Dan Jorgensen, John Mykkanen, Mike O'Brien, Tiffany Cohen, Steve Gregg and Steve and Bruce Furniss.
Coach Darr, who passed away seven-and-one half years ago, is still revered for the impact he had on the lives of his swimmers and colleagues.
Lessons From The Legends is Sponsored By Dolfin

To read more about Darr check out the February 2017 issue of Swimming World Magazine, available now!
Not a subscriber? Swimming World Magazine gives you unlimited access to all online content on SwimmingWorldMagazine.com and access to all of the back issues of Swimming World Magazine dating back to 1960! To Access everything in the Swimming World Magazine Vault, Subscribe With This Special 3-Year Offer!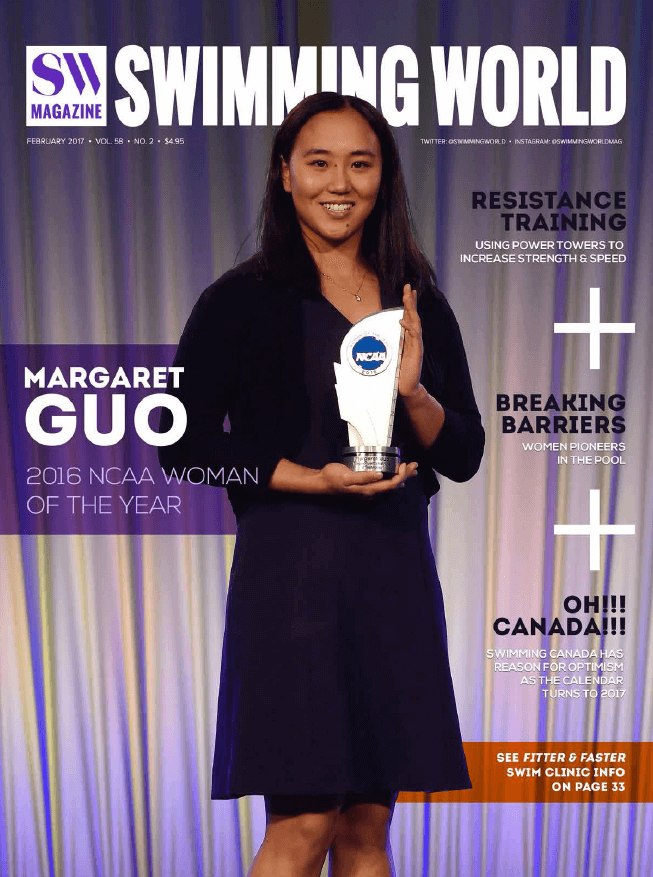 Take a video tour of the current issue of Swimming World Magazine…
FEATURES:
013 BARRIER BUSTERS: FIERCE FEMALE FIRSTS
by Annie Grevers
In a sport that obsesses over milliseconds, time barriers matter. Here are a few of our sport's most notable female barrier busters.
016 AMERICAN SWIMMING TEAM (Part III): PRESENT—THE TOP TEAM
by Chuck Warner
In this third of a six-part series on the American Swimming Team, Swimming World takes a look at Team USA's performance at the Olympic Games, offers an analysis of world rankings and discusses professional swimming in the United States.
018 OH!!! CANADA!!!
by David Rieder
With a head-turning performance at last summer's Rio Olympics—along with the country's best-ever medal haul at last summer's Junior Pan Pacific Championships— Swimming Canada has plenty of reason for optimism as the calendar turns to 2017 and beyond.
020 NCAA WOMAN OF THE YEAR: JUST GUO FOR IT
by Annie Grevers
Margaret Guo, a swimmer who earned dual degrees from MIT in electrical engineering and computer science and in biological engineering, was honored as the 2016 NCAA Woman of the Year.
026 AN OPPORTUNITY OF A LIFETIME
by David Rieder
With most of the Olympic team declining spots on the roster of the U.S. team that competed at the Short Course World Championships in Windsor, Canada, several American rookies were able to swim at the biggest meet of their careers.
COACHING
009 SPECIAL SETS: 'TIS THE SEASON
by Michael J. Stott
One of the more innovative thinkers in swimming is Sandpipers of Nevada coach Rob Aitken. Here are some sets he does with his athletes during the post-Christmas holidays and run-up to the championship meet season.
010 LESSONS WITH THE LEGENDS: FLIP DARR
by Michael J. Stott
023 RESISTANCE TRAINING REVISITED: POWER TOWERS
by Michael J. Stott
The second installment on resistance training focuses on Power Towers and how coaches are using them to make their athletes stronger and faster in the water.
042 Q&A WITH COACH JASON OWEN
by Michael J. Stott
043 HOW THEY TRAIN FELIX EIGEL
by Michael J. Stott
TRAINING
025 DRYSIDE TRAINING: MORE CORE!
by J.R. Rosania
JUNIOR SWIMMER
030 GOLDMINDS: SWIMMING 101 (Part II)
by Wayne Goldsmith
The January issue of Swimming World featured #s 1-55 of 101 things you can do that will make you a better swimmer. This month's magazine gives you the rest of the list: #s 56-101.
046 UP & COMERS
by Taylor Brien
COLUMNS & SPECIAL SECTIONS
008 A VOICE FOR THE SPORT
034 2017 SWIM CAMP DIRECTORY
047 GUTTER TALK
048 PARTING SHOT