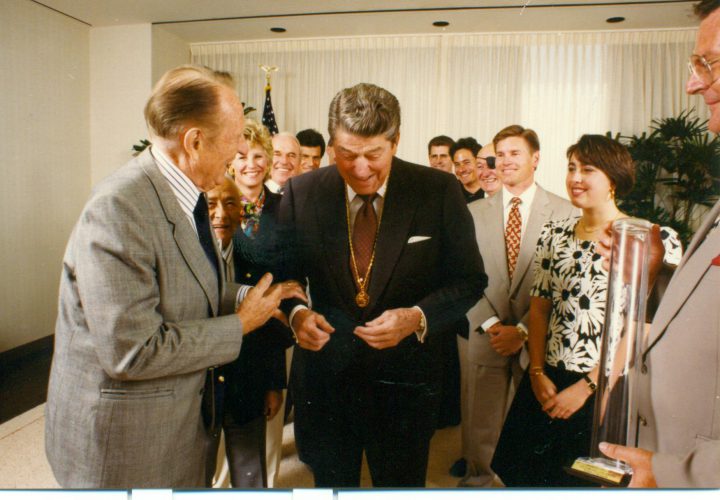 ISHOF Exhibits: The Swimming Presidents Wall
One of the essential roles that the International Swimming Hall of Fame (ISHOF) strives to fulfill is connecting exceptional aquatic achievement to a wide scope of people. Over its 52-year history, ISHOF has even been able to make that connection to the most powerful office in the world.
One exhibit in Fort Lauderdale is "The Swimming Presidents Wall," which includes a letter from the 38th President of the United States, Gerald Ford, to then ISHOF Executive Director Buck Dawnson, thanking Buck for helping raise the money to build a pool for the president to swim in at the White House.
So…some USA presidents have been swimmers and even follow competitive swimming? Absolutely! To read more about the swimming presidents, check out the July 2017 issue, available now!

Not a subscriber?  Subscribe With This Special 3-Year Offer! Swimming World Magazine gives you unlimited access to all online content on SwimmingWorldMagazine.com and access to all of the back issues of Swimming World Magazine dating back to 1960!  Visit the Swimming World Magazine Vault.  
FEATURES
018 BE LIKE MIKE
by David Rieder
Joseph Schooling wanted to be like Michael Phelps as a kid. Last summer, he beat his childhood hero in the men's 100 butterfly on the world's grandest stage, the Olympics. Now he wants to break Phelps' world record. Can this swimmer from Singapore become the next greatest butterflyer of all time?
020 "LET THE FAST-TWITCHERS RACE!"
Commentary by Annie Grevers
Adding the 50s of stroke to the Olympic Games could favorably change the sport.
022 ISHOF EXHIBITS: THE SWIMMING PRESIDENTS WALL
by Chuck Warner
So…some USA presidents have been swimmers and even follow competitive swimming? Absolutely!
024 NUTRITION: AROUND THE TABLE WITH MICHAEL ANDREW
by Annie Grevers and Tasija Korosas
Michael Andrew became the youngest swimmer in history to go pro—at just 14 years of age. Now 18, he has set a total of 78 national age group records. Here's a sample of what he eats in a day to stay fueled for top-speed training and racing.
026 DEPTH OF FIELD
by David Rieder, Annie Grevers and Andy Ross
Eighteen countries won Olympic medals in the pool last year in Rio, and the battle for the podium this summer appears just as deep, as the world's best swimmers focus on FINA's World Championships in Budapest.
033 CURTAIN CALL
by Michael Randazzo, Dax Lowery, Erin Keaveny and Taylor Brien
Many of the athletes from last summer's Olympic water polo, synchronized swimming, diving and open water competitions in Rio will be returning later this month, July 14-30, for encore performances at the World Championships in Budapest.
COACHING
010 SWIMMING TECHNIQUE MISCONCEPTIONS: BACKSTROKE START ARM MOTION
by Rod Havriluk
This month's article addresses the misconception that at the beginning of the backstroke start, the arms should move upward as they move away from the starting block. While an upward arm motion is conventional, a downward motion is more effective.
012 LESSONS WITH THE LEGENDS: DAVE SALO
by Michael J. Stott
015 TAKING A BREATH
by Michael J. Stott
This is the third of a multi-part series on "trained behaviors" in swimming— actions that can be executed under pressure and in unusual circumstances. This month's article focuses on breathing.
038 SPECIAL SETS: SPLASH-AND-DASH PREPARATION
by Michael J. Stott
While the world places a premium on long course swimming, the truth is that much of the training takes place in short course configurations.
051 Q&A WITH COACH JOHN MORSE
by Michael J. Stott
052 HOW THEY TRAIN ALLIE RAAB
by Michael J. Stott
TRAINING
037 DRYSIDE TRAINING: THE IM STROKE SERIES—BUTTERFLY
by J.R. Rosania
JUNIOR SWIMMER
054 UP & COMERS
by Taylor Brien
COLUMNS & SPECIAL SECTIONS
008 A VOICE FOR THE SPORT
039 2017 AQUATIC DIRECTORY
050 DADS ON DECK
055 GUTTER TALK
056 PARTING SHOT