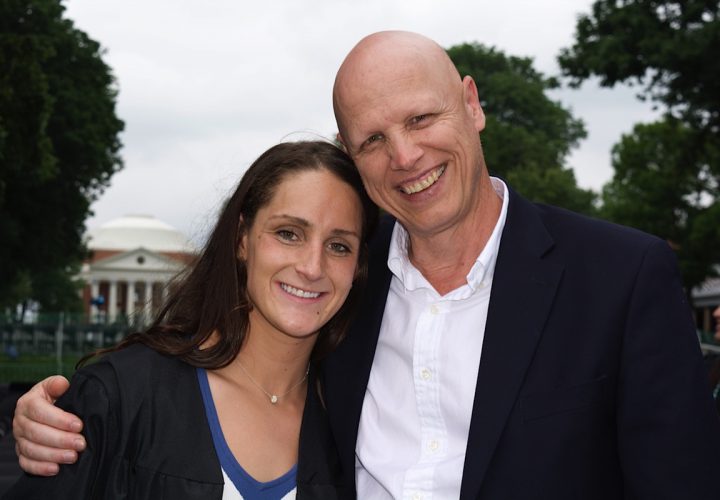 Photo Courtesy: Dan Smith
Dads on Deck: Dan Smith
Leah Smith has emerged as one of the world's next distance freestylers…and 400 IMers (her winning time at the U.S. World Championship Trials ranks fifth in the world this year).
Consider Smith's upbringing, and it's not a shocker that she's passionate about winning: her great-uncle, Billy Conn, was a world light heavyweight boxing champion. Her great-grandfather, Jimmy Smith, was a World Series champion. Her older sister, Aileen, swam at Columbia. Her dad, Dan, was a pole vaulter and decathlete at UVA.
Leah is the third of four siblings—no doubt her brothers and sister unintentionally refined Leah's competitive drive. Swimming World recently spoke with Dan Smith about his daughter, Leah—a girl who hates to lose.
Author Annie Grevers and Dan discuss how he and his wife, Margee, knew Leah was a talented swimmer, how swimming has shaped Leah's character, and wha advice he would give to new swim parents.
To read more about Dan Smith's interview with Swimming World, check out the December 2017 issue of Swimming World Magazine, available now!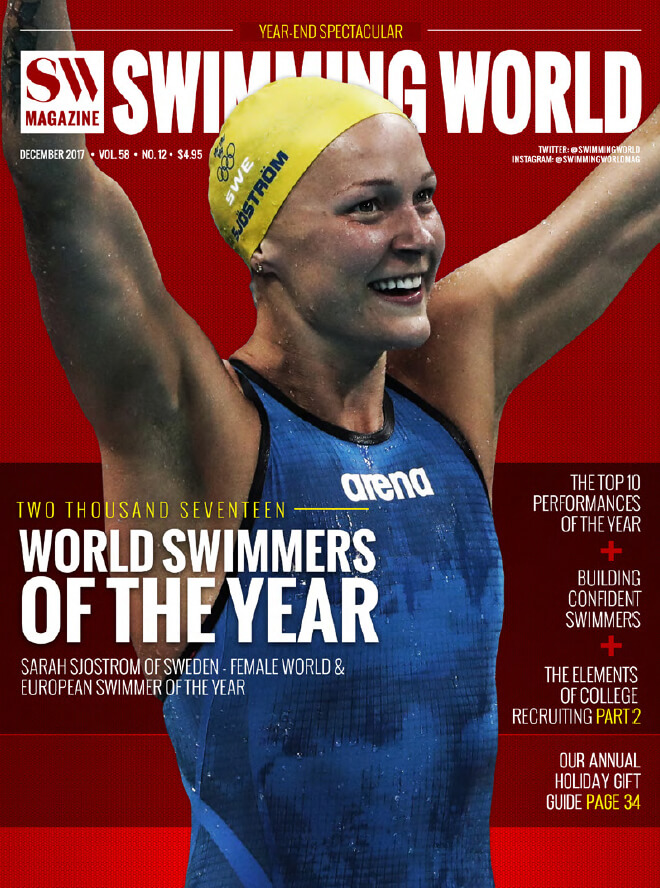 [PHOTO BY ROB SCHUMACHER, USA TODAY SPORTS ]
Give Swimming World Magazine as a Gift Today To Your Special Swimmer
Not a subscriber?  Subscribe With This Special 3-Year Offer! Swimming World Magazine gives you access to all of the back issues of Swimming World Magazine dating back to 1960!  Visit the Swimming World Magazine Vault.
FEATURES
2017 SWIMMERS OF THE YEAR
by Annie Grevers and David Rieder
World: Sarah Sjostrom (Female European) & Caeleb Dressel (Male American)
Female American: Katie Ledecky
Male European: Adam Peaty
Pacific Rim: Emily Seebohm & Sun Yang
African: Farida Osman & Chad le Clos
5 BEST WOMEN'S & 5 BEST MEN'S PERFORMANCES OF 2017
by David Rieder
Nothing can quite top the magic of the Olympic Games, but as far as encores go, this year's FINA World Championships emphatically delivered, with nine of this year's top 10 performances coming in Budapest.
COACHING
010 LESSONS WITH THE LEGENDS: MARY FREEMAN
by Michael J. Stott
COLLEGE RECRUITING: THE CHANGING LANDSCAPE
by Michael J. Stott
In the second of a multi-part series, Swimming World explores social media and its effect on recruiting.
SWIMMING TECHNIQUE MISCONCEPTIONS: BREASTSTROKE AND BUTTERFLY BREATHING REVISITED
by Rod Havriluk
Following the conventional wisdom for both breaststroke and butterfly breathing results in excess vertical motion that has a negative impact on performance. An effective breathing motion requires a swimmer to extend completely at the neck so that the body remains more level, thereby minimizing resistance and maximizing propulsion.
SPECIAL SETS: CHRISTMAS HOLIDAY SETS
by Michael J. Stott
041 Q&A WITH COACH PETER CASARES
by Michael J. Stott
042 HOW THEY TRAIN SARA DAHER
by Michael J. Stott
TRAINING
030 DRYSIDE TRAINING:HOLIDAY TRAINING—DAMAGE CONTROL
by J.R. Rosania
JUNIOR SWIMMER
GOLDMINDS: BUILDING CONFIDENT SWIMMERS
by Wayne Goldsmith
Here's a "babies-to-the-best" way of developing confidence in swimmers.
045 UP & COMERS
by Taylor Brien
COLUMNS & SPECIAL SECTIONS
008 A VOICE FOR THE SPORT
033 DADS ON DECK
034 HOLIDAY GIFT GUIDE
046 GUTTER TALK
048 PARTING SHOT