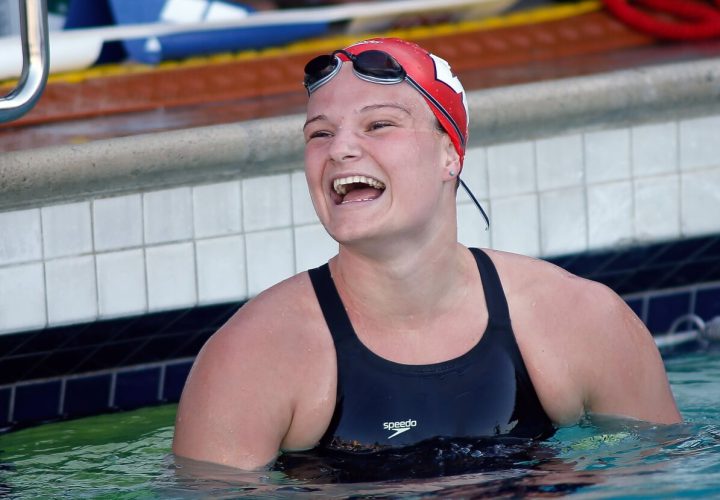 Photo Courtesy: Stan Szeto/USA Today Sports
Choose to be Happy!
Have you ever had one of those days? You've prepared well: trained to the best of your ability for months and months. You've eaten the right foods, gotten plenty of sleep, and you've never been in better shape mentally and physically.
You arrive at the meet, feeling powerful and positive. You can't wait to get in the water and start racing—today is YOUR day. Then…for some strange reason, you swim slowly in your first event.
But instead of allowing it to continue to be one of those days, instead you can choose your swimming destiny by turning around negative thinking and dealing with things positively in everyday life.
To learn more about choosing to be happy, check out the October 2017 issue of Swimming World Magazine, available now!

Not a subscriber?  Subscribe With This Special 3-Year Offer! Swimming World Magazine gives you access to all of the back issues of Swimming World Magazine dating back to 1960!  Visit the Swimming World Magazine Vault.
Save 25% on a 1 year subscription and download more issues from the Swimming World Vault and get the following:
Use Coupon Code: realnews and save 25%
A monthly print copy of Swimming World Magazine in the mail for 1 year!
Free download of the next 12 issues and the past 12 issues of Swimming World Magazine!
Free download of next 24 issues and the past 24 issues of Swimming World Biweekly!
Free download of next 4 issues and the past 4 issues of Swimming Technique Magazine!
Click Here For This Special Offer with coupon code "realnews" during checkout.
FEATURES
014 PREPARING FOR THE  NEXT LEVEL
by David Rieder
Today's stars from the FINA World Junior Championships may become the stars of tomorrow at the 2019 World Champion­ships in Gwangju, South Korea and the 2020 Olympics in Tokyo.
017 GAINING EXPERIENCE AND HAVING FUN
by Andy Ross
Not only did the World University Games this summer offer excellent competition, but it also provided the athletes who competed in Taipei with invaluable lessons that could help themwith future success.
019 WANTED: FOUNDING MEMBERS OF THE PSA
by Annie Grevers
The Professional Swimmers Association (PSA), charted to kick off in 2018, is being spearheaded by the executive director of the American Swimming Coaches Associa­tion, John Leonard, and the president of the World Swimming Coaches Association, George Block.
026 NUTRITION: AROUND THE TABLE WITH HANNAH STEVENS
by Annie Grevers and Dawn Weatherwax
Hannah Stevens, a rising senior at the University of Missouri, won her first national title this summer and qualified for the World Championship team. She tells us what she feasted upon during Team USA's training camp as she prepared for peak performance at her first international meet.
028 MAGNIFICENT OBSESSION
by Annie Grevers
There was a time when American superstar Caeleb Dressel didn't like swimming. But after his seven-gold-medal performance at the Budapest World Championships, the American superstar admits he is obsessed with the sport and loves it more than ever.
COACHING
010 LESSONS WITH THE LEGENDS: STAN TINKHAM
by Michael J. Stott
013 BACK TO WORK
by Michael J. Stott
Mission Viejo's Sarah Dawson, the 11-12 division director for the Nadadores, shares what she does to prepare her age groupers for the season ahead.
021 SPECIAL SETS: TRAINING FOR EXCELLENCE IN THE INDIVIDUAL MEDLEY (Part II)
by Michael J. Stott
This is the second of a two-part series on training for the individual medley. This month, North Baltimore Aquatic Club coach Paul Yetter provides some of his IM training secrets.
044 Q&A WITH COACH McGEE MOODY
by Michael J. Stott
045 HOW THEY TRAIN EMMA BARKSDALE
by Michael J. Stott
TRAINING
035 DRYSIDE TRAINING: THE IM STROKE SERIES—FREESTYLE
by J.R. Rosania
JUNIOR SWIMMER
032 GOLDMINDS: CHOOSE TO BE HAPPY!
by Wayne Goldsmith
Choose your swimming destiny by turning around negative thinking and dealing with things positively in everyday life.
047 UP & COMERS
by Taylor Brien
COLUMNS & SPECIAL SECTIONS
008 A VOICE FOR THE SPORT
023 HOLIDAY GIFT GUIDE
036 PREP SCHOOL DIRECTORY
048 GUTTER TALK
050 PARTING SHOT