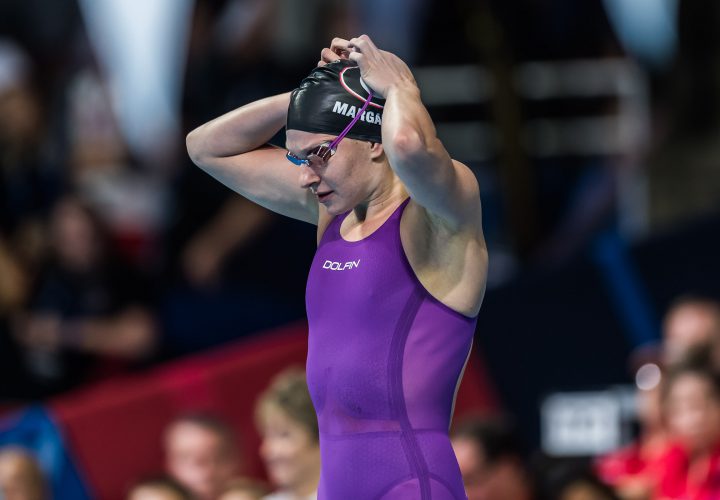 Photo Courtesy: Peter H. Bick
Mental Prep: Before the Beep with Melanie Margalis
Olympic gold medalist Melanie Margalis turned 26 in December. She plans to live to 100, so she recognizes that this professional swimming career of hers is a fleeting stage of her life—one that she plans to squeeze the most out of, but "not the end all, be all."
Margalis is a 2014 graduate of the University of Georgia, and she should serve as a mighty inspiration to post-graduate swimmers out there. Yes, she was a strong swimmer in her collegiate years, but her talent has blossomed in the years after.
Margalis shared with Swimming World her mental preparation leading up to a big meet, including what she does at the hotel, during warm-ups, in the ready room, and behind the blocks!
To read more about Margalis' pre-race strategies, check out the April issue of Swimming World Magazine, available now!

[PHOTO BY HECTOR GARCIA-MOLINA/STANFORD ATHLETICS]
New! 1-Year Digital Only Subscription for just $29.95 Order Now!
FEATURES
2017 TOP 12 WORLD MASTERS SWIMMERS OF THE YEAR
by Annie Grevers, David Rieder, Taylor Brien and Kristy Kinzer
THE BEAT GOES ON
by Michael Randazzo
After losing its captain and inspirational leader, Stanford, with a wealth of talent and desire, continues to dominate its competition and is favored to win its seventh women's NCAA water polo championship.
COMING TO AMERICA
by Michael Randazzo
Foreign nationals have been flocking to the United States for years to receive an excellent education and play women's water polo against what many believe to be the strongest competition in the world. Heading that list this year is Cal's—and Hungary's—Dóra Antal, considered to be the best foreign player competing in the NCAAs.
WHAT A GUY!
by David Rieder
Over the last three-and-a-half years, England's James Guy has transitioned from underdog to favorite, and now the Olympic silver medalist and World Championship gold medalist is hungry for more success.
HISTORY OF COLLEGIATE SWIMMING: WE'VE COME A LONG WAY!
by Bruce Wigo
Collegiate swimming has come a long way since it all began more than 120 years ago…and we look forward to an even brighter and greater future!
MENTAL PREP: BEFORE THE BEEP WITH MELANIE MARGALIS
by Annie Grevers
COACHING
LESSONS WITH THE LEGENDS: WALTER SCHLUETER
by Michael J. Stott
SWIMMING TECHNIQUE CONCEPTS: BIOMECHANICS AND MEDICINE IN SWIMMING
by Rod Havriluk
The single largest global effort to promote the application of science in swimming has been the series of symposia titled, "Biomechanics and Medicine in Swimming"—or BMS. This year's conference, the 13th since 1970, will be held in Japan, Sept. 17-21.
SWIM BENCH TRAINING AND STROKE TECHNIQUE
by Michael J. Stott
This first of a multi-part series on swim benches addresses their use in perfecting technique. Subsequent articles will highlight their utilization in dedicated training and prehab and rehab.
BUTTERFLY SETS: FLYING WITH THE BEST
by Michael J. Stott
While individual freestyle events and relays will always present the greatest opportunities for meet points, having a strong butterfly corps can absolutely leverage team scoring.
050 Q&A WITH COACH KIRBY BEIERLE
by Michael J. Stott
051 HOW THEY TRAIN CLAIRE BECKER
by Michael J. Stott
JUNIOR SWIMMER
GOLDMINDS: MENTAL TOUGHNESS
by Wayne Goldsmith
What is it? Where is it? And how can I get some?
053 UP & COMERS: ABI FURQUERON
by Taylor Brien
COLUMNS & SPECIAL SECTIONS
008 A VOICE FOR THE SPORT
013 BEYOND THE YARDS
049 MOMS AT MEETS
054 GUTTER TALK
056 PARTING SHOT