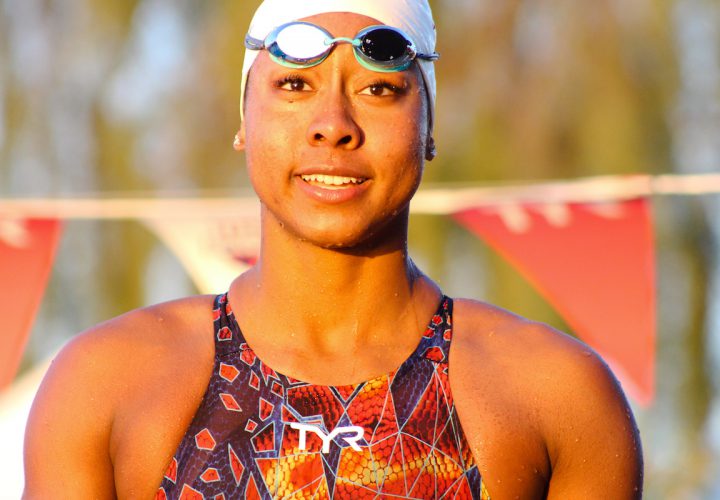 Photo Courtesy: Taylor Brien
Around the Table with Lia Neal
Have you ever wondered how you can eat like a pro athlete? The "Around The Table" feature in Swimming World Magazine gives you access to how some of the best swimmers in the world are filling up. The world of nutrition can be murky and contradictory, so pull up a chair at this table of champions to understand why swim stars take food seriously.
What Lia Neal accomplished prior to her 23rd birthday is remarkable. She made her first Olympic team in 2012 at age 17. She swam with the finals relay squad comprised of Missy Franklin, Jessica Hardy and Allison Schmitt at the London Olympics, and the ladies brought home a bronze medal and an American record. In 2016, Neal made her second Olympic team, again representing the U.S. in the 4×100 free relay. She helped the squad earn Olympic silver in Rio. The Stanford Cardinal ended her NCAA career as a 26-time All-American and a nine-time NCAA champion with three NCAA records and four American records.
Neal has a taste for success, and she'sbeen refining her palate in recent months—in the pool and on the plate. While traveling around the world for training and meets, Neal placed focus on eating right while on the go, opting for items like salmon, peanut butter, bananas, and salads!
To learn more about Neal's daily nutrition, check out the June 2018 issue of Swimming World Magazine, available now!

[PHOTO COURTESY: THE LEDECKY FAMILY]
New! 1-Year Digital Only Subscription for just $29.95 Order Now!
Take a look inside Swimming World's June 2018 issue:
FEATURES 
016 PLENTY AT STAKE 
by David Rieder 
Although the Americans will not be facing all of the world's best swimmers this year as they do during an Olympic or World Championship year, so much is on the line at this summer's Pan Pacific Championships— including U.S. team selection for the 2019 international meets. 
020 BOOM TIMES
by Michael Randazzo 
USA Water Polo is expanding…but it is not without its share of growing pains. 
023 LONG SWIM THE QUEEN 
by Bruce Wigo 
Queen Elizabeth II, now 92, used to be quite the swimmer. Those who saw her swim described her as a "very strong and graceful swimmer," and she inspired many other children in the British Empire to follow her good example. 
024 MENTAL PREP: BEFORE THE BEEP WITH MARGO GEER 
by Annie Grevers 
026 THE NEXT CHAPTER 
by Annie Grevers 
After two years of college at Stanford University and two NCAA team championships—and with two years remaining before the 2020 Olympics— Katie Ledecky, the world's greatest women's swimmer, is transitioning into life as a professional swimmer. 
030 NUTRITION: AROUND THE TABLE WITH LIA NEAL 
by Annie Grevers and Dawn Weatherwax 
COACHING
010 LESSONS WITH THE LEGENDS: JACK SIMON 
by Michael J. Stott 
014 STAYING FOCUSED 
by Rod Havriluk 
Swimmers who want to swim faster must continually focus on technique. However, even those with the best intentions face many obstacles to maintaining focus throughout a team training session. This article suggests strategies that can help. 
032 SWIM BENCHES: THE COACHES' FRIEND 
by Michael J. Stott
This installment is the second in a multi-part series in which Swimming World explores the role of swim benches in dedicated training. 
039 SPECIAL SETS: REACH FOR THE (BIG) SKY! 
by Michael J. Stott
Great things are happening in Big Sky Country. In December, Montana's Ethan Harder and Katharine Berkoff became the state's first-ever junior national swimming champions. 
042 Q&A WITH COACH TOM HIMES 
by Michael J. Stott 
043 HOW THEY TRAIN BETH BOTSFORD 
by Michael J. Stott 
TRAINING
038 DRYSIDE TRAINING: FIT AND FAST FOR SUMMER 
by J.R. Rosania 
JUNIOR SWIMMER
035 GOLDMINDS: MAIN SET RESET 
by Wayne Goldsmith 
Over the past few years, there has been a big change in swimming coaching—and more specifically, a revolution in the way main sets are being completed. 
045 UP & COMERS: DAWSON JOYCE 
by Taylor Brien 
COLUMNS 
008 A VOICE FOR THE SPORT 
013 BEYOND THE YARDS 
046 GUTTER TALK 
048 PARTING SHOT