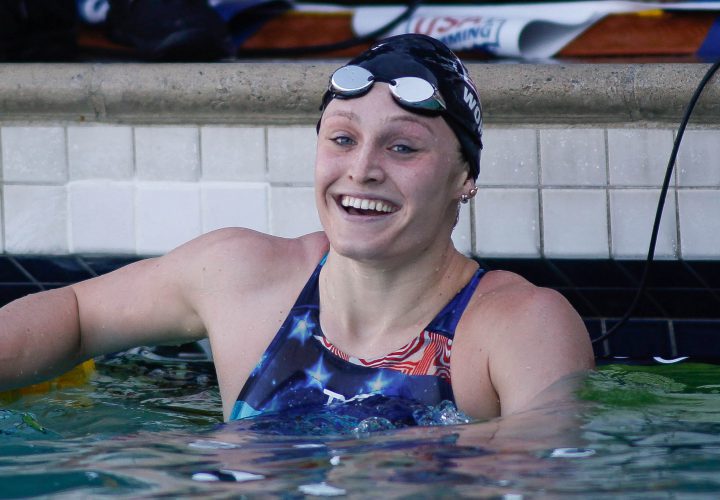 Photo Courtesy: Stan Szeto-USA TODAY Sports
Nutrition: Around the Table with Kelsi Worrell
Have you ever wondered how you can eat like an Olympian? The "Around The Table" feature in Swimming World Magazine gives you access to how some of the best swimmers in the world are filling up. The world of nutrition can be murky and contradictory, so pull up a chair at this table of champions to understand why swim stars take food seriously.
In this month's "Around The Table" pull up a chair at Kelsi Worrell's training table, and discover a sample daily menu of the 2016 Olympian. Swimming World's nutrition guru, Tasija Karosas, provides the nutritional explanations while the photos are provided by Worrell herself.
Worrell explained to Swimming World's Annie Grevers,
"I first started paying attention to my nutrition in college, particularly my junior and senior years when a nutritionist became available for our team. I've never had to worry too much about my weight, but I became more aware of foods to help me recover quicker…and in turn, to help me swim faster."
To read more about how Worrell fuels her body, check out the June 2017 issue of Swimming World, available now!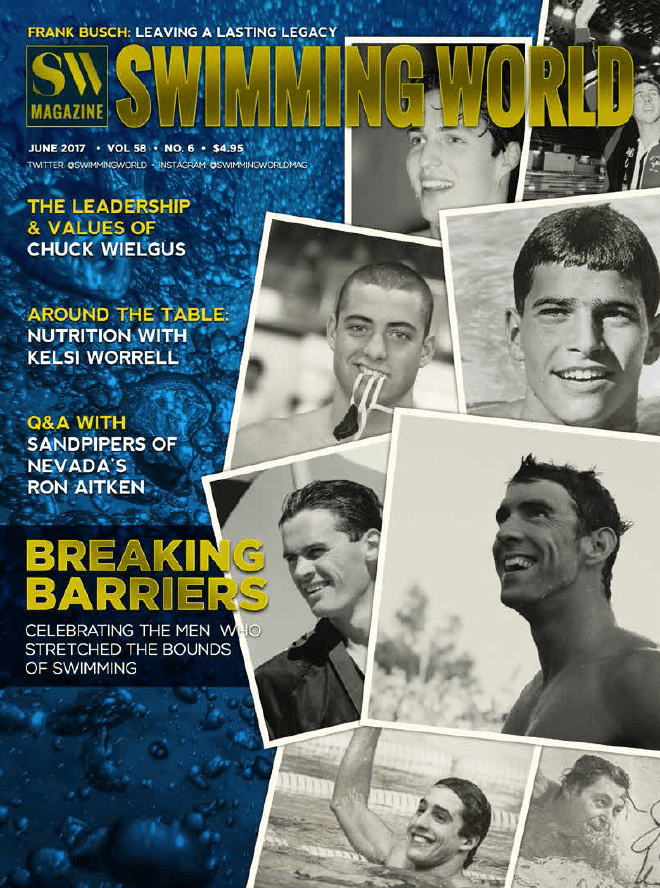 Not a subscriber?  Subscribe With This Special 3-Year Offer! Swimming World Magazine gives you unlimited access to all online content on SwimmingWorldMagazine.com and access to all of the back issues of Swimming World Magazine dating back to 1960!  Visit the Swimming World Magazine Vault.  
Take a video tour of the current issue of Swimming World Magazine…
FEATURES
018 THE LEADERSHIP OF CHUCK WIELGUS
by Chuck Warner
021 LEAVING A LASTING LEGACY
by David Rieder
Frank Busch has spent six years as national team director for USA Swimming, but that stint will be over at the end of August, after being in charge of his fourth World Championships. As he leaves, he could not be more pleased with the infrastructure he's leaving behind.
022 ISHOF EXHIBITS: THE AUDACITY OF ANNETTE KELLERMAN—HOW SHE BECAME THE MOST FAMOUS SWIMMER IN THE WORLD
by Chuck Warner
026 MOMENTOUS MALE MILESTONES
by Annie Grevers
In February, Swimming World highlighted women in swimming who busted through barriers. This month, we're celebrating their male counterparts who stretched the bounds of the sport.
034 NUTRITION: AROUND THE TABLE WITH KELSI WORRELL
by Annie Grevers and Tasija Korosas
036 CELEBRATING A LIVING LEGEND
by Annie Grevers
Indiana University is preparing a 90th birthday celebration later this month for Hobie Billingsley, one of the world's most influential figures in diving. Known for his passion for the sport and profound belief in his divers, the Hall of Fame coach recently took time to speak with Swimming World Magazine. Here's his extraordinary story.
COACHING
010 SWIMMING TECHNIQUE MISCONCEPTIONS: BILATERAL BREATHING
by Rod Havriluk
012 LESSONS WITH THE LEGENDS: DON TALBOT
by Michael J. Stott
015 ART OF THE TURN
by Michael J. Stott
040 SPECIAL SETS: RESISTED/ASSISTED TRAINING WITH CORDS AND OTHER ACCESSORIES
by Michael J. Stott
043 Q&A WITH COACH RON AITKEN
by Michael J. Stott
044 HOW THEY TRAIN ERICA SULLIVAN & BRENNAN GRAVLEY
by Michael J. Stott
TRAINING
009 DRYSIDE TRAINING: TRX SUMMER SHAPE-UP
by J.R. Rosania
JUNIOR SWIMMER
032 GOLDMINDS: IT'S OK TO BE NERVOUS
by Wayne Goldsmith
Master the nervousness of the moment—never allow the nervousness of the moment to master you.
046 UP & COMERS
by Taylor Brien
COLUMNS
008 A VOICE FOR THE SPORT
047 GUTTER TALK
048 PARTING SHOT