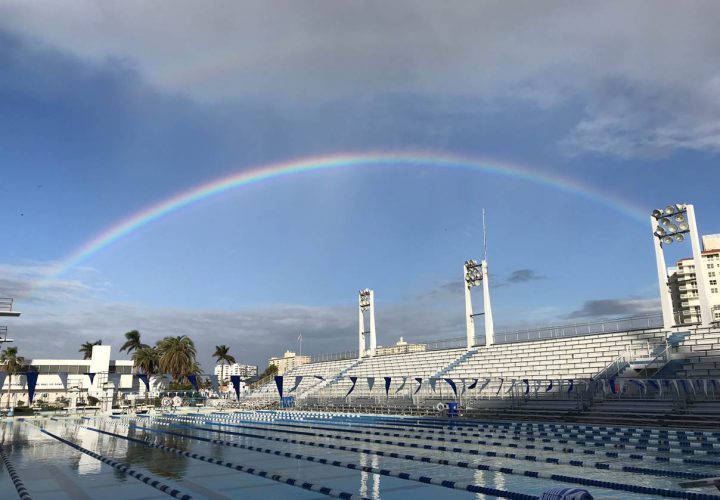 Photo Courtesy: Fort Lauderdale Recreation Department
A Voice for the Sport
The 54th International Swimming Hall of Fame (ISHOF) Induction Ceremony is shaping up to be a star-studded weekend with multiple events spread out over three days in beautiful Fort Lauderdale, Fla. It is not too late to make your plans now to attend the weekend of May 18-20! ISHOF members can purchase the "Weekend Package" and save!
This year's International Swimming Hall of Fame honorees, who will be recognized on Saturday, May 19, include:
Swimmers: Rebecca Adlington (GBR), Amanda Beard (USA) and Libby Trickett (AUS)
Water Polo Player: Brenda Villa (USA);
Contributor: Andy Burke (USA);
Diver: Irina Lashko (USSR, RUS, AUS);
Coach: Bill Sweetenham (AUS);
Synchronized Swimmer: Miho Takeda (JPN);
Open Water Swimmer: Petar Stoychev (BUL); and
Pioneer Synchronized Swimming Contributor: Joy Cushman (USA).
Swimmer Ian Crocker (USA) was a part of the Class of 2017, but was unable to attend last year's induction ceremonies due to Hurricane Harvey. We will be officially celebrating his induction as part of the Class of 2018.
The 2018 Paragon Awards and ISHOF Awards will be presented on Friday, May 18. Recipients include: 
PARAGON AWARDS:
Competitive Swimming: Frank Busch;
Diving: Dr. Ben Rubin;
Water Polo: Bob Corb;
Synchronized Swimming: Jennifer Gray;
Recreational Swimming: David Bell;
Water Safety: Jill White.
ISHOF AWARDS:
Buck Dawson Author Award: Anthony Ervin and Constantine Markides, "Chasing Water: Elegy of an Olympian";
ISHOF Service Award: Gay DeMario;
Judge G. Harold Martin Award: Lana Whitehead;
Virginia Hunt Newman Award: Johnny Johnson;
John K. Williams Jr. International Adapted Aquatics Award: Kathy Bateman; and
Al Schoenfield Media Award: Bob Ingram.
Additional weekend events include Swim Across America Fund-raiser for Cancer Awareness (Sunday, May 20, 8-11 a.m.) at the Hall of Fame Pool; and two ISHOF Clinics for Kids (Saturday and Sunday, May 19-20, 11 a.m. to 2 p.m.) produced by Fitter and Faster with Olympian Cammile Adams at the Hall of Fame Pool.
Reserve your hotel rooms and purchase your tickets today!
2018 HOTEL INFORMATION
Host Hotel: Fort Lauderdale Marriott Harbor Beach Resort & Spa
Four-and-a-half-star upscale retreat with private beach access, two pools, four restaurants, full service spa and oceanside bar. Location of the Saturday evening induction ceremony. Quarter-mile south of the International Swimming Hall of Fame. 3030 Holiday Drive, Fort Lauderdale, Fla. 33316, (954) 525-4000. Special ISHOF guest rate of $224 per night. Book your group rate for International Swimming Hall of Fame.
Courtyard by Marriott Fort Lauderdale Beach
440 Seabreeze Blvd., Fort Lauderdale, Fla. 33316. Special ISHOF guest rate of $159 per night. Please call 954-524-8733 and mention Swimming Hall of Fame Honoree Ceremony for the special rate of $159.
For more hotel or ticket information, contact Meg Keller-Marvin at meg@ishof.org. We hope to see you there!
To learn more about the Class of 2018 ISHOF inductees, check out the May 2018 issue of Swimming World Magazine, available now!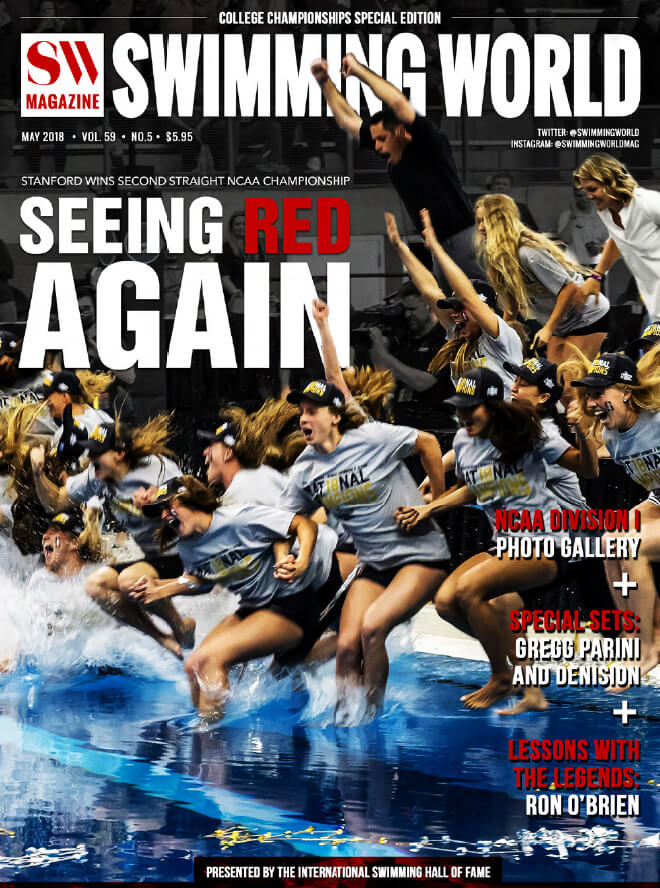 [College Championship Issue Photo by Peter H. Bick]
New! 1-Year Digital Only Subscription for just $29.95 Order Now!
FEATURES
016 JUST ENOUGH
by Dan D'Addona, David Rieder and Annie Grevers
With one event remaining, Texas, Cal and Indiana all had a chance to win the men's NCAA Division I Championships. But it was the Longhorns who held on to capture their fourth straight team title in what turned out to be the closest finish in 16 years.
MEN'S NCAA DIVISION I MINI-FEATURES:
019 CAELEB DRESSEL: SO MUCH MORE
021 MEN'S 200 FREE: A PORTENT OF THINGS TO COME
022 NC STATE: ON THE RISE
023 HOOSIER BREASTSTROKE: LETTING LOOZE
025 MEN'S NCAA DIVISION I PHOTO GALLERY
photos by Peter H. Bick
026 THE STANFORD SUPREMACY
by Dan D'Addona, David Rieder and Annie Grevers
Stanford's women's swimming team established its "identity" a year ago by dominating the women's NCAA Division I Swimming and Diving Championships and winning its first team title in 19 years. This year's action-packed sequel was even more thrilling!
WOMEN'S NCAA DIVISION I MINI-FEATURES:
029 TEXAS A&M: BUILDING ON THE BULTMAN LEGACY
030 ELLA EASTIN: CONFIDENT AND FOCUSED
031 MICHIGAN, LOUISVILLE, TEXAS: EXCEEDING EXPECTATIONS
033 WOMEN'S NCAA DIVISION I PHOTO GALLERY
photos by Peter H. Bick
035 STREAKS ALIVE…MOSTLY
by Chandler Brandes and Andy Ross
Queens, Emory and Indian River continued their winning streaks at their respective college national championships, but Denison, Savannah College of Art and Design and Keiser are ready to start (or restart) some streaks of their own.
COACHING
010 LESSONS WITH THE LEGENDS: RON O'BRIEN
by Michael J. Stott
014 THE RELATIVE ORIENTATION OF BODY PARTS: HIGH ELBOW OR DEEP CATCH?
by Rod Havriluk
Swimmers can achieve precise control of body movements—such as "high elbow" and "deep catch"—with strict focus on cues, providing the cues have specific information about the relative position and motion of body parts.
040 OFF-SEASON TRAINING: A BUILDING BLOCK FOR FUTURE SUCCESS
by Michael J. Stott
042 Q&A WITH COACH ANDY BOYCE
by Michael J. Stott
043 HOW THEY TRAIN SAM POSTMUS
by Michael J. Stott
TRAINING
039 DRYSIDE TRAINING: WET-LAND TRAINING
by J.R. Rosania
JUNIOR SWIMMER
045 UP & COMERS: MENA BOARDMAN
by Taylor Brien
COLUMNS & SPECIAL SECTIONS
008 A VOICE FOR THE SPORT
013 BEYOND THE YARDS
041 THE OFFICIAL WORD
046 GUTTER TALK
048 PARTING SHOT