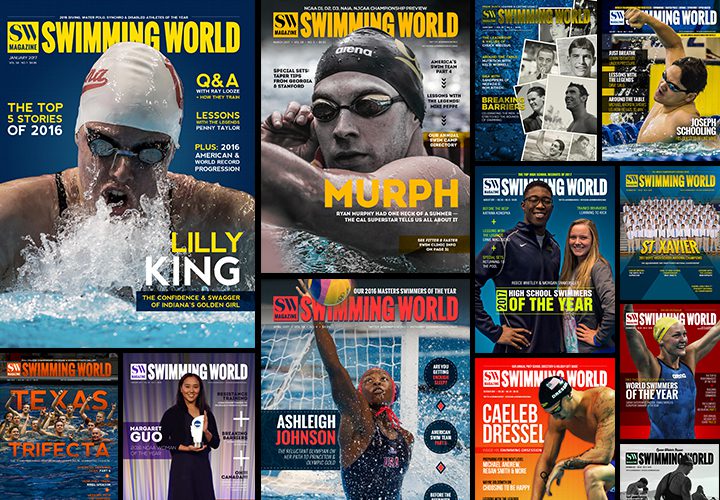 This past year showered the swimming community with a wealth of excitement as the swimming community celebrated boundaries being broken across several major national and international meets, including the 2017 World Championships in Budapest, Hungary. Swimming World continued to produce iconic covers throughout the year beginning with soon-to-be world record holder Lilly King in January and concluding with Sweden's Sarah Sjostrom earning Swimming World's Female World Swimmer of the Year title.
Relive the 2017 Swimming World covers:
This slideshow requires JavaScript.
Swimming World Magazine Covers in Review – 2017
January 2017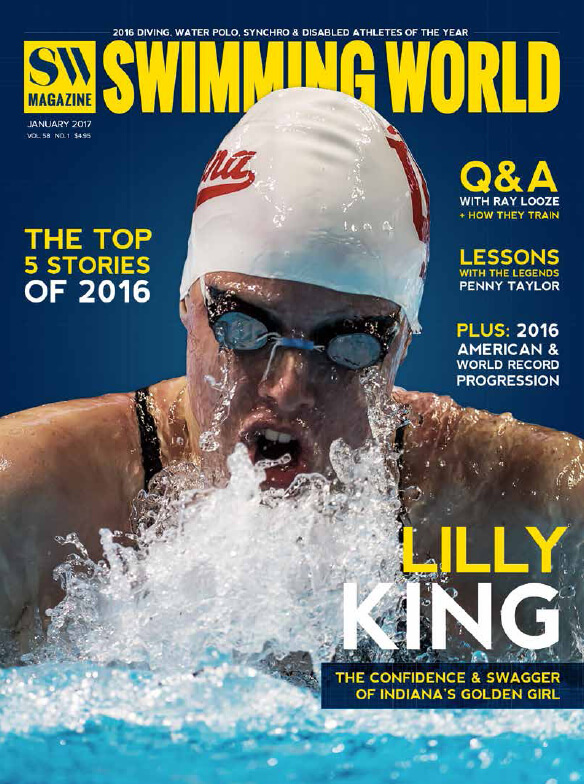 ON THE COVER: 
Lilly King started swimming year-round in her hometown of Evansville, Ind. at age 8, but she didn't discover her niche until two years later. At 12, she started winning breaststroke events. Now 19, the Indiana University sophomore and Olympic gold medalist is keeping that streak very much alive. (See feature, page 26, plus a related story on page 43.)
[PHOTO BY PETER H. BICK]
February 2017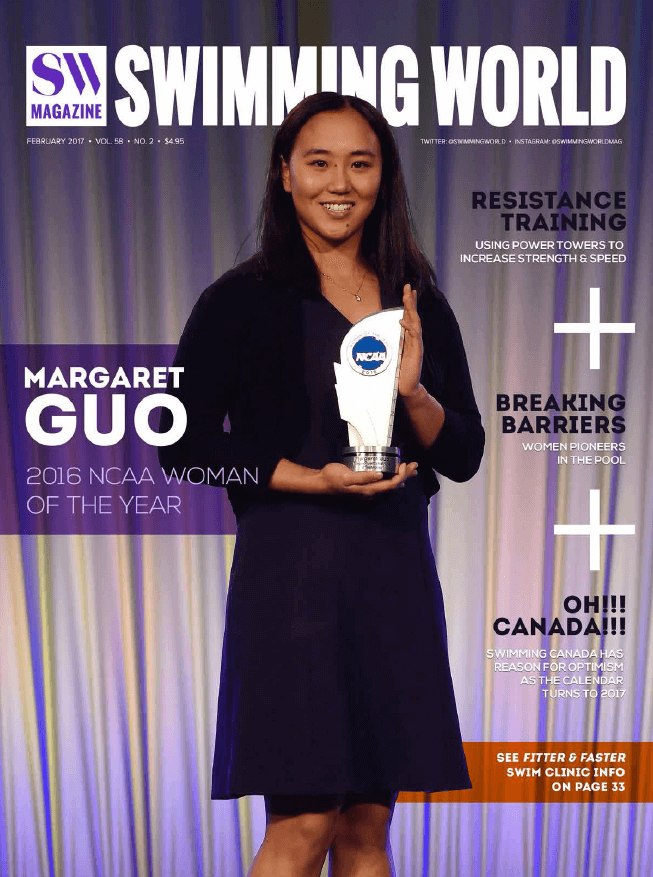 ON THE COVER: 
Margaret Guo, a two-time swimming All-American at MIT, became the first athlete from her school to win the NCAA Woman of the Year award—and just the fourth Division III athlete in the award's 26-year history. She interned with Medtronic—the world's largest medical technology development company—after her freshman year, and has two patents to her name in the medical technology field. At 21, Guo is now working on her doctor of medicine and philosophy at Stanford University. (See feature, page 20.)
[PHOTO COURTESY NCAA, PROVIDED BY MIT ATHLETICS]
March 2017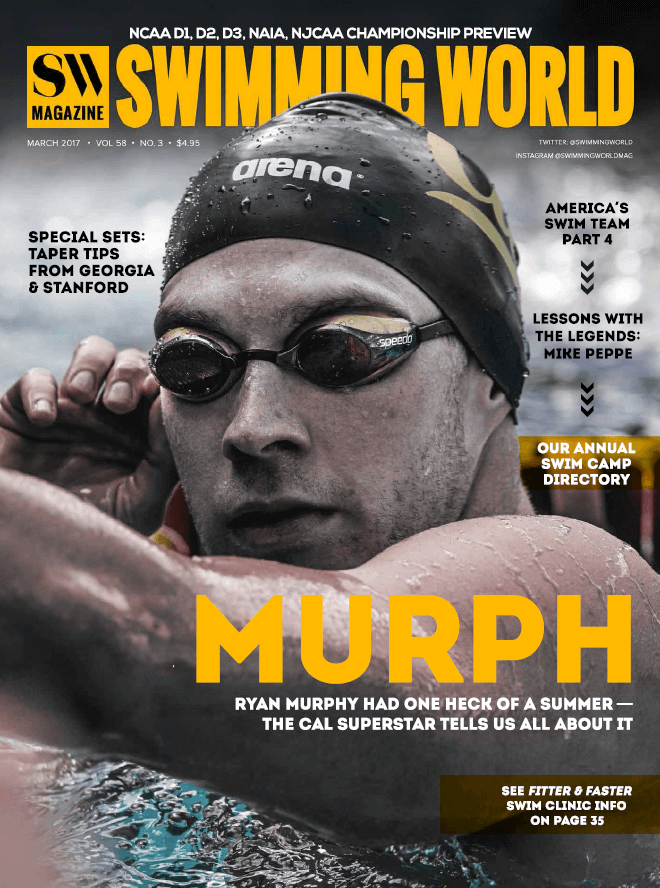 ON THE COVER: 
Cal senior Ryan Murphy, fresh off a triple Olympic gold medal performance last summer at Rio, now focuses his attention on the upcoming NCAA Division I Men's Swimming and Diving Championships to take place in Indianapolis later this month. On paper, there isn't much he can do to make his college career more illustrious. He holds the American records in both backstrokes and has been undefeated in the events since his freshman season. "What would make me happiest at NCs this year," says Murphy, "is winning the team title." (See feature, page 28, plus a related story on page 16.)
[PHOTO BY MATT RUBEL OF RUBEL PHOTOGRAPHY]
April 2017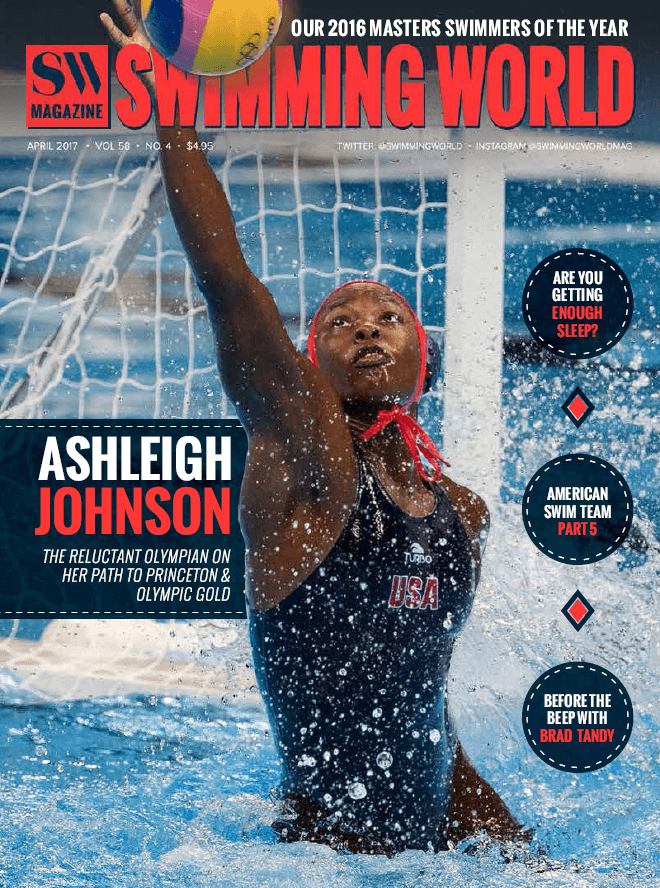 ON THE COVER: 
Not only was Ashleigh Johnson named the top goalkeeper at last summer's Olympic Games in Rio (55 saves), but she also received the same honor the year before with 66 saves when the United States won the gold medal at the World Championships in Kazan. She also has been named Swimming World's Female World Water Polo Player of the Year three years straight. In her f inal season at Princeton, she says, "I want to give as much knowledge as I can to people coming after me—to be a leader on the team… especially for new girls coming into the collegiate environment." (See feature, page 26.)
[PHOTO PROVIDED BY Jeff Cable/USA WATER POLO]
May 2017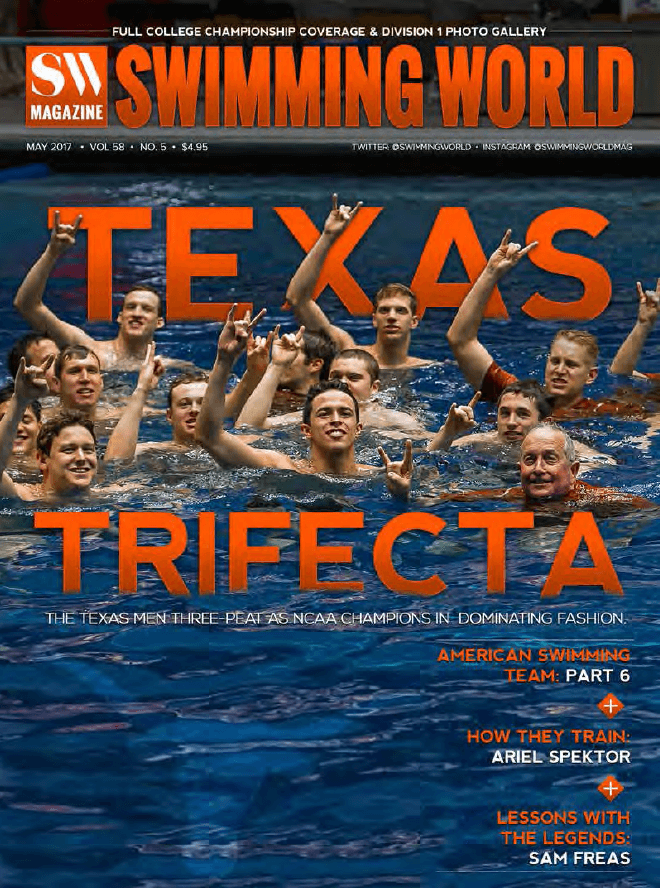 ON THE COVER: 
The University of Texas men won this year's NCAA Division I Swimming and Diving Championships by more than 200 points. The victory was their third three-peat, having won the team titles in 1988-91 (a four-peat), 2000-02 and now 2015-17. It was also Coach Eddie Reese's record 13th men's NCAA D1 national championships since taking on the job at Texas in 1978. (See feature, page 26).
[PHOTO BY PETER H. BICK]
June 2017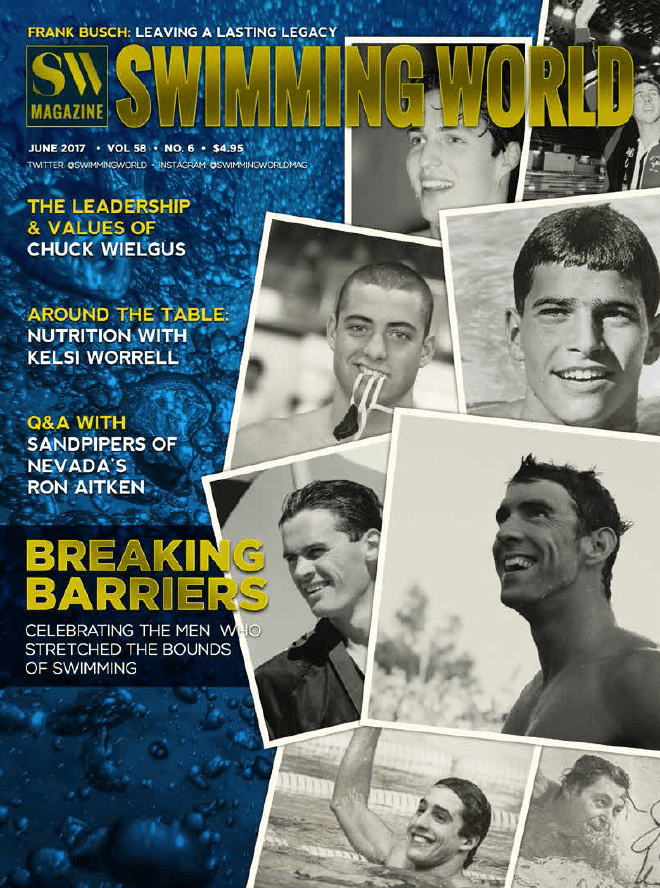 ON THE COVER: 
Our generation is spoiled to have had Michael Phelps, The Greatest Olympian of All Time, grace us with his explosive performances, Olympiad after Olympiad. But Phelps had many predecessors who parted the chlorinated waters for the phenoms of the future. Swimming World shines the spotlight on just a few of swimming's history-altering characters. (See feature, pages 26-31.)
Photos (from left to right, top to bottom): Pieter van den Hoogenband (photo by Bill Collins), Grant Hackett (Darren England), Matt Biondi (Budd Symes), Mark Spitz (Ron Moor of The Daily Mail), Alexander Popov (Bill Collins), Michael Phelps (Griffin Scott), Rick DeMont (Keystone Press) and Johnny Weissmuller (International Swimming Hall of Fame).
July 2017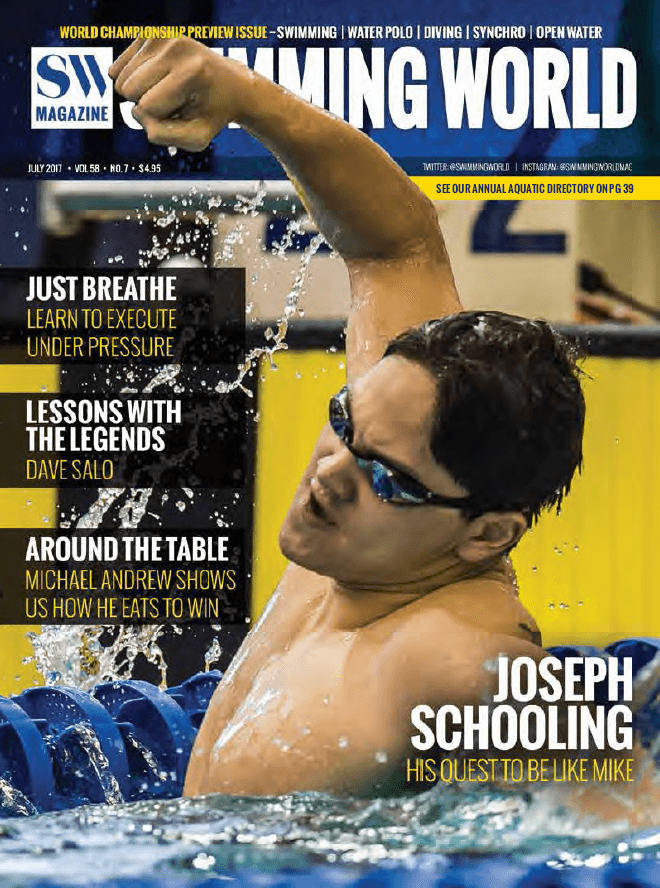 ON THE COVER: 
Singapore's Joseph Schooling became his country's first-ever Olympic gold medalist last summer by winning the men's 100 butterfly. And he did so in c ommanding fashion— nearly a second ahead of the three-time defending Olympic gold medalist, Michael Phelps. Schooling was only 13 when he first met Phelps. "If it weren't for Michael, I don't think I could have gotten to this point," says Schooling. (See feature, page 18.) 
[Photo by Peter H. Bick]
August 2017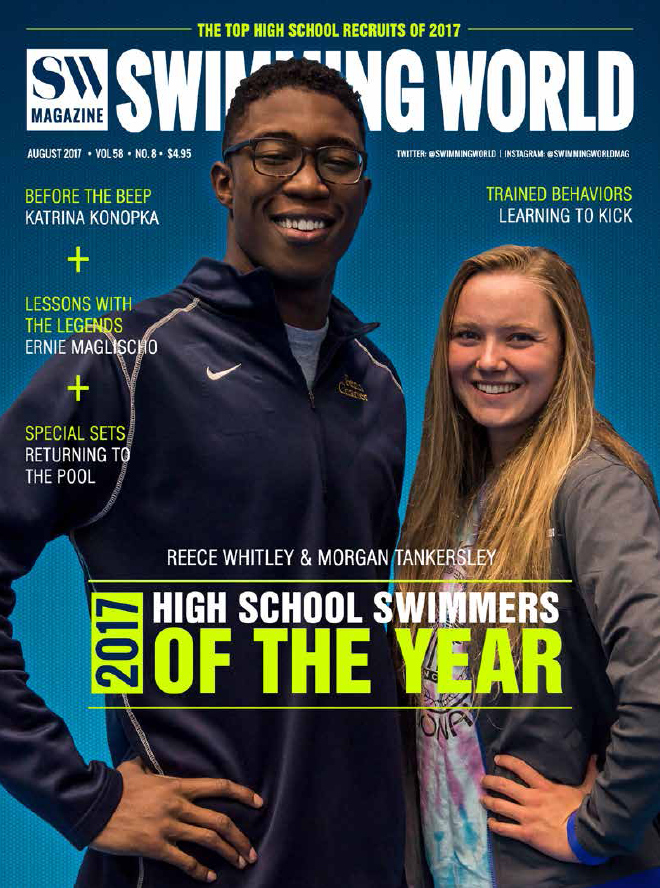 ON THE COVER: 
Juniors Reece Whitley (William Penn Charter High School, Pa.) and Morgan Tankersley (Plant High School, Fla.) were named Swimming World's Male and Female High School Swimmers of the Year for the 2016-17 high school season. Both swimmers ranked No. 1 in two events—Whitley in the boys 100 breast (51.84, a national high school record) and 200 IM (1:44.91) and Tankersley in the girls 200 and 500 yard free (1:44.31, 4:37.60).
[Photo By Peter H. Bick]
September 2017
ON THE COVER: 
With an awe-inspiring performance this season, St. Xavier High School of Cincinnati, Ohio—coached by Tim Beerman—was crowned Swimming World's 2016-17 boys' national high school champions. The school's winning tradition spans over the decades: not only have the Aqua­bombers captured four national titles since their first in 1973, but the team has also won 38 of the last 47 Division I Ohio State High School Championships and has never lost a district meet since 1959. (See feature, page 32, and a related story, page 28.)
[PHOTO PROVIDED BY ST. XAVIER HIGH SCHOOL]
October 2017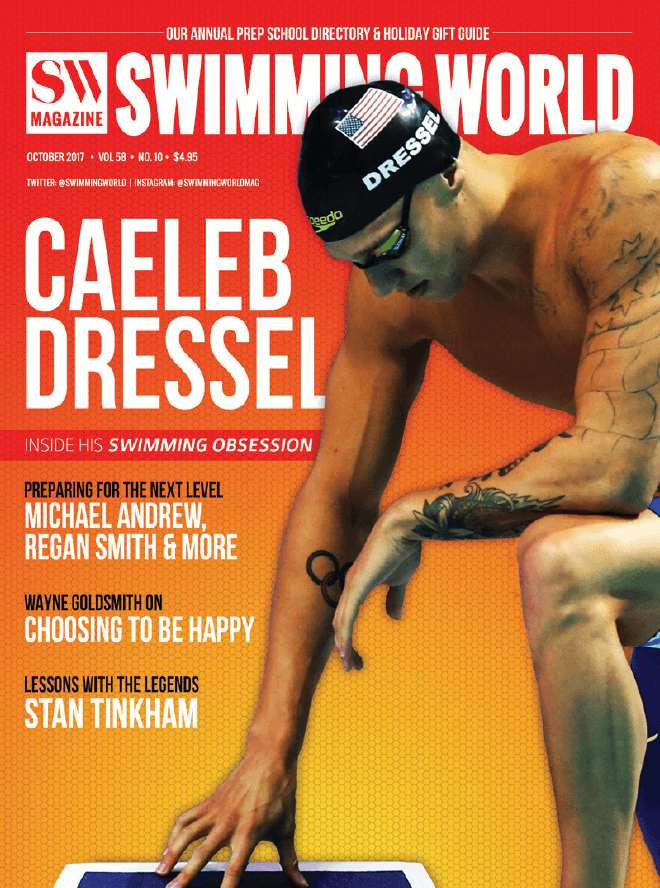 ON THE COVER: 
Caeleb Dressel lit it up at the World Championships in Budapest. He ripped through two world records (mixed 4×100 meter medley and freestyle relays) and five American records (two in the 50 free, 21.29sf and 21.15; two in the 100 free, 47.26r and 47.17; and one in the 50 fly, 22.76sf)…and just missed Michael Phelps' world record in the 100 fly by 4-hundredths of a second! He won seven gold medals, tying Phelps for the most golds captured in one World Championship meet. And three of those titles came on the same night—something no swimmer had ever done at either the World Championships or Olympics. (See feature, page 28.)
[PHOTO BY SIPA USA]
November 2017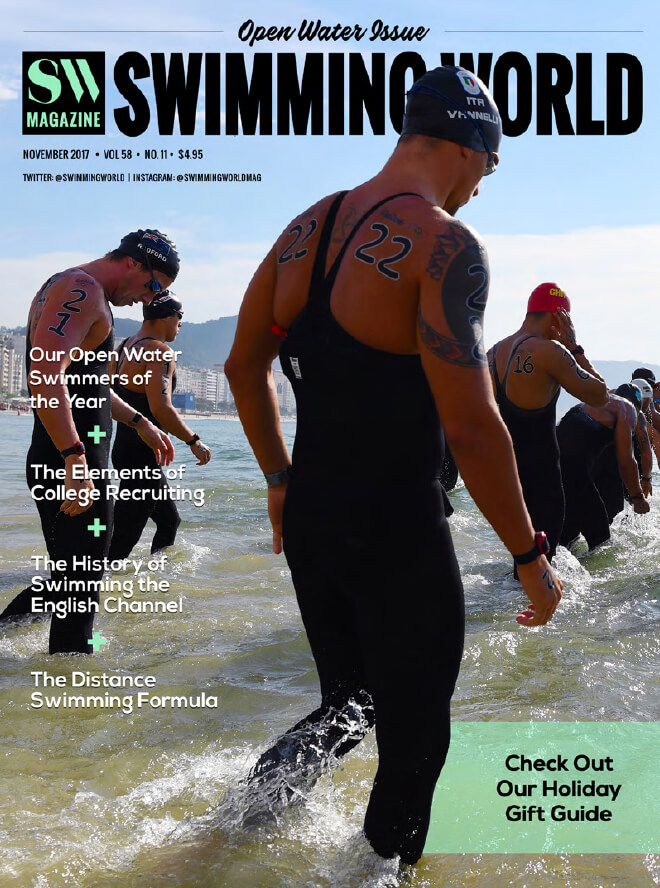 ON THE COVER: 
This month is our annual open water issue. In addition to naming this year's World Open Water Swimmers of the Year—France's Aurelie Muller and the Netherlands' Ferry Weertman (pages 18-20), Swimming World discusses some of the controversial issues facing open water swimming (pages 22-23). We also take a look at the aftermath of Hurricanes Harvey and Irma and how they have affected open water races in the southeastern United States, Gulf of Mexico and Caribbean (pages 24-25); the English Channel—its history (pages 28-29) and a recent crossing by an Arizona swim coach (pages 26-27); and the idea of adding open water relays at the 2020 Olympics (page 21).
[PHOTO BY KYLE TERADA-USA TODAY SPORTS]
December 2017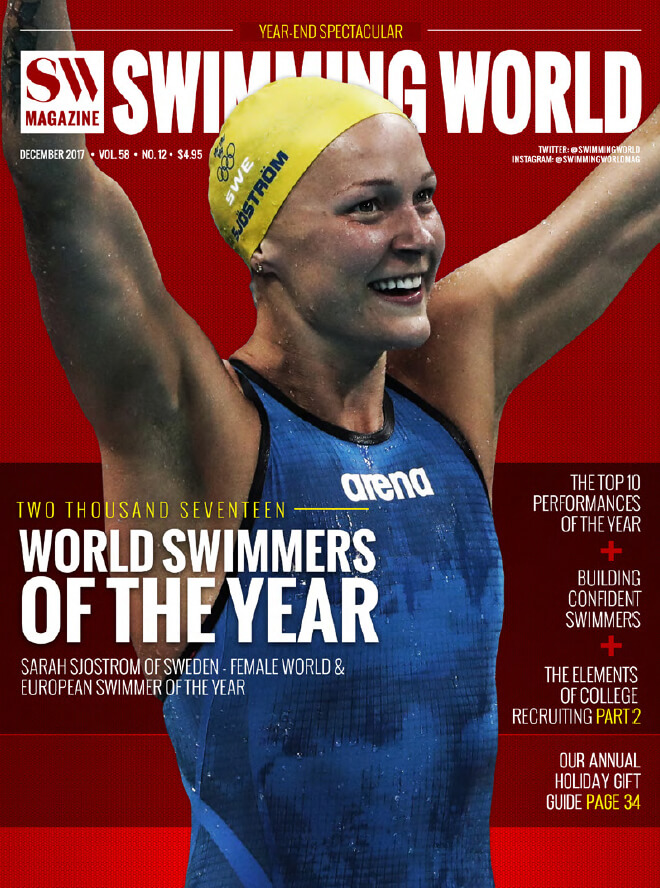 ON THE COVER: 
Sarah Sjostrom has ended Katie Ledecky's four-year reign as the best female swimmer in the world, being named Swimming World's Female World Swimmer of the Year for the first time. Both Sjostrom and Ledecky won three individual gold medals and a silver at this summer's World Championships in Budapest, but the 23-year-old from Sweden eclipsed six world records in 2017. Read about all of this year's World and Regional Swimmers of the Year on pages 16-23 as well as the women's and men's Top 5 Performances of the Year on pages 24-27.
[PHOTO BY ROB SCHUMACHER, USA TODAY SPORTS ]