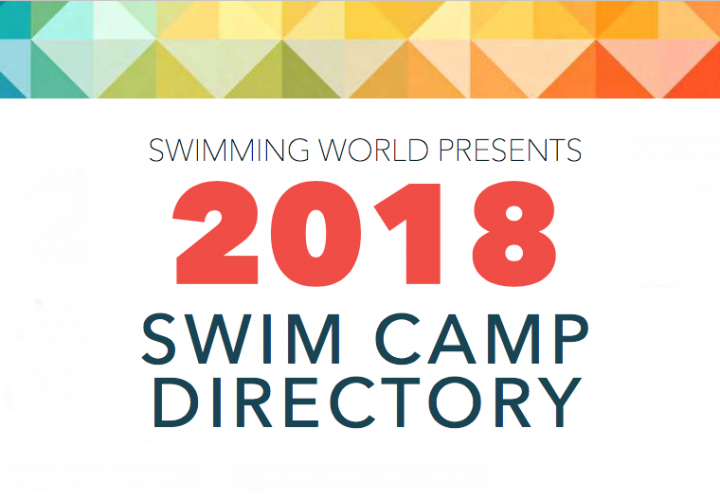 For over 40 years Swimming World has been featuring swim camps from around the country in our annual Swim Camp Directory. This month Swimming World is excited to present a nine-page directory of camps for you to choose from.
Featured Camps:
To learn more about the 2018 Camp Directory, check out the March issue, available now!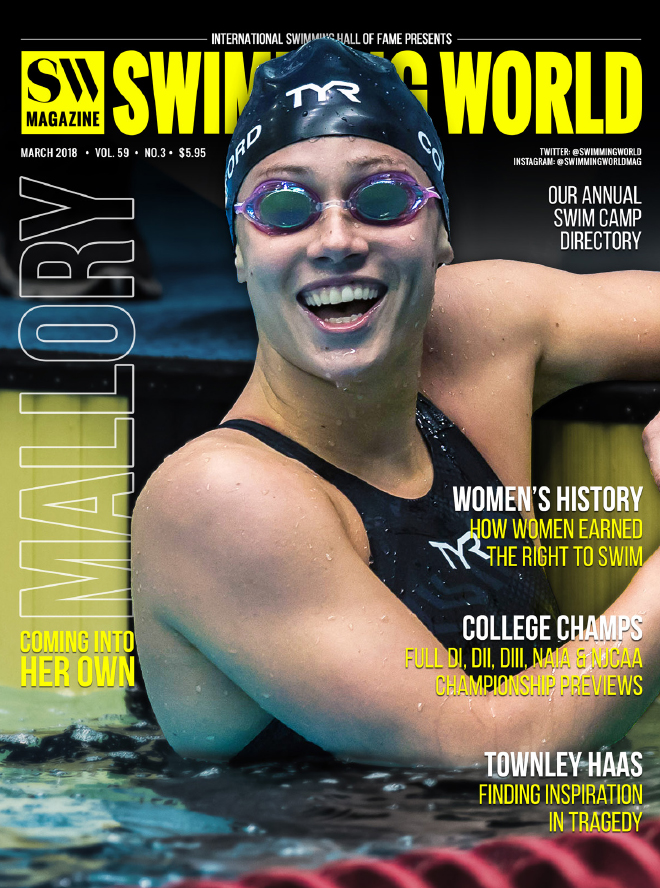 [ PHOTO BY PETER H. BICK ]
Swimming World Magazine gives you access to all of the back issues of Swimming World Magazine dating back to 1960!  Visit the Swimming World Magazine Vault.
FEATURES
016 PRIMED FOR THE SEQUEL
by Dan D'Addona
Stanford's performance last year in winning the women's NCAA Division I Championships by nearly 200 points was a blockbuster hit. And this year's team might even be better!
020 A REPEAT FOUR-PEAT?
by Dan D'Addona
Texas won four NCAA team titles in a row from 1988 through 1991. They're on the verge of making that happen again in 2018, having already won three straight championships since 2015.
024 CAN'T GET ENOUGH
by Andy Ross and David Rieder
The swimming superpowers of NCAA Division II and III, NAIA and NJCAA will try to pick up where they left off last year and continue their dominance at their respective national championships.
027 INSPIRED
by David Rieder
Townley Haas' story about his rapid rise to become an American record holder and an Olympic gold medalist is inspiring. What's more inspiring to Haas, however, is the positive outlook on life shown by his sister, Emily. In 2007, she survived being shot in the head at the Virginia Tech massacre that killed 32 people and wounded 17.
030 COMING INTO HER OWN
by Annie Grevers
In 2017, Mallory Comerford tied freestyle superstar Katie Ledecky at NCAAs and collected five gold medals at the World Championships. Named USA Swimming's "Breakout Swimmer of the Year," the 20-year-old University of Louisville junior and team captain is more than ready to see what 2018 will bring.
034 TRAGEDY TO TRIUMPH
by Bruce Wigo
To celebrate women's history month, Swimming World looks back at one of history's most awful tragedies—the General Slocum Disaster—and how it influenced the right to swim for women.
COACHING
010 LESSONS WITH THE LEGENDS: RON BALLATORE
by Michael J. Stott
014 SWIMMING TECHNIQUE CONCEPTS: CAN KATIE LEDECKY SWIM FASTER? (Part 2)
by Rod Havriluk
Katie Ledecky absolutely has the potential to swim faster—much faster. She could make three important technique improvements regarding the head, arm coordination and pull phase.
037 COLLEGE SWIMMING: BEING YOUR BEST
by Michael J. Stott
Many college coaches believe that how they train their swimmers between the conference and national championships depends on each individual athlete. But the end result is the same for everyone: making sure their swimmers are able to perform their best.
048 Q&A WITH COACH BILL PILCZUK
by Michael J. Stott
050 HOW THEY TRAIN JOEL AX
by Michael J. Stott
JUNIOR SWIMMER
053 UP & COMERS: EMMA KERN
by Taylor Brien
COLUMNS & SPECIAL SECTIONS
008 A VOICE FOR THE SPORT
013 BEYOND THE YARDS
036 THE OFFICIAL WORD
040 2018 SWIM CAMP DIRECTORY
052 HASTY HIGH POINTERS
054 GUTTER TALK
056 PARTING SHOT