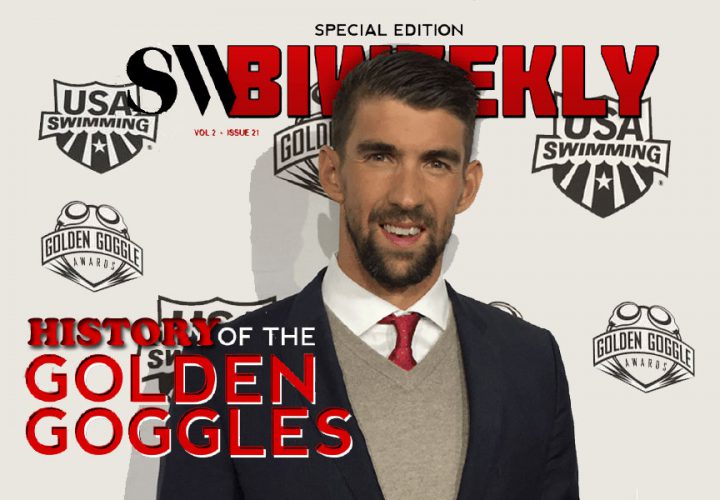 Current subscribers can visit the Swimming World Vault to download the issue now! Non-Subscribers can download for FREE by Clicking HERE.
Take a trip down memory lane with the latest edition of the Swimming World Biweekly as we at Swimming World re-live not only the 2016 award recipients but each recipient in the history of the Golden Goggles! Also available in this special edition of the Biweekly is a photo gallery from the 2016 Golden Goggles red carpet and the 2016 Holiday Gift Guide!
Be sure and download your FREE copy of Swimming World Biweekly: The History of the Golden Goggles today!
Save 25% on a 1 year subscription and download more issues from the Swimming World Vault and get the following:
Use Coupon Code: realnews and save 25%
A monthly print copy of Swimming World Magazine in the mail for 1 year!
Free download of the next 12 issues and the past 12 issues of Swimming World Magazine!
Free download of next 24 issues and the past 24 issues of Swimming World Biweekly!
Free download of next 4 issues and the past 4 issues of Swimming Technique Magazine!
SWIMMING WORLD BIWEEKLY FEATURES:
006 2016 RED CARPET PHOTO GALLERY
014 BREAKOUT SWIMMER OF THE YEAR
018 PERSEVERANCE AWARD
022 COACH OF THE YEAR
026 RELAY OF THE YEAR
030 FEMALE PERFORMANCE OF THE YEAR
034 MALE PERFORMANCE OF THE YEAR
038 FEMALE ATHLETE OF THE YEAR
042 MALE ATHLETE OF THE YEAR
046 HOLIDAY GIFT GUIDE