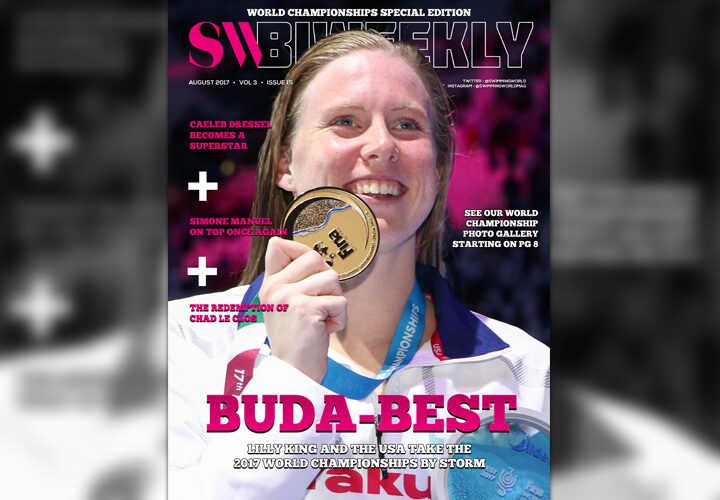 Editorial Coverage provided by

The 2017 FINA World Championships in Budapest, Hungary delighted and awed the world with awe-inspiring swims for a full eight days, setting the stage for an exciting quadrennial as swimmers begin their quest towards Tokyo 2020.
Swimming World presents a special World Championships edition of the Biweekly, featuring full-page photo spreads, features on some of the top stories coming out of the World Championships, and race run-downs. Among the featured stories include Lilly King's emphatic delivery of a new world record in the 100 breast, the night Caeleb Dressel became a superstar, and Chad le Clos tearful journey back to the top of the podium.
Current subscribers can visit the Swimming World Vault to download this issue and the latest Swimming Technique Magazine! Non-Subscribers can download and sample the current Swimming World Biweekly for FREE!
Special $4.95 Offer For New Subscribers!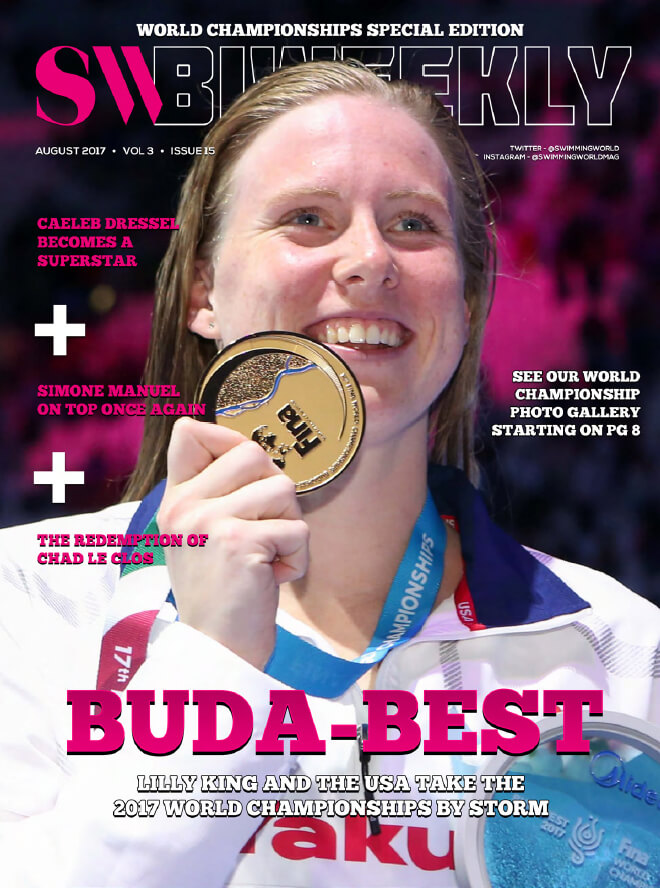 Save 25% on a 1 year subscription and download more issues from the Swimming World Vault and get the following:
Use Coupon Code: realnews and save 25%
A monthly print copy of Swimming World Magazine in the mail for 1 year!
Free download of the next 12 issues and the past 12 issues of Swimming World Magazine!
Free download of next 24 issues and the past 24 issues of Swimming World Biweekly!
Free download of next 4 issues and the past 4 issues of Swimming Technique Magazine!
Click Here For This Special Offer with coupon code "realnews" during checkout.
FEATURES:
008 2017 FINA WORLD CHAMPIONSHIPS PHOTO GALLERY
photos by SIPA USA
028 THE NIGHT CAELEB DRESSEL BECAME A SUPERSTAR
by David Rieder
Caeleb Dressel was hyped as the next great American sprinter. As for the hype, well, he earned it. But that's a lot to live up to…
032 USA CAPS OFF HISTORIC FINA WORLD CHAMPIONSHIPS WITH AN EXCLAMATION POINT
by David Rieder
Sure, Adam Peaty made it interesting, giving hte British men a four-hundredth lead over the Americans at the halfway point of the final event of the FINA World Championships…
036 IN THE BIGGEST MOMENT, LILLY KING EMPHATICALLY DELIVERS
by David Rieder
Yulia Efimova was out for revenge, looking to turn the tables on Lilly King after King beat her for gold in the 100 breast final at the Olympic Games…
038 DEJA VU FOR SIMONE MANUEL, ON TOP OF THE WORLD ONCE AGAIN
by David Rieder
When Simone Manuel won her first Olympic gold medal, she could hardly believe that the digit "1" was next to her name on the scoreboard, and almost instantly, she was flooded by emotion…
040 LE CLOS FINDS REDEMPTION IN EMOTIONAL WORLD TITLE
by David Rieder
Chad le Clos was 20 years old and in his first Olympic Games, his second Olympic final, when he took down a legend. That time, there were no tears, only joy.
042 FOR THE FIRST TIME, KATIE LEDECKY COMES UP SHORT
by David Rieder
The prospects of Katie Ledecky not finishing first in the women's 200 free final were real, very real. During the first three days of the World Championships, Ledecky had insisted that she believed she was clicking…
044 KYLIE MASSE GETS OVER THE HUMP, MAKES HISTORY FOR CANADA
by David Rieder
Kylie Masse's ascendance to the elite level of women's sprint backstroke was rapid and nothing short of stunning. It was just getting over the world record hump that took a little bit longer…
046 FRUSTRATED RYAN MURPHY EYES RETURN TO THE TOP
by David Rieder
In 2016, after winning three Olympic gold medals and setting a world record, Ryan Murphy had earned the undisputed title of the world's best backstroker. One year later, he's not that anymore, and that irks him.
048 HOW THEY TRAIN – ZACH BROWN & MADISON HOMOVICH
by Michael J. Stott
Marlins of Raleigh swimmers Zach Brown and Madison Homovich are rising seniors in high school. They have started to make names for themselves beyond their native North Carolina.
050 – 056 2017 FINA WORLD CHAMPIONSHIPS MEET RUNDOWNS
by Andy Ross
050 U.S. BREAKS WOMEN'S 400 MEDLEY RELAY WORLD RECORD
       KATINKA HOSSZU WINS THIRD STRAIGHT 400 IM WORLD TITLE
051 LILLY KING SETS 50 BREAST WORLD RECORD
052 UNITED STATES ANNIHILATES MIXED 400 FREE RELAY WORLD RECORD
       SARAH SJOSTROM BLASTS 50 FREE WORLD RECORD IN SEMIFINALS
053 DRESSEL JUST MISSES MICHAEL PHELPS' 100 FLY WORLD RECORD
054 RYLOV HOLDS OFF RYAN MURPHY FOR 200 BACK GOLD
       MANUEL RUNS DOWN SARAH SJOSTROM IN 100 FREE FINAL
055 LEDECKY ANCHORS USA TO FOURTH STRAIGHT 800 FREE RELAY TITLE
       PEATY UNLEASHES 25.95 50 BREAST WORLD RECORD
056 CROATIA BEATS HOST HUNGARY IN FINA WATER POLO FINAL
by Michael Randazzo
In what must be considered both a milestone as well as searing disappointment for fans of Hungarian water polo, the unexpectedly brilliant run of their national team in the 2017 FINA World Championships came to a crashing halt…