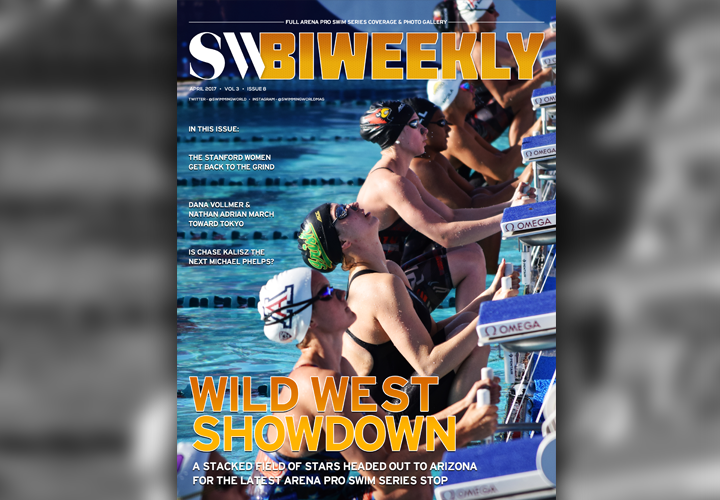 Photo Courtesy: Swimming World Biweekly
Swimming World captured the best photos and stories from the Arena Pro Series in Mesa and aggregated them into this exciting digital publication. View photos of the world's best swimmers and read articles about Dana Vollmer, Nathan Adrian and the Stanford women as they begin their march toward the world championships in Budapest later this summer and on toward Tokyo in 2020.
Current subscribers can visit the Swimming World Vault to download this issue now!
Non-Subscribers can download for FREE by clicking HERE.
Be sure and download your FREE copy of Swimming World Biweekly today!
Save 25% on a 1 year subscription and download more issues from the Swimming World Vault and get the following:
Use Coupon Code: realnews and save 25%
A monthly print copy of Swimming World Magazine in the mail for 1 year!
Free download of the next 12 issues and the past 12 issues of Swimming World Magazine!
Free download of next 24 issues and the past 24 issues of Swimming World Biweekly!
Free download of next 4 issues and the past 4 issues of Swimming Technique Magazine!
Click Here For This Special Offer with coupon code "realnews"
FEATURES
008 ARENA PRO SWIM SERIES MESA FULL FINALS RECAP
by Andy Ross & Taylor Brien
All the finals action from Mesa, AZ as the Arena Pro Swim Series makes its annual stop in the desert.
013 ARENA PRO SWIM SERIES MESA PHOTO GALLERY
photos by Joe Johnson, Brittany Johnson, Taylor Brien & Brooke Wright
028 NATHAN ADRIAN PRESSING ON TOWARD ANOTHER OLYMPIC CYCLE
by David Rieder
He's accomplished just about everything one could want in the sport of swimming. And after three Olympics and eight medals, five of them gold, Nathan Adrian has returned to competition for another go-round…
030 DANA VOLLMER PREPARING FOR A NEW BABY AND TOKYO 2020
by David Rieder
Dana Vollmer climbed out of the pool, lifting herself into a sitting position instead of onto her knees or feet. Walking off the deck, she wasn't sure what her time was. She had just swam the 50 free in prelims at the Arena Pro Swim Series in Mesa, but unlike almost every other race she'd ever done, the time was of little importance…
034 HOW CAN CHASE KALISZ REPLACE MICHAEL PHELPS?
by David Rieder
He had just won an NCAA title in his best event, the 400 IM, crushing his own American record in the process. But already, Chase Kalisz was thinking about what he could accomplish in the Olympic-sized pool…
036 NATIONAL CHAMPION STANFORD WOMEN BACK TO THE GRIND
by David Rieder
For three-plus days in mid-March, the Stanford women poured every ounce of emotional and physical energy into a swim meet, and they were rewarded with the trophy that they had spend six months working for—and much longer aiming for…
038 ADAM PEATY LEADING BRITISH MEN TO INTERNATIONAL PROMINENCE
by David Rieder
Adam Peaty only swam two races at the Olympic Games in Rio, but boy did he leave his mark in both…
040 CLARK SMITH SIGNS WITH ARLUCK PROMOTIONS AS HE BEGINS PRO CAREER
by David Rieder
Clark Smith just wrapped up his collegiate career at Texas with NCAA titles and American record-setting performances in both the 500 and 1650 free, and now he has take