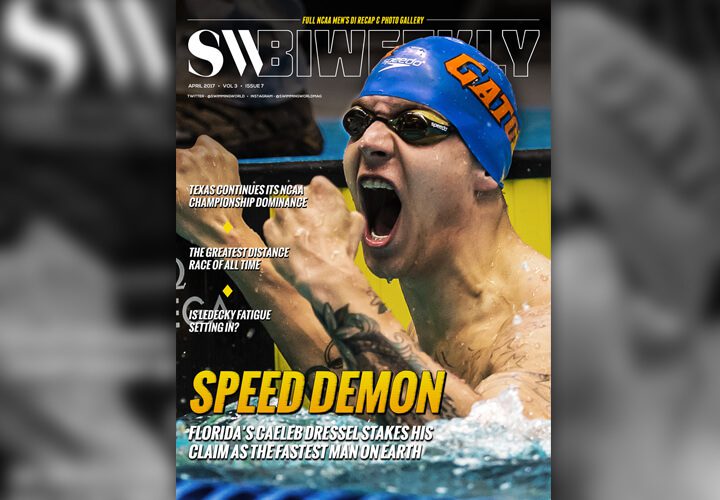 Current subscribers can visit the Swimming World Vault to download this issue now! Non-Subscribers can download for FREE by clicking HERE.
Take a stroll down memory lane and celebrate the swift swimming from the 2017 Men's NCAA D1 Swimming & Diving Championships. The first Biweekly of April celebrates the men's NCAA Championships with a full recap of the action, commentaries and features from Swimming World staff, plus photos of all the excitement from chief photographer Peter H. Bick.
Featured on the cover is Florida's Caeleb Dressel, who continued to etch his name into the record books as the fastest man in Short Course Yards with new American records in the 100 free and 100 fly.
,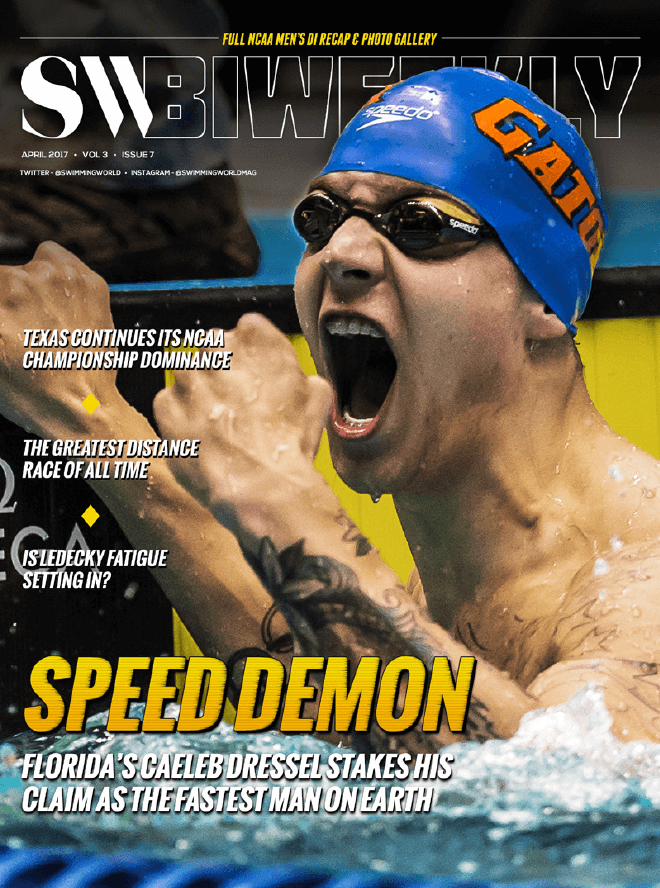 Be sure and download your FREE copy of Swimming World Biweekly today!
Save 25% on a 1 year subscription and download more issues from the Swimming World Vault and get the following:
Use Coupon Code: realnews and save 25%
A monthly print copy of Swimming World Magazine in the mail for 1 year!
Free download of the next 12 issues and the past 12 issues of Swimming World Magazine!
Free download of next 24 issues and the past 24 issues of Swimming World Biweekly!
Free download of next 4 issues and the past 4 issues of Swimming Technique Magazine!
Click Here For This Special Offer with coupon code "realnews"
FEATURES:
006 MEN'S NCAA D1 CHAMPIONSHIPS PHOTO GALLERY
photos by Peter H. Bick
032 MEN'S NCAA D1 CHAMPIONSHIPS FULL FINALS RECAP
by Andy Ross
All the action from Indianapolis as the Texas Longhorns take home their third team title in a row.
040 TEXAS THREE-STEP: LONGHORNS DOMINATE FOR THIRD STRAIGHT NCAA TITLE
by Dan D'Addona
With no team within striking distance on the final day of the NCAA Division I men's championship, the Longhorns capped a week of stellar performances by capturing their third consecutive national championship in Indianapolis…
042 MOTIVATED RYAN MURPHY MAKES HISTORY, AIMS FOR MORE
by David Rieder
Ryan Murphy was behind. It was unusual, unnerving even, to see the world's most dominant backstroker trailing. His freshman year, he had won the 100 back NCAA title by a hand's length over Penn State's Shane Ryan, but nobody had come close since…
046 CAELEB DRESSEL'S 40.00 OPENS EYES, INSPIRES BIG GOALS
by Dan D'Addona
After two days of Caeleb Dressel opening the eyes of the entire swimming world at the NCAA championships, the Florida junior wasn't done…
048 AMERICAN RECORD IN 400 IM PROPELS CHASE KALISZ TO NEXT STEP
by David Rieder
In 2015, Chase Kalisz arrived at the NCAA championships in Iowa City, Iowa, as the two-time defending NCAA champion and American record-holder in the 400 IM. But Kalisz was off that weekend, and he finished more than three seconds behind Will Licon…
050 THE GREATEST NCAA DISTANCE RACE EVER
by David Rieder
Long before four men touched the wall with the four fastest times in history, all of those watching the 1650 free at the men's NCAA championships realized that they were being treated to an epic showdown.
052 IS "LEDECKY FATIGUE" SETTING IN?
Commentary by Joe Johnson
…I said it. Katie Ledecky was the NCAA swimmer of the meet and she should continue to be the swimmer of every meet until somebody proves otherwise…