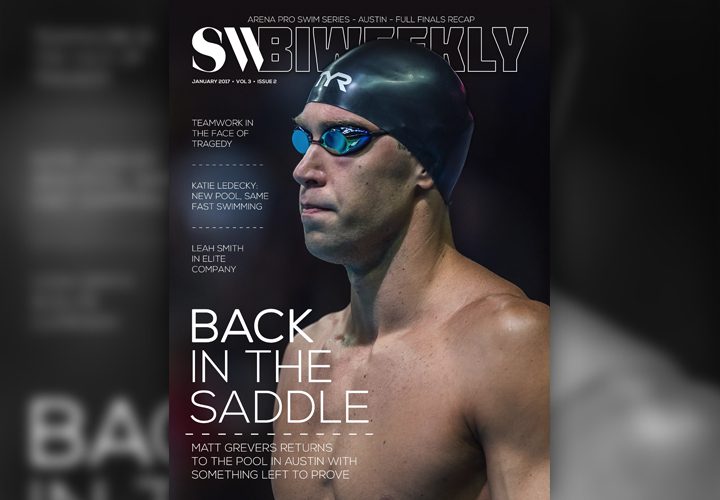 Current subscribers can visit the Swimming World Vault to download this issue now! Non-Subscribers can download for FREE by clicking HERE. 
Olympic gold medalist Matt Grevers made his return to competitive swimming earlier this month at the 2017 Arena Pro Series in Austin, Texas. Grevers got "back in the saddle" with a gold medal performance in finals of the men's 100 back. The full recap from the Arena Pro Series in Austin is available in the second edition of the 2017 Swimming World Biweekly. 
Also featured in this issue are top news stories about USA Swimming's Jr. National Team, open water training, inspirational stories, industry news, college recaps and much more.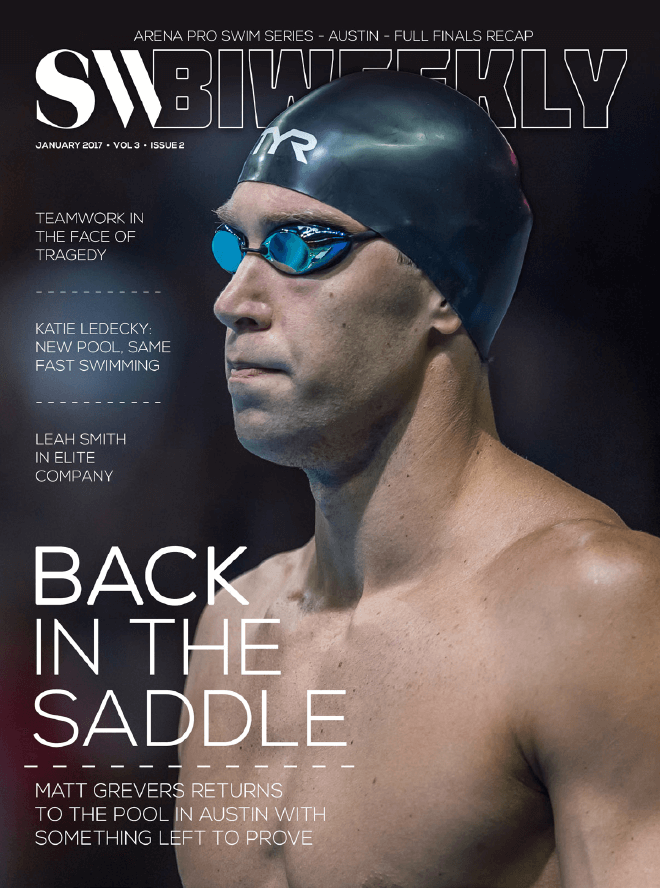 Be sure and download your FREE copy of Swimming World Biweekly today!
Save 25% on a 1 year subscription and download more issues from the Swimming World Vault and get the following:
Use Coupon Code: realnews and save 25%
A monthly print copy of Swimming World Magazine in the mail for 1 year!
Free download of the next 12 issues and the past 12 issues of Swimming World Magazine!
Free download of next 24 issues and the past 24 issues of Swimming World Biweekly!
Free download of next 4 issues and the past 4 issues of Swimming Technique Magazine!
Click Here For This Special Offer with coupon code "

realnews

"
FEATURES
006 ARENA PRO SWIM SERIES: AUSTIN – FULL FINALS RECAP
by Taylor Brien
The 2017 Arena Pro Series kicked off in Austin, Texas with 2016 Olympic gold medalists highlighting the field. 2016 Olympians Amanda Weir, Melanie Margalis, and Josh Prenot each collected a gold medal in their first night of the three day meet.
012 LEAH SMITH IS IN ELITE COMPANY
by Alec Scott
The rise of Katie Ledecky into possibly the most dominant female swimmer of all time has redefined distance swimming. During which time Leah Smith has somewhat quietly become one of the best middle-distance freestylers of all time.
013 USA SWIMMING RELEASES NATIONAL JUNIOR TEAM SELECTION CRITERIA
by David Rieder
USA Swimming announced the qualifying procedures for the 2017-2018 National Junior Team, which will consist of athletes 18 years old or younger on Sept. 1, 2017.
014 OPEN WATER TRAINING WITH GRANT HOLICKY
by Robbie Dickson
Grant Holicky, head coach of Rallysport Aquatics (RACE) in Boulder, Colorado, has been working with elite open water swimmers for several years now. Two of his most notable athletes are Joey Pedraza and Christine Jennings…
016 THE ULTIMATE DISPLAY OF TEAMWORK
by Maddie Strasen & Chandler Brandes
The shooting in the Ft. Lauderdale Airport proved the bond teammates have is something that can never be broken…
018 DURDEN, MEEHAN NAMED HEAD COACHES FOR 2017 FINA WORLD CHAMPIONSHIPS
by Taylor Brien
Dave Durden and Greg Meehan, standout collegiate coaches and assistants for Team USA at the 2016 Olympic Games, have been selected to lead USA Swimming as head coaches at the 2017 FINA World Championships.
019 STAYING THE COURSE
by Emily Messina
If you have just come off of a week or two of challenging training and are probably heading back to the stress of school. It might feel like it is time for taper and relaxation. However, this is an important time to push your training…
020 SWIMMING AUSTRALIA ANNOUNCES APPAREL DEAL WITH ARENA
Swimming Australia is thrilled to announce a new partnership with iconic swimwear brand arena, that will see them become the official swimwear supplier of the Australian Dolphins Swim Team for the next four years.
022 NEW TEAM, NEW LIFE, SAME FAST SWIMMING FOR KATIE LEDECKY
by David Rieder
One chapter of Katie Ledecky's swimming career ended in Rio, and another commenced a month later when she arrived at Stanford. But between the two chapters, so much seems remarkably similar…
024 PIECING TOGETHER THE TOP TEN AT WOMEN'S NCAA CHAMPIONSHIPS
by David Rieder
As it looks right now, picking a winner of this year's NCAA championships won't be nearly as tough as figuring out how the puzzle pieces fit in further down the list. If my math is correct, that makes 13 teams with a legitimate argument for the top-ten, and based on their season performances to date, seven or eight of them could finish in the top five…
026 BIG TEN ANALYSIS: LACK OF CONFERENCE DUALS MAKES RIVALRIES COUNT EVEN MORE
by Dan D'Addona
The Big Ten Championships is shaping up to be an intriguing meet. Plenty of teams are swimming well, but it will really be interesting because most of the teams have not faced each other.
027 ANTHONY ERVIN, LASZLO CSEH, KATIE MEILI PICK UP WINS IN GENEVA
by David Rieder
A trio of individual Olympic medalists from last summer in Rio all opened up their 2017 racing campaigns in Geneva, Switzerland, and Hungary's Laszlo Cseh and Americans Anthony Ervin and Katie Meili all walked away with wins.
028 WHO WILL FILL IN FOR MICHAEL PHELPS THIS SUMMER?
by Jason Tillotson
This summer we will see a few notable names absent from the national team roster. Among those names will be none other than, Michael Phelps. Phelps left some enormous shoes to fill…So, who will be the one to fill them?
030 DR. TOBIE SMITH NAMED TO USADA BOARD OF DIRECTORS
by David Rieder
Dr. Tobie Smith, a former U.S. National Team member and top open water swimmer, has been appointed to serve on the USADA Board of Directors.
032 IN REVIEW: LYNNE COX'S 'SWIMMING IN THE SINK'
by Katie Wingert
For those swimmers feeling down–or even just disillusioned by their sport's daily grind—Lynne Cox's Swimming in the Sink will serve as a rejuvenating breath of fresh air.
034 SYNCHRONIZED SWIMMING: IS IT REALLY A SPORT?
by Jessica Hubler
Is synchronized swimming really a sport? Despite the doubt of many people, synchronized swimming is one of the most underrated but most difficult sports, and it certainly deserves to be in the Olympic games.