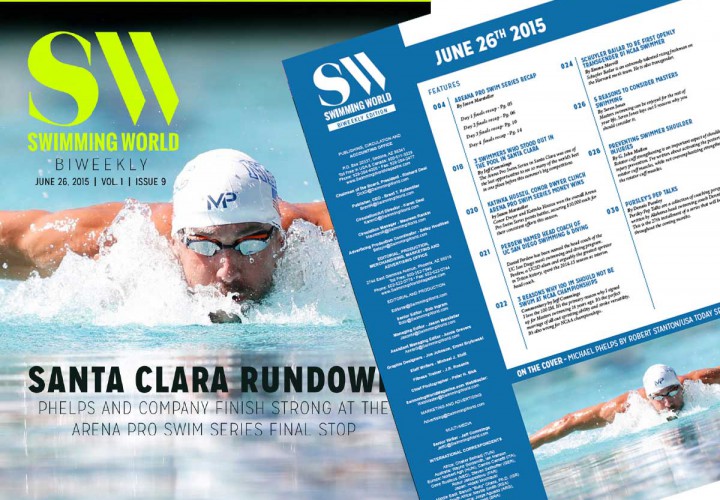 Swimming World Biweekly Magazine is now available for readers to download for FREE to enjoy all the great stories from featured on SwimmingWorld.com over the past two weeks. Plus Special Insert Featuring the Aquatic Directory
FEATURES
AREANA PRO SWIM SERIES RECAP
By Jason Marsteller
Day 1 finals recap – Pg. 05
Day 2 finals recap – Pg. 06
Day 3 finals recap- Pg. 10
Day 4 finals recap – Pg. 14
PERDEW NAMED HEAD COACH OF UC SAN DIEGO SWIMMING & DIVING
Daniel Perdew has been named the head coach of the UC San Diego men's swimming and diving program. Perdew, a UCSD alum and arguably the greatest sprinter in Triton history, spent the 2014-15 season as interim head coach.
3 REASONS WHY 100 IM SHOULD NOT BE SWUM AT NCAA CHAMPIONSHIPS
Commentary by Jeff Commings
I love the 100 IM. It's the primary reason why I signed up for Masters swimming 16 years ago. It's the perfect marriage of all-out sprinting ability and stroke versatility. It's also wrong for NCAA championships.
SCHUYLER BAILAR TO BE FIRST OPENLY TRANSGENDER D1 NCAA SWIMMER
By Emma Merrill
Schuyler Bailar is an extremely talented rising freshman on the Harvard men's team. He is also transgender.
3 SWIMMERS WHO STOOD OUT IN THE POOL IN SANTA CLARA
By Jeff Commings
The Arena Pro Swim Series in Santa Clara was one of the last opportunities to see so many of the world's best in one place before this summer's big competitions.
5 REASONS TO CONSIDER MASTERS SWIMMING
By Seren Jones
Masters swimming can be enjoyed for the rest of your life. Seren Jones lays out 5 reasons why you should consider it.
PREVENTING SWIMMER SHOULDER INJURIES
By G. John Mullen
Rotator cuff strengthening is an important aspect of shoulder injury prevention. I've written about activating the posterior rotator cuff muscles, while not overemphasizing strengthening the rotator cuff muscles.
PURSLEY'S PEP TALKS
By Dennis Pursley
Pursley Pep Talks are a collection of coaching perspectives written by Alabama head swimming coach Dennis Pursley. This is the 27th installment of a series that will be rolled out throughout the coming months.
KATINKA HOSSZU, CONOR DWYER CLINCH ARENA PRO SWIM SERIES MONEY WINS
by Jason Marsteller
Conor Dwyer and Katinka Hosszu won the overall Arena Pro Swim Series points battles, securing $10,000 each for their consistent efforts this season.
Swimming World announced back in 2014 that it was going to offer 12 monthly print issues of Swimming World Magazine and 24 online bi-weekly issues in 2015.
Every two weeks Swimming World will be bringing you all the top stories that flew by on the internet while you were making laps in the pool or driving to work. No need to plug in 24/7. Swimming World Magazine will bring you all the news you missed through its Swimming World Biweekly Magazine.
You can still get your copy of the June 2015 PRINT Issue of Swimming World Magazine now!