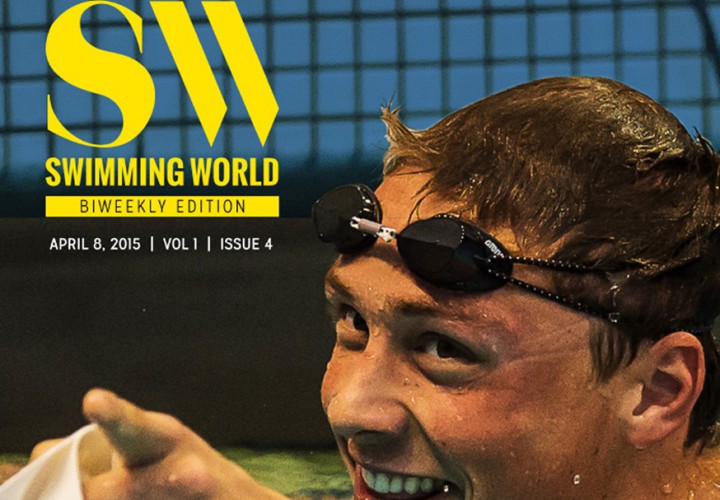 PHOENIX – Readers can download this issue of Swimming World Biweekly Magazine for FREE to catch up on all the internet stories they missed over the past few weeks. This comes hot off the postman's heels who delivered the April print issue of Swimming World Magazine to mailboxes around the world.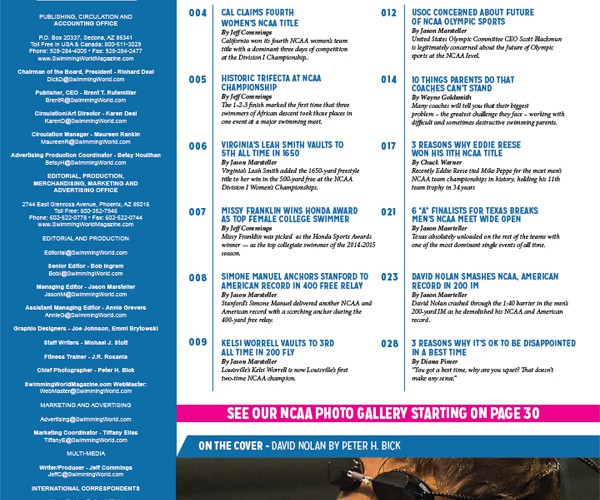 FEATURE STORIES
CAL CLAIMS FOURTH WOMEN'S NCAA TITLE
By Jeff Commings
California won its fourth NCAA women's team title with a dominant three days of competition at the Division I Championship..
KELSI WORRELL VAULTS TO 3RD ALL TIME IN 200 FLY
By Jason Marsteller
Louisville's Kelsi Worrell is now Louisville's first two-time NCAA champion.
HISTORIC TRIFECTA AT NCAA CHAMPIONSHIP
By Jeff Commings
The 1-2-3 finish marked the first time that three swimmers of African descent took those places in one event at a major swimming meet.
USOC CONCERNED ABOUT FUTURE OF NCAA OLYMPIC SPORTS
By Jason Marsteller
United States Olympic Committee CEO Scott Blackmun is legitimately concerned about the future of Olympic sports at the NCAA level.
VIRGINIA'S LEAH SMITH VAULTS TO 5TH ALL TIME IN 1650
By Jason Marsteller
Virginia's Leah Smith added the 1650-yard freestyle title to her win in the 500-yard free at the NCAA Division I Women's Championships.
10 THINGS PARENTS DO THAT COACHES CAN'T STAND
By Wayne Goldsmith
Many coaches will tell you that their biggest problem – the greatest challenge they face – working with difficult and sometimes destructive swimming parents.
3 REASONS WHY EDDIE REESE WON HIS 11TH NCAA TITLE
By Chuck Warner
Recently Eddie Reese tied Mike Peppe for the most men's NCAA team championships in history, holding his 11th team trophy in 34 years
MISSY FRANKLIN WINS HONDA AWARD AS TOP FEMALE COLLEGE SWIMMER
By Jeff Commings
Missy Franklin was picked as the Honda Sports Awards winner — as the top collegiate swimmer of the 2014-2015 season.
6 "A" FINALISTS FOR TEXAS BREAKS MEN'S NCAA MEET WIDE OPEN
By Jason Masrteller
Texas absolutely unloaded on the rest of the teams with one of the most dominant single events of all time.
DAVID NOLAN SMASHES NCAA, AMERICAN RECORD IN 200 IM
By Jason Masrteller
David Nolan crashed through the 1:40 barrier in the men's 200-yard IM as he demolished his NCAA and American record.
3 REASONS WHY IT'S OK TO BE DISAPPOINTED IN A BEST TIME
By Diana Pimer
"You got a best time, why are you upset? That doesn't make any sense."
SIMONE MANUEL ANCHORS STANFORD TO AMERICAN RECORD IN 400 FREE RELAY
By Jason Marsteller
Stanford's Simone Manuel delivered another NCAA and American record with a scorching anchor during
View April 8, Swimming World Biweekly Here
Swimming World announced back in 2014 that it was going to offer 12 monthly print issues of Swimming World Magazine and 24 online bi-weekly issues in 2015.
Every two weeks Swimming World will be bringing you all the top stories that flew by on the internet while you were making laps in the pool or driving to work. No need to plug in 24/7. Swimming World Magazine will bring you all the news you missed through its Swimming World Biweekly Magazine.
You can still get your copy of the APRIL 2015 PRINT Issue of Swimming World Magazine now!