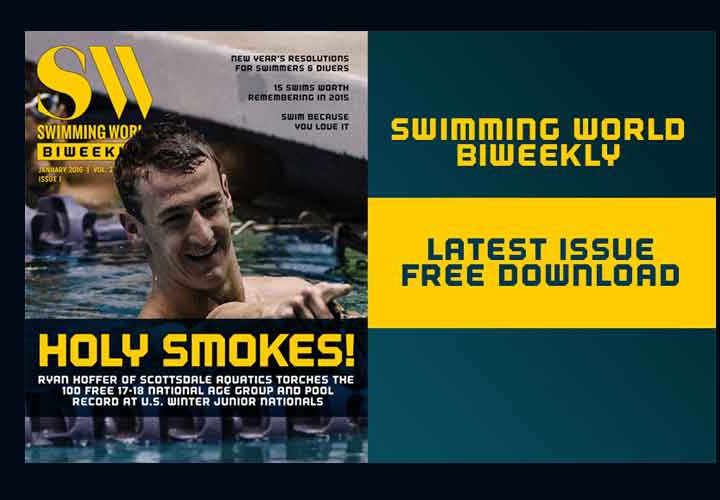 Swimming World BiWeekly Magazine is now available for readers to download for FREE! Download the first issue of this year to read about new year's resolutions for swimmers, ways on how to get through the January grind, and Ryan Hoffer's record-setting 100 free!
FEATURES
4 WAYS TO GET THROUGH THE JANUARY GRIND
by Delaney Lanker
January can be a daunting month for college swimmers, where you are so close to Championship season, yet still so many dual meets away. But don't let the grind get the best of you. Here are some tips to help you take control of January and prepare for a better end of season meet.
TRUST THE PROCESS: 5 NEW YEAR'S RESOLUTIONS FOR SWIMMERS
by Emma Foster
Swimmers, like everyone around them, often make New Year's resolutions. Whether swimming-related, or just goals in terms of how one hopes to present themselves in the New Year, swimmers are no strangers to this process of setting goals.
WATCH RYAN HOFFER'S RECORD-SETTING 100 FREESTYLE FROM AUSTIN
by James Sica
Down in Texas, Ryan Hoffer had a tremendous meet at U.S. Winter Juniors – West that included a 17-18 NAG record in the 100 freestyle and a University of Texas pool record.
5 NEW YEAR'S RESOLUTIONS FOR DIVERS TO CONSIDER
by Molly Lloyd
When it comes to improving in diving, we have to commit ourselves to making consistent changes every day, for every dive, in order to get better – it takes conscious effort to change the ways our bodies move.

MICHAEL PHELPS JOINING ARIZONA STATE UNIVERSITY STAFF FOR '16 – '17 SEASON
by James Sica
Michael Phelps has been reported to be staying in Arizona next year to coach as a volunteer assistant with the Sun Devils. In an interview with the Arizona Republic, Phelps has committed to joining the ASU coaching staff under Bob Bowman for the 2016-2017 season.

MICHIGAN ROLLS TO VICTORY IN THE ORANGE BOWL SWIM CLASSIC
by Peter Baugh
The men's and women's Michigan teams dominated at the Orange Bowl Swim Classic in the Florida Keys at Key Largo's Jacobs Aquatic Center. The ninth ranked Wolverine women beat four other teams, racking up 265 points. The sixth ranked Michigan men beat three teams, finishing with 231 points.
2016 ARENA PRO SWIM SERIES SET TO OPEN IN AUSTIN
by Peter Baugh
USA Swimming opens up 2016 competition with the Arena Pro Swim Series at Austin. The meet will take place from Jan. 15-Jan. 17 at the Lee and Joe Jamail Texas Swimming Center, the home of the Texas Longhorns.
SWIM BECAUSE YOU LOVE IT
by Tess Becket
Stepping into February 2010, I was 8 years old, standing behind lane one of a dimly lit, five lane pool. This race, the 100-yard butterfly, was my final chance to qualify for the Maryland State Championships…
BILL BRENNER NAMED INTERIM CEO FOR U.S. MASTERS SWIMMING
by Brent Rutemiller
The U.S. Masters Swimming Board of Directors has ap¬pointed USMS Education Director Bill Brenner interim CEO. Brenner, who has been with USMS since 2011, will be responsible for National Office daily operations while USMS continues its search for a new CEO.
5 TYPES OF PRE-RACE RITUAL PERFORMERS
by Katlynn Emaus
Races and meets can be very nerve racking; each athlete has their own way of getting in the zone. Pre-race rituals can be a wildcard in certain scenarios.
WHY MARGINAL GAINS AND TRANSFORMATIVE LEARNING MATTER IN SWIMMING
by Seren Jones
Coaching in swimming is focused on marginal gains. Although fitness and conditioning are significant components in swimming, the sport revolves around making minute changes to different aspects of your stroke or technique, in order to make the largest improvement and consequently have the best result.
15 SWIMS WORTH REMEMBERING IN 2015
by Casey Barrett
In 2015, we were treated to some all-time performances, from a collection of young and old-ish, from an unknown Turkish teen to the ultimate bold-faced name in the pool.