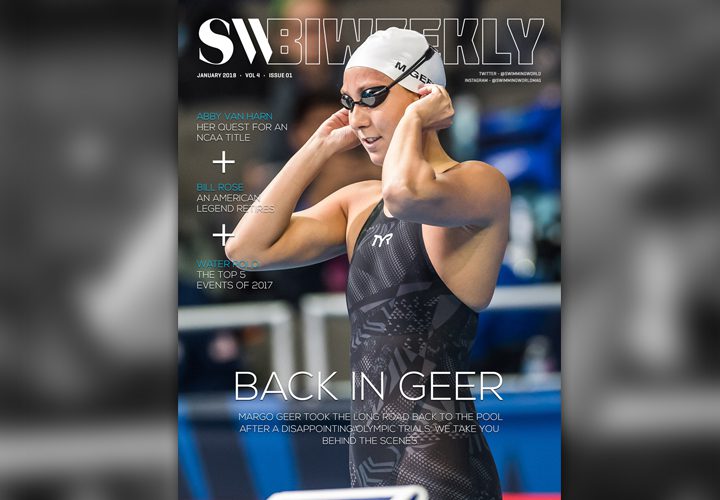 Photo Courtesy: Peter Bick
In the latest issue of the Swimming World Biweekly, You will find a feature on Margo Geer, Coach Bill Rose, Recap of Best Of 2017 Series, How They Train, TYR Pro Series Update and more…
Current subscribers can visit the Swimming World Vault to download the issue now! Non-Subscribers can download for FREE by Clicking Here
FEATURES
008 MEEHAN AND SLUSSER FORGING A CULTURE OF EXCELLENCE AT STANFORD
by Guerby Ruuska
If one were to tune in to all the hype about Stanford women's swimming in recent years, one would think that their success has been ongoing for generations now, but that wasn't the reality before Greg Meehan took the helm in 2012.
012 STRENGTH TO SPEED: CALVIN'S ABBY VAN HARN AIMS FOR NCAA TITLE
by Dan D'Addona
While many swimmers reach their peak with year-round training and limited time out of the water, Abby Van Harn has reached her peak through sheer strength and athleticism…
014 AN AMERICAN ROSE
Commentary by Chuck Warner
It may seem odd to be writing about roses the first week of winter, but on Dec. 31, a very special Rose—Bill Rose, 74, of Mission Viejo—officially retired from coaching the sport he loves.
016 INTERNATIONAL SWIM COACH OF THE YEAR: JOHAN WALLBERG, COACH OF SARAH SJOSTROM
by David Rieder
017 MALE NCAA PERFORMANCE OF THE YEAR: CAELEB DRESSEL'S 100 FREE
by David Rieder
018 FEMALE NCAA PERFORMANCE OF THE YEAR: KATIE LEDECKY'S 500 FREE
by David Rieder
019 MALE WORLD RECORD PERFORMANCE OF THE YEAR: ADAM PEATY'S 50 BREAST
by David Rieder
020 FEMALE WORLD RECORD PERFORMANCE OF THE YEAR: LILLY KING'S 100 BREAST
by David Rieder
022 SWIMMING WORLD'S TOP FIVE WATER POLO EVENTS FOR 2017
by Michael Randazzo
On the cusp of a new year, Swimming World looks to put 2017 in the past, and what better way than with a list of this year's water polo milestones.
024 NICOLAO LEAVES PRINCETON, RETURNS TO NAVY AS HEAD WATER POLO COACH
by Michael Randazzo
In a move that sends shockwaves through East Coast water polo, Luis Nicolao stepped down from coaching Princeton's men's and women's teams to return to his alma mater, the U.S. Naval Academy.
026 KEVIN ANKROM TAKES OVER AS USA DIVING HIGH PERFORMANCE DIRECTOR
USA Diving announced that Kevin Ankrom has been named the national governing body's High Performance Director.
027 DANA VOLLMER IS "FEELING SPEEDY" SIX MONTHS AFTER SECOND CHILD BIRTH; ANNOUNCES RETURN TO COMPETITION
by Andy Ross
Three-time Olympian Dana Vollmer announced via her Instagram account that she was "feeling speedy" in the water.
028 2018 TYR PRO SWIM SERIES TO OPEN IN AUSTIN
A strong field of Team USA Olympians, world champions and USA Swimming National Team members will kick off 2018 at the TYR Pro Swim Series at Austin, set for Jan. 11-14 at the University of Texas' Lee & Joe Jamail Texas Swimming Center.
029 TEXAS A&M MEN, DUQUESNE WOMEN WIN 2018 ORANGE BOWL SWIM CLASSIC
by Jason Tillotson
The Texas A&M men and Duquesne University women took the team titles at the 2018 Orange Bowl Swim Classic in Key Largo, Florida.
030 MARGO GEER'S JOURNEY BACK TO SWIMMING
by David Rieder
Margo Geer was physically present in the building for Olympic Trials in 2016, but compared to the swimmer she had been, she was a shell of herself.
032 COURT DISMISSES DAMAGE CLAIMS OF PREVIOUSLY-BANNED COACH MICHAEL PLIUSKAITIS
by Diana Pimer
In 2013, USA Swimming added Michael Pliuskaitis to its Banned for Life list, banning him from member-ship in the organization…
033 DEAR HOLIDAY TRAINING
by Meaghan Raab
You and I have spent some quality time together over the last four weeks. You were hard. Really hard. You brought day after day of doubles, sometimes with weights in between workouts…
034 RISING DISTANCE SWIMMER MICHAEL BRINEGAR FOLLOWING FAMILY PATH
by David Rieder
More than 30 years ago, Jennifer Hooker was fresh off swimming at the 1976 Olympics in Montreal when she moved west to train with Mark Schubert and the Mission Viejo Nadadores. Three decades later, her son, Michael Brinegar, followed the same pathway, from Indiana out to Southern California…
036 HOW THEY TRAIN: DANIELLE GALYER
by Michael J. Stott
A 2:00.81 200 yard backstroker out of Mauldin High School in Greenville, S.C., 5-8 Danielle Galyer became a difference maker for Lars Jorgensen's Kentucky Wildcats. By the end of her college career, she had become an Olympic Trials finalist, a two-time USA Swimming national team member, four-time NCAA All-American and Kentucky's first female aquatic national champion…