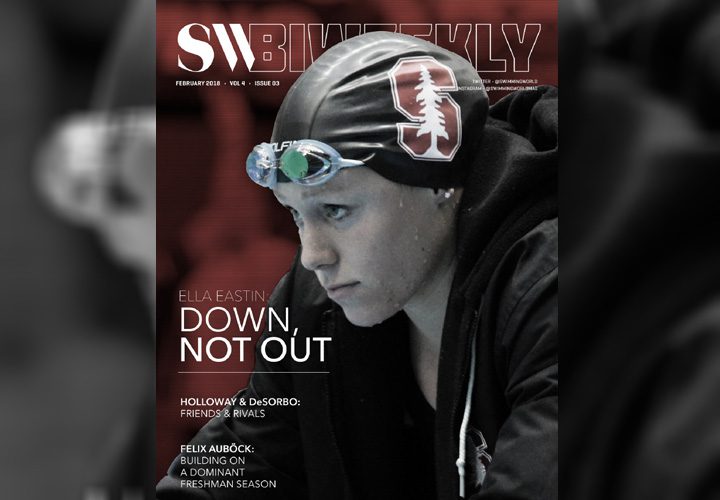 In the latest issue of the Swimming World Biweekly, you will find all the top stories you missed over the last two weeks including features on college swimming, water polo, Paralympics, and training. You will love our feature on the determined Ella Eastin and don't miss our annual camp directory full of great summer camps throughout the United States.
Current subscribers can visit the Swimming World Vault to download the issue now! Non-Subscribers can download for .99 cents by Clicking Here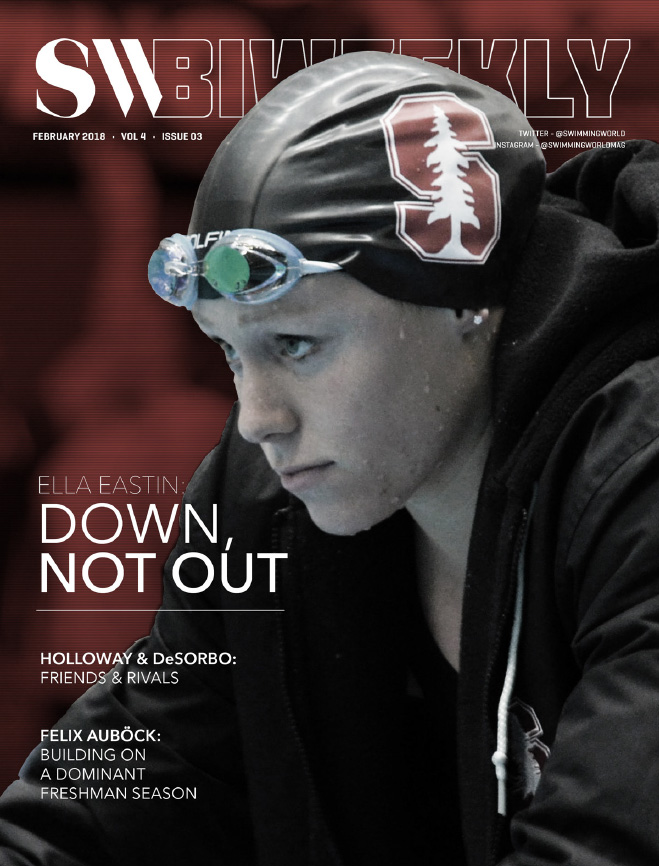 Photo Courtesy: Dan D'Addona
Get Swimming World Magazine and Swimming World Biweekly FREE
When You Become A Member of the International Swimming Hall of Fame
Want More?  Subscribe With This Special 2-Year Offer! 
Swimming World Magazine gives you access to all of the back issues of Swimming World Magazine dating back to 1960!  Visit the Swimming World Magazine Vault.
SWIMMING WORLD BIWEEKLY FEATURES
008 ELLA EASTIN HEARTBROKEN, BUT NOT DEFEATED
by David Rieder
Ella Eastin was an individual NCAA champion four times over and an American record holder in both IM events in short course yards. She had helped Stanford win an NCAA team championship…
012 ARIZONA STATE MEN BEAT TEXAS AND WHAT IT ALL MEANS
by David Rieder
For the victors, the meet meant everything, a previously-downtrodden program knocking off the gold standard. For the losers, it was just another lump in a season full of them—with the hope that all the lumps are meaningless in the end.
014 GRAND CANYON UNIVERSITY SWIMMING POISED FOR INSTANT IMPACT IN DIVISION I
by David Rieder
Entering conference championship season, only one swimmer in the country has broken 45 seconds in the men's 100 back: Mark Nikolaev…
017 'NO LEGS, NO LIMITS'
by Dan D'Addona
Roderick Sewell Jackson was always forced to adapt to adversity — and overcome it. Growing up without a father in the picture, he had both legs amputated above the knee before the age of 2. He then spent ages 7-12 without a home..
018 FORMER COLLEAGUES HOLLOWAY AND DESORBO FACE OFF AS RIVALS
by David Rieder
As Braden Holloway built NC State into one of the top swimming programs in the country, Todd DeSorbo was his chief lieutenant…
020 TWO LIES AND A TRUTH
By Jamie Kolar
Being in the water in swimming can be seen as a blessing because it can block out the rest of the world for a brief two-hour period. However, every blessing has its curse…
021 FORT LAUDERDALE CELEBRATES 90 YEARS OF SWIMMING
Commentary by Laura Voet
90 years ago on Jan. 28, 1928, the City of Fort Lauderdale celebrated the opening of the Casino Pool (1928-1967), the first Olympic-sized swimming pool in the state of Florida…
022 ON THE RECORD WITH TODD CLAPPER OF ARIZONA STATE WOMEN'S WATER POLO
by Michael Randazzo
Speaking with Todd Clapper, head coach for the Arizona State women's water polo team, is a tutorial of how the sport works at the highest levels of NCAA varsity polo…
026 OUR ANNUAL SWIM CAMP DIRECTORY
037 TYR SPORT SIGNS IRONMAN WORLD CHAMPION HOLLY LAWRENCE
Press Release Courtesy of TYR
TYR Sport is proud to announce the addition of 2016 IRONMAN 70.3 World Champion Holly Lawrence to its growing roster of world-class athletes
038 CHLOE GREEN WINS TWO TITLES AT 2018 AUSTRALIAN OPEN WATER SWIMMING CHAMPS
Press Release Courtesy of Swimming Australia
The West Australian swim star Chloe Green reckons her dad, world champion boxer Danny Green, could possibly beat her over 50m freestyle in the pool but certainly no farther.
040 HOW THEY TRAIN: NICCO VELASQUEZ
by Michael J. Stott
042 MICHIGAN'S AUBÖCK AIMS TO BUILD ON DOMINANT FRESHMAN SEASON
by Dan D'Addona
Felix Auböck had just competed in his first Olympics. It was an eye-opening experience, but the Austrian didn't have any time to bask in his Olympic glory back home. It was time to keep moving…
044 BIPARTISAN COMMITTEE INVESTIGATING USA SWIMMING FOLLOWING NASSAR CASE
by Dan D'Addona
A U.S. Congressional Committee has sent letters to various athletic organizations, including USA Swimming, seeking information about sexual abuse and handling of sexual abuse cases as it launches an investigation…
045 GARY FRANCIS NAMED TARGETED ATHLETE AND COACH MANAGER FOR SWIMMING NEW ZEALAND
Press Release Courtesy of Swimming New Zeland
Swimming New Zealand (SNZ) is delighted to announce the appointment of experienced and respected coach Gary Francis to its High Performance team in the new role of Targeted Athlete and
Coach Manager.
046 IPC ANNOUNCES SIX LESS MEDAL EVENTS FOR TOKYO 2020 PARALYMPIC GAMES
Press Release Courtesy of IPC
The International Paralympic Committee (IPC) Governing Board concluded two days of meetings in Bonn, Germany, on Saturday, Jan. 27, having made a number of key decisions regarding the PyeongChang 2018, Tokyo 2020 and Paris 2024 Paralympic Games.
048 JOIN THE INTERNATIONAL SWIMMING HALL OF FAME
049 PARTING SHOT