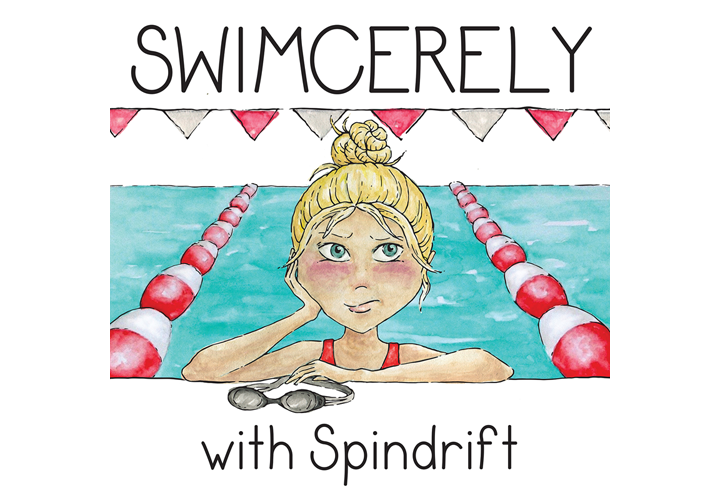 Photo Courtesy: Alex Franklin
In the 11th episode of Spindrift Beck's podcast entitled Swimcerely With Spindrift, Beck talks with Olympic gold medalist Megan Jendrick. This episode is part 1 of a two-part podcast.
In a personal dream come true for its host, Megan (Quann) Jendrick (Olympic Gold Medalist, Sydney 2000 + Olympic Silver Medalist, Beijing 2008) joins the Swimcerely podcast today! In part 1 of what will be a two-part discussion, Megan talks us through the seemingly inconceivable experience of winning an Olympic gold medal at 16 years old. Also discussed are memories from her time in Sydney, Megan's media persona in the early 2000's – for which she received some flack at the time, how she looks back on her "rivalry" with Kristy Kowal, and the visualization trick she used as a teen that set her apart from the rest of the world.
Swimcerely with Spindrift is a podcast that showcases conversations with high school, collegiate, pro, and Olympic swimmers' about their likes, dislikes, career, goals, and more. Each episode centers on a different swimmer, giving a behind-the-scenes look at what makes these athletes tick and, in some cases, what separates them as some of the best swimmers in the world.
"My favorite podcasts are ones that feature actors, writers, and comedians speaking not just about their craft but about their favorite restaurants, TV shows, telling funny stories, etc. With 2016 fast approaching, I wanted to try to bring that sort of format to swimming, so that fans can have a new type of unfiltered access to their favorite swimmers. The show is meant to be off-the-cuff, goofy, and a little different. Hopefully people will enjoy!" – Spindrift Beck
Enjoy This New And Exciting Program Presented With The Support of Swimming World Radio

Spindrift Beck is a writer and former swimmer from Dallas, TX. A University of Texas graduate, she competed for the Longhorn's swim team for four years, during which time the team captured a pair of Big 12 Championship titles. At age 16, she broke the National Independent High School record in the 100-yard breaststroke, a record that stood for five years. Between the ages of 10 and 18, she set more than 15 Texas Age Group records and was undefeated in all races during her four years of conference high school swimming. Her international swimming highlights include being named co-captain of the 2006-07 US National Junior Team, winning a silver medal at the Jr. Pan Pacific Championships in the 200-meter IM, and qualifying for the 2008 and 2012 US Olympic Trials, where she finished in the top 20. She currently lives in Los Angeles and works as a Writers' Production Assistant on the upcoming NBC drama Game of Silence.
Subscribe to Swimcerely With Spindrift on iTunes!