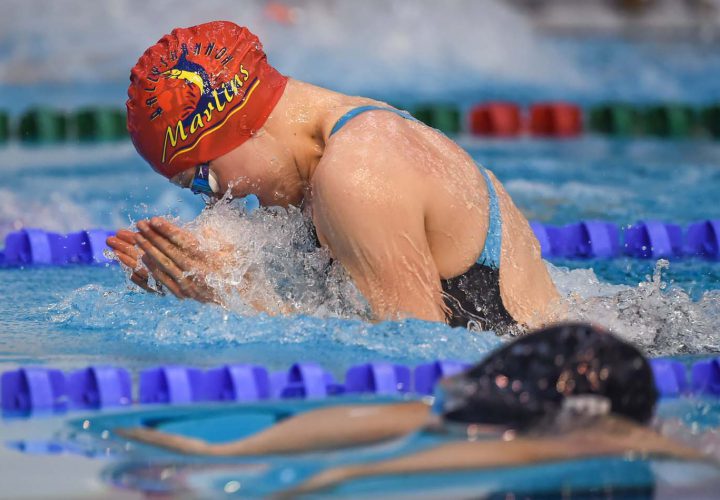 Photo Courtesy: Stephen McCarthy / SPORTSFILE
Swim Ireland has announced its 10-person team for the European Short Course Championships that will happen December 13-17 in Copenhagen, Denmark. 2017 World Championship team members Nicholas Quinn, Jordan Sloan, Brendan Hyland, Mona McSharry and Connor Ferguson will make the trip to Denmark in December. The team is rounded out by Danielle Hill, Conor Brines, Alex Murphy, Darragh Greene and Calum Bain.
Eight of the ten swimmers competing were in action this past weekend at the Amsterdam Swim Cup and Manchester International meets. McSharry broke the Irish record at the Amsterdam meet in the 100 SCM breast (1:05.27) while Ferguson broke his 100 and 50 back Irish records with a 52.40 in the 100 and a 24.26 in the 50.
Ferguson and McSharry are also coming off of medals at the World Junior Championships this summer where McSharry won the 100 breaststroke gold and 50 breast bronze while Ferguson won silver in the 100 back.
Ben Higson, National Senior Team Head Coach said, "This team forms a large part of the core group of athletes that we have identified as our primary prospects for the next Olympic Games and it will be good for me to see them race for the first time in a Championships environment, particularly as I work with most of them as either full-time or in-touch athletes within the National Centre in Dublin. To expose key racing skills in a short course environment early into a season is always important and this group has also been selected with strong relay opportunities in mind. Shane Ryan is unavailable for selection, which is always a pity, but this group will all be looking to establish themselves well as we head into the long course section of the season"
Adding to this, Jon Rudd, National Performance Director said, "To have such fine early season performances in the short course pool in Amsterdam is exciting for us and this raises the bar for these athletes as we head into Copenhagen. We're all very clear that short course racing is a means to an end but it does force athletes to focus on key racing skills in preparation for the long course season ahead and this team of ten is most certainly ready, willing and able" 
Swim Ireland contributed to this report
| | | |
| --- | --- | --- |
| Athlete | Home Programme | Coach |
| Calum Bain | University of Stirling | Bradley Hay |
| Conor Brines | Larne | Peter Hill |
| Conor Ferguson | National Centre (Dublin) | Ben Higson |
| Darragh Greene | University College Dublin | Earl McCarthy |
| Danielle Hill | Larne | Peter Hill |
| Brendan Hyland | National Centre (Dublin) | Ben Higson |
| Mona McSharry | Marlins (Ballyshannon) | Grace Meade |
| Alex Murphy | National Centre (Dublin) | Ben Higson |
| Nicholas Quinn | University of Edinburgh | Chris Jones |
| Jordan Sloan | Bangor | Paul Dennis |