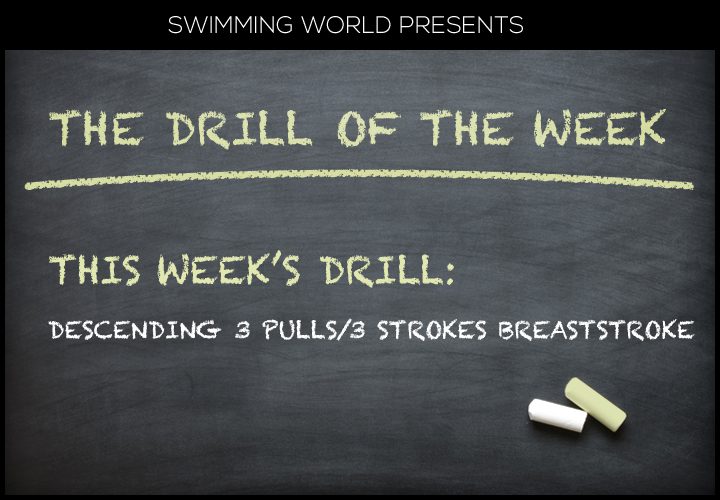 Welcome to the "Swim Drill of the Week". Swimming World will be bringing you a drill, concept, or tip that you can implement with your team on a regular basis. While certain weeks may be more appropriate for specific levels of swimming (club, high school, college, or masters), Drill Of The Week excerpts are meant to be flexible for your needs and inclusive for all levels of swimming.
This week's drill is a variation on the breaststroke drill 3 Pulls/3 Strokes that we call Descending 3 Pulls/3 Strokes. The standard form of this drill works on developing a strong and fast pull while also working on core control and body awareness by alternating between 3 full breaststroke pulls with no kick and three full breaststroke strokes.
For the descending version of this drill, swimmers will start with 3 pulls/3 strokes and then descend to 2 pulls/2 strokes and 1 pull/1 stroke with each successive cycle.
Think of this as a more advanced version of the original drill. You still want your swimmers thinking about maintaining their body line, driving forward at the end of each pull, and having a smooth transition between the pulls and the full strokes. But in addition to that, descending the amount of cycles they take with each cycle forces them to think of all these technical points while constantly adjusting their tempo and movement through the water.
Like the original drill, this is a great drill to do long course, as it will give your athletes more time to descend their pulls/strokes through each cycle. This is a great drill to work on accelerating tempo in breaststroke while still maintaining proper timing and technique. Happy swimming!
All swimming and dryland training and instruction should be performed under the supervision of a qualified coach or instructor, and in circumstances that ensure the safety of participants.