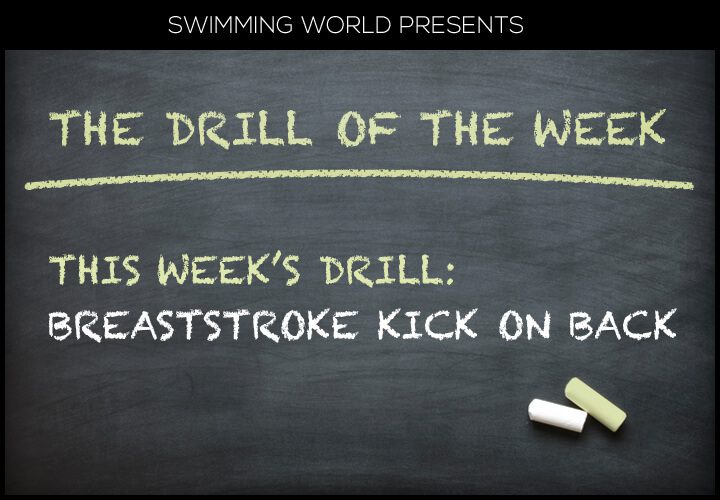 Welcome to the "Swim Drill of the Week". Swimming World will be bringing you a drill, concept, or tip that you can implement with your team on a regular basis. While certain weeks may be more appropriate for specific levels of swimming (club, high school, college, or masters), Drill Of The Week excerpts are meant to be flexible for your needs and inclusive for all levels of swimming.
This week's drill is Breaststroke Kick On Your Back, which is a great drill for beginners to work on developing a strong and symmetrical breaststroke kick. To perform the drill, simply push off the wall with you hands at your sides on your back and kick breaststroke down the length of the pool.
Being on your back makes this a perfect drill for beginners because they don't need to focus on lifting their head to breath and disrupting their body position with every kick. They can focus solely on the details of the kick, which should include turning their feet out with each kick, finishing each kick by snapping the legs together, and kicking behind their body.  
The biggest focus to help develop a strong breaststroke kick should be keeping the knees under the water and making sure your swimmers are kicking behind them. If they are kicking down or turning their feet out too soon, they'll be moving up and down in the water instead of forward and their knees will be breaking the surface on every kick.
As a coach, it is much easier to spot these faults in the kick when swimmers are on their backs and it also gives your athletes a different perspective on what an effective breaststroke kick should feel like. For more advanced swimmers, use this drill to work on keeping the knees close during the kick and also on holding a good body line from kick to kick to take advantage of the glide. Happy swimming!
All swimming and dryland training and instruction should be performed under the supervision of a qualified coach or instructor, and in circumstances that ensure the safety of participants.