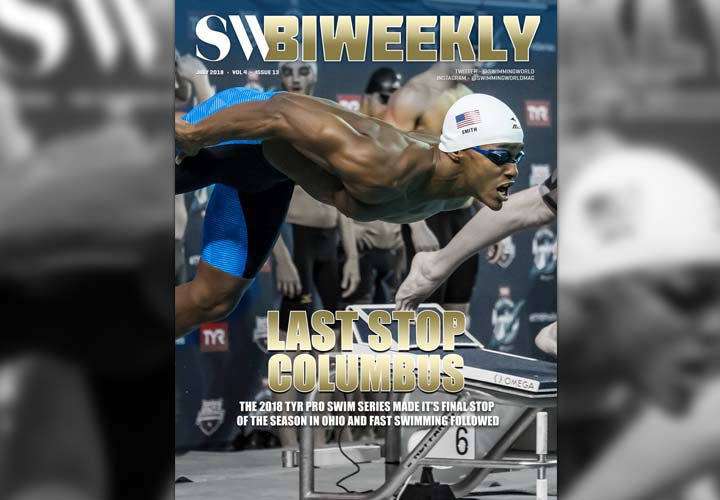 The latest issue of Swimming World Biweekly is now available for download in the Swimming World Vault!  Non-Subscribers can click here to download For FREE – (Limited Time Offer)
Read about the 2018 TYR Pro Swim Series full final recap, checks in on a few of your favorite swimmers from the past, and our 2018 Aquatic Directory…plus much more!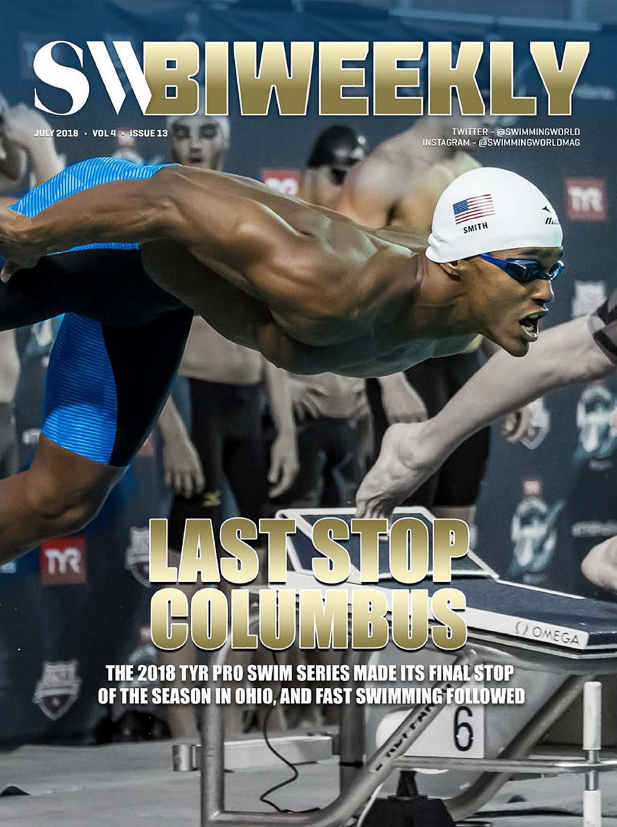 New! 1-Year Digital Only Subscription for just $29.95 Order Now!
Table of Contents
TYR PRO SWIM SERIES – COLUMBUS PHOTO GALLERY
by Peter H. Bick
2018 TYR PRO SWIM SERIES – COLUMBUS FULL FINALS RECAPS
by Andy Ross & Dan D'Addona
Full event-by-event coverage of all four nights, July 5-8, from Ohio State University.
FOR MADISON KENNEDY, HER WAY IS THE RIGHT WAY
by David Rieder
Madison Kennedy just missed making the U.S. Olympic team in 2016 by 15-hundredths of a second! Two years later, Kennedy is 30 and married…and is still swimming, enjoying the sport and having success the way she wants to be swimming.
CLARKSON HEAD COACH MICK MAGUIRE RETIRES AFTER 31 YEARS LEADING PROGRAM
Over the years, many coaches have become synonymous with certain sports at Clarkson University (Potsdam, N.Y.), but none more so than Maguire, who has guided the Golden Knights' swimmers and divers since 1987.
PARK TAE HWAN OUT OF ASIAN GAMES; CONSIDERING RETIREMENT
Two days after being named to South Korea's roster for this summer's Asian Games, 2008 Olympic gold medalist Park Tae Hwan announced that he would not compete, saying, "I am in no shape to post good records—rather than saying I am retiring, I'd like to take some time to think about my future."
13-TIME GOLD MEDAL PARALYMPIAN JESSICA LONG RELEASES AUTOBIOGRAPHY
"Unsinkable: From Russian Orphan to Paralympic Swimming World Champion," released June 26, is a photo illustrated autobiography of an extraordinary young woman who was born in Russia, adopted by an amazing family in Maryland, had both legs amputated below the knee due to a birth defect, and found her passion in swimming.
WHERE ARE THEY NOW? FOUR RETIRED FEMALE SWIMMERS EXPERIENCING A NEW CHAPTER
by Sydney Mason
Many retired professional swimmers are currently participating in their communities in unique ways. Swimming World takes a look at the lives of Natalie Coughlin, Rebecca Soni, Kaitlin Sandeno and Ariana Kukors.
CREATING A FAN-CENTERED PRO MEET
by Grant Anger
What would you change about professional swim meets to attract more fans and grow the sport?
HOW THEY TRAIN: CARSON & JAKE FOSTER
by Michael J. Stott
2018 AQUATIC DIRECTORY
2018 SPECIAL OLYMPICS USA GAMES RECAP
by McKenna Ehrmantraut
The 2018 Special Olympics USA Games came to a close Friday, July 6, in Seattle, Wash. The swimming portion of the Games were filled with fierce competitions and exceptional swims.
A SPORT GROWS IN BROOKLYN
by Michael Randazzo
Long Island University—whose campus in downtown Brooklyn is minutes from Manhattan—recently announced the formation of a women's water polo team that will begin play in 2019.
THE CONTROVERSY OF TITLE IX: HAS IT HELPED OR HURT THE SWIMMING WORLD?
by Niki Urquidi
What exactly is Title IX, and how does it affect the structure of college swimming? Swimming World takes a look at a few of the obvious questions…as well as the answers.
LILLY KING REPEATS AS BIG TEN FEMALE ATHLETE OF THE YEAR
Indiana University's Lilly King becomes just the third person—man or woman—to win the award in back-to-back seasons, and is also just the third person in league history to earn the honor more than once.
NATALIE COUGHLIN DESCRIBES EMOTIONAL ABUSE ON "UNDENIABLE" SHOW
by Dan D'Addona
Natalie Coughlin, the most decorated U.S. female Olympian, is scheduled to appear on "Undeniable," a sports talk show with Joe Buck on the AT&T Audience Network, to discuss several topics, including the issues of emotional abuse and body shaming.