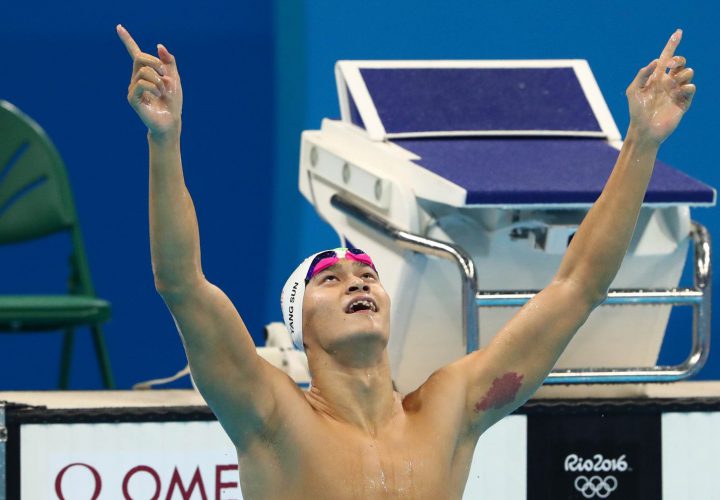 Photo Courtesy: Rob Schumacher-USA TODAY Sports
Chinese Olympic gold medalist Sun Yang is again on top of the world rankings in the men's 400 free as he posted a 3:42.16 at the Chinese National Championships, according to a report from the Xinhua News Agency.
Sun was the 2012 Olympic gold medalist in both the 400 and 1500 free and won gold in the 200 free in Rio, but he finished a close second behind Mack Horton in the 400-meter distance. But his time puts him well ahead of Gabriele Detti (3:43.36) and Horton (3:44.18) in the early world rankings for 2017.
Sun admitted to Xinhua after the race that beating Horton's time had definitely been a target.
"The timing is satisfying," he said. "I keep my eyes open for the ongoing Australian National Championships and I will try my best to outpace these swimmers. All of us are preparing for the World Championships."
Also in China, Yan Zibei became the first Chinese man to break 59 in the 100 breast, stopping the clock at 58.92. So far this year, only Olympic gold medalist Adam Peaty (58.86) has been quicker.
Yan figures to be a key part of a Chinese 400 medley relay team with a chance at a medal at this summer's World Championships. Others on that team could be 100 back Olympic silver medalist Xu Jiayu, 100 fly Olympic finalist Li Zhuhao and 100 free World Champion Ning Zetao.
In the women's 400 free, Li Bingjie took the win, but various sources have reported her time differently. Xinhua reports she swam a 4:10.22, while both SwimVortex reports her time as 4:02.52, which would be the fastest in the world this year.
Read more from Xinhua by clicking here.