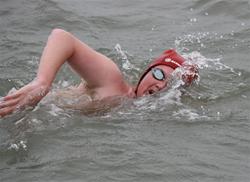 PHOENIX, Arizona, August 21. STEWART Goossens, a 17-year-old from San Francisco, has become the youngest American to complete a single crossing of the Strait of Gibraltar.
Goossens completed the 14-mile swim without a wetsuit across the waterway linking Europe and Africa Thursday morning in four hours and one minute. The Strait of Gibraltar Swimming Association confirmed today that Goossens is the youngest American to make the crossing. It is believed that he is the first American teenager to swim across the Strait. The youngest swimmer in the world to cross the Strait is India's Akhil Ashok Desai, who was 12 years old when she made the crossing in 1989.
Goossens' swim began in Tarifa, a port city on the southern coast of Spain, and ended in at New Tangiers Port in Morocco. This route presents the fewest currents and smaller waves, thus reducing the time in the water. The water in the Strait is about 65 degrees this time of year, with the warm waters of the Mediterranean merging with the chiller Atlantic Ocean current.
Goossens' road to the Strait of Gibraltar began in 2006, when he participated in the Escape from Alcatraz swim – without a wetsuit. He swam the Waikiki Rough Water race in 2008 and was part of a relay that traversed the Maui Channel last year. Goossens trained for the Strait of Gibraltar attempt by swimming in the chilly San Francisco Bay for up to six hours at a time. Goossens was coached by Geoff Glaser, who completed a crossing of the English Channel as part of a relay in 1987.
While the English Channel is considered the pinnacle of all open-water swims, many complete the Strait of Gibraltar swim before attempting the English Channel, which is about twice as long in colder waters. More than 200 people have completed one-way swims across the Strait since the first crossing in 1928. Twenty-eight of those swimmers were Americans. The bulk of the Strait crossers have come from India and Great Britain.