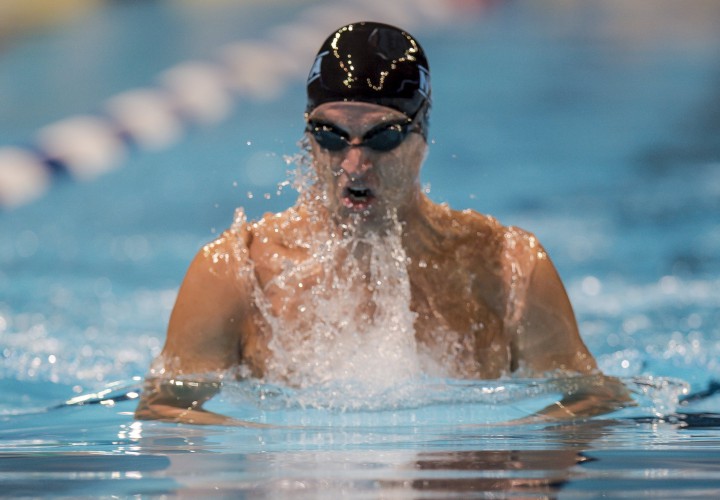 Photo Courtesy: Peter H. Bick
Steve West already holds the distinction of being the oldest man to compete at the U.S. Olympic Swimming Trials, but the 43-year-old wants to swim at the 2016 meet and chased the qualifying times last weekend at the Los Angeles Invite.
West, who was 40 years old when he swam the 100 and 200 breaststrokes at the 2012 Trials, nearly qualified for those same events again. He swam a 2:18.57 in the 200 breast prelims, missing the Olympic Trials qualifying time of 2:18.39 by a slim margin. It's his first time under 2:19 as a Masters swimmer, though, and the result was a Masters world record in the 40-44 age group. Italy's Alberto Montini had the former record with a 2:18.94 from 2009.
The L.A. Invite was sanctioned as a USA Swimming and U.S. Masters Swimming competition, which made it possible for West to break the world record. Masters world records can only be set in sanctioned Masters competitions.
West scratched from the 200 breast finals to prepare for the 100 breast. After a 1:04.26 in prelims, West got oh-so-close to the Olympic Trials cut in the B final with a 1:03.81, missing the cut of 1:03.69. It's his second-fastest time in Masters, just off the 1:03.76 he swam at the 2012 USMS nationals. It also just missed the Masters world record of 1:03.76 that Russian Vladislav Bragin swam in 2012.
West competed in the 1992, 1996, 2000 and 2012 Olympic Trials. His best finish was in 1996, when he was third in the 200 breast with a 2:14.96. He was a multiple All-American at the University of Michigan and was named a Swimming World Magazine World Masters Swimmer of the Year in 2014.
Steve West's splits
100 breast:
30.34, 33.47
200 breast
31.75, 34.99, 35.42, 36.41