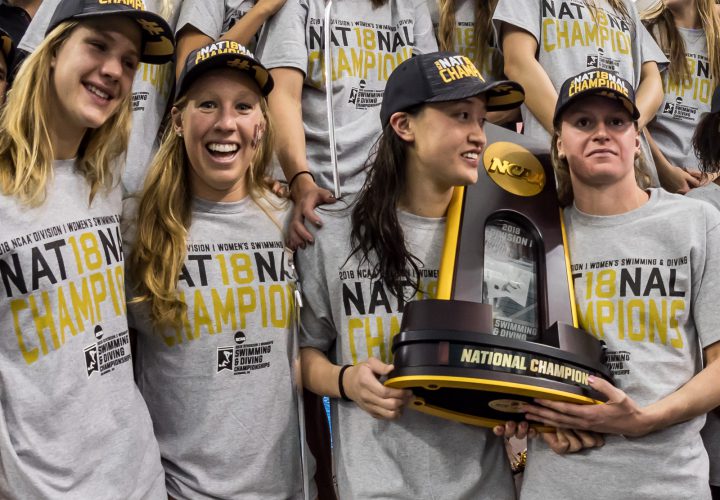 Photo Courtesy: Peter H. Bick
Editorial content for the 2018 NCAA DI Championship coverage is sponsored by TritonWear. Visit TritonWear.com for more information on our sponsor. For full Swimming World coverage, check event coverage page.
Stanford won the team title with 593 points ahead of second place Cal with 373. The 220 point differential is the third highest in history.
1985: Texas 643, Florida, 200
1993: Stanford 649.5, Florida, 421
2018: Stanford, 593, Cal, 373
2002: Auburn, 536, Georgia, 373
Stanford also became the third team in history to win all five relays at a single NCAA Championships. Arizona did it in 2008 and Georgia did it in 2005. Stanford also won the most titles in a single NCAA meet with 13. Florida did it in 1988 and Stanford did it in 1993, but no team had done it since. Stanford is now amongst the talks of having the greatest women's team of all-time.
Cal finished in second with 373 points. This marks a finish in the top three every year since 2006 with twelve straight.
Texas A&M was third with 299 for their second straight top three finish as they have been in the top four every year since 2012 with six straight.
Michigan placed fourth with 267 points and it is their first top four finish since they were third in 1996.
Louisville finished in fifth with 232 points. Ten years ago, the team was dead last at the meet with only 1 point. They have climbed all the way to a top five spot for their best finish in program history.
Women – Team Rankings – Through Event 21
 
  1. Stanford                          593   
  2. California                        373
  3. Texas A&M                         299   
  4. Michigan                          267
  5. Louisville                        232   
  6. Texas                           221.5
  7. Tennessee                       180.5   
  8. Indiana                           169
  9. Virginia                          161  
 10. Minnesota                         157
 11. Georgia                           135  
 12. Southern Cal                      127
 13. Ohio St                           123  
 14. Kentucky                           97
 15. Missouri                           86  
 16. Auburn                           82.5
 17. Wisconsin                          78  
 18. NC State                           70
 19. Purdue                             51  
 20. Arizona                            46
 20. South Carolina                     46  
 22. Northwestern                       40
 23. Arizona St                         34  
 24. University of Nevada               33
 25. UNC                                32  
 26. UCLA                               31
 27. Arkansas                           30  
 28. Hawaii                           29.5
 29. Penn St                            26  
 30. Alabama                            23
 31. Denver                             20  
 32. Eastern Mich                       18
 33. Virginia Tech                      14  
 33. Miami University                   14
 35. Nebraska                           11  
 35. Florida                            11
 37. Wyoming                             9  
 38. Louisiana State University          8
 39. Akron                               6  
 39. Rutgers                             6
 41. Notre Dame                          4  
 42. Duke                                3
 42. Florida St                          3  
 44. West Virginia                       2
 44. University of Miami                 2