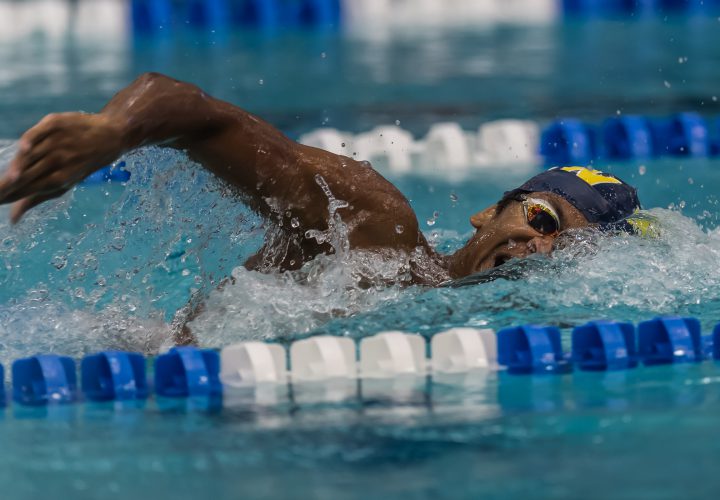 Photo Courtesy: Peter H. Bick
Jack LeVant set a new SC Junior Nationals meet record in the men's 500 freestyle at Speedo Winter Junior Nationals West by almost four seconds in a head-to-head race against Michigan-bound Patrick Callan. LeVant's time of 4:14.40 not only bested Drew Kibler's 4:15.36 from last year, but also set a new personal best time for himself by almost four seconds.
The race was extremely close, with Callan taking the first 200 out fast in a 1:39.17 compared to LeVant's 1:39.33, but LeVant finished strong and closed with a 24.95 final 50 to take the win. LeVant will head to Stanford next fall, and his time would place him third among his teammates, right after Liam Egan's 2017-2018 season best so far of 4:14.03.
 Event 6  Men 500 Yard Freestyle
=========================================================================
     Jrs West: * 4:15.53  12/10/2015Sean Grieshop, Nitro Swimming
  SC Jrs Meet: # 4:15.36  12/8/2016 Drew Kibler, Carmel Swim Club
         Pool: ! 4:09.72  3/26/2015 Clark Smith, Texas
    13-14 NAG:   4:24.79  2017      Lleyton Plattel
    15-16 NAG:   4:15.36  2016      Drew Kibler
    17-18 NAG:   4:12.33  2004      Michael Phelps
    Name                  Age Team              Prelims     Finals Points 
=========================================================================
                       === Championship Finals ===                       
 
  1 Levant, Jack           18 North Texas Nada  4:16.52    4:14.40#  20  
                 23.04        48.29 (25.25)
        1:13.72 (25.43)     1:39.33 (25.61)
        2:05.09 (25.76)     2:30.97 (25.88)
        2:56.68 (25.71)     3:23.12 (26.44)
        3:49.45 (26.33)     4:14.40 (24.95)
  2 Callan, Kevin          18 Trident Aquatics  4:19.62    4:15.39*  17  
                 22.71        47.72 (25.01)
        1:13.37 (25.65)     1:39.17 (25.80)
        2:05.12 (25.95)     2:31.04 (25.92)
        2:56.86 (25.82)     3:23.23 (26.37)
        3:49.90 (26.67)     4:15.39 (25.49)
  3 Zettle, Alexander      18 Lakeside Aquatic  4:20.54    4:18.65   16  
                 23.57        49.21 (25.64)
        1:14.99 (25.78)     1:41.32 (26.33)
        2:07.77 (26.45)     2:33.89 (26.12)
        3:00.17 (26.28)     3:26.54 (26.37)
        3:52.99 (26.45)     4:18.65 (25.66)
  4 Brinegar, James        18 Mission Viejo Na  4:23.27    4:20.88   15  
                 23.63        49.56 (25.93)
        1:15.88 (26.32)     1:42.25 (26.37)
        2:08.61 (26.36)     2:34.65 (26.04)
        3:01.31 (26.66)     3:28.01 (26.70)
        3:55.24 (27.23)     4:20.88 (25.64)
  5 Calvillo, Michael      17 Alamo Area Aquat  4:24.58    4:23.39   14  
                 23.81        49.71 (25.90)
        1:15.92 (26.21)     1:42.53 (26.61)
        2:09.30 (26.77)     2:36.07 (26.77)
        3:02.99 (26.92)     3:29.97 (26.98)
        3:57.19 (27.22)     4:23.39 (26.20)
  6 Coakley, William       16 Katy Aquatic Tea  4:24.82    4:23.70   13  
                 24.20        50.19 (25.99)
        1:16.81 (26.62)     1:43.69 (26.88)
        2:10.90 (27.21)     2:37.87 (26.97)
        3:04.75 (26.88)     3:32.05 (27.30)
        3:58.44 (26.39)     4:23.70 (25.26)
  7 Furlong, Jacob         17 Chicago Wolfpack  4:24.78    4:23.83   12  
                 24.33        50.33 (26.00)
        1:16.73 (26.40)     1:43.63 (26.90)
        2:10.34 (26.71)     2:37.28 (26.94)
        3:04.25 (26.97)     3:31.19 (26.94)
        3:58.43 (27.24)     4:23.83 (25.40)
  8 Heasley, Ethan         16 Hillsboro Swim T  4:24.79    4:25.54   11  
                 23.71        49.84 (26.13)
        1:16.38 (26.54)     1:43.29 (26.91)
        2:10.30 (27.01)     2:37.11 (26.81)
        3:04.07 (26.96)     3:31.42 (27.35)
        3:58.81 (27.39)     4:25.54 (26.73)