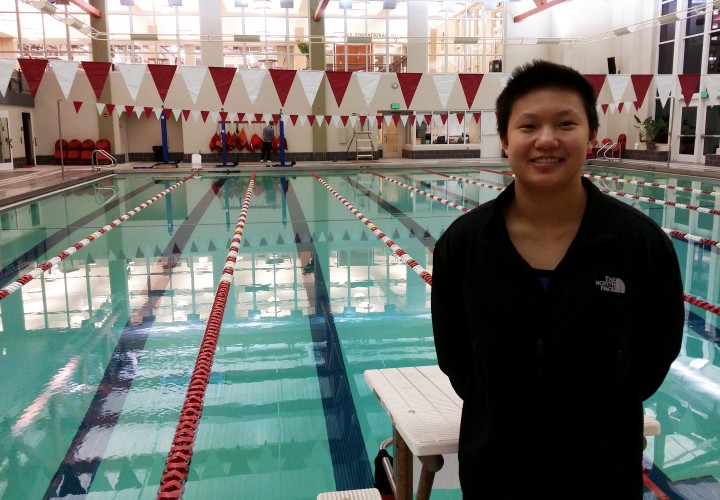 Photo Courtesy: Cristian Corbett
By Cristian Corbett, Swimming World College Intern
This is a story about Shayne Stone.  Shayne is a junior student athlete, member of Sigma Phi Epsilon with majors in exercise science and biopsychology. He competes for the Monmouth College Fighting Scots swimming and diving team and up until this year, Shayne was a female.
Born Sadie Stone, Shayne grew up in Saint Paul, Minnesota. Growing up, Shayne knew that he was transgender at a very early age.
"I had my sixth birthday party, and my dad said 'Alright, put on your swim suit,' and we had this big long argument because I didn't want to put on a girl's swimsuit, I just wanted to wear shorts. I ended up wearing the shorts, and it was fantastic," Shayne said. "I didn't really know what it was when I was younger; I just thought I fit in with the guys. When I was in eighth grade, I was watching the news, and there was this guy who was going to be a male model and used to be a girl. That was the first time I heard the word 'transgender' and I was like, 'Yes, that's what I am.'"
Despite knowing this, he kept it to himself for a long time. Shayne feared the reaction of his friends and family. "It's the fear of being rejected by the closest people you love. My dad has been proud of me with all of my athletics, and I didn't want to disappoint him by telling him this." Shayne's family supported him throughout the entire process. "They never made me conform to being a female. They supported me even when I got looked at different as a kid."
Coming to Monmouth has helped Shayne find more comfort in himself. "In high school there were problems. I was looked at funny. When I got here, all of these people, especially the swim team, looked at me like I was just another person. These guys will have my back no matter what."
Amidst a huge transgender movement going on, Shayne felt now would be the safest time to come out.
"From the top down it seemed as though everyone was with him 100 percent," teammate Matt Engebretsen said. "We all loved and supported him when he was competing on the girl's team and will continue with that support when he competes with us on the men's team next year. The response has been wonderful."
"It was a tough decision," Shayne said. "I sat for months deciding whether I should finish college as a female or if I was gonna change. It was something I always wanted to do and I thought 'now is the time.'"
 "I'm really not one for firsts," said Shayne. But he will be one of the first transgender NCAA athletes, and the first in the Midwest to compete for both the men's and women's teams. The first openly transgender NCAA athlete is Schuyler Bailar, who was the top women's swimming recruit at Harvard. He transitioned before his freshman year, and competes for the Harvard men's swimming and diving team.
Shayne and Bailar have been in touch, thanks to Shayne's father. "I saw his story because my dad sent it to me," Shayne said. "I thought it would be cool to reach out, so I messaged him for advice. We talked and he told me what it was like for him to be on the guys' team and it was really cool to be able to talk to somebody else who could tell me about their experiences and it makes me feel like I'm not alone."
"The swimming and diving program at Monmouth College most definitely supports Shayne's decision and is firm in our commitment to support and accept him," said head swimming and diving coach Tom Burek. "Shayne has been and will continue to be a valuable member of our program."
"It's nice to have a great men's team to rely on," said Shayne.
Swimming isn't the only thing Shayne is heavily involved with. In December, he was initiated into the fraternity Sigma Phi Epsilon. "This is something I always wanted to do," said Shayne. "I contemplated rushing sororities but ended up dropping out because I obviously didn't want to walk around in high heels and a dress, but I like the idea."
The men of SigEp did not hesitate to give Shayne a bid. Several alumni met with Shayne to welcome him into the fraternity.
"There was absolutely no hesitation in extending Shayne a bid," said teammate and brother Tom Cangelosi. "If you identify as a male, Sigma Phi Epsilon recognizes you as one."
"Our only concern was making sure that Shayne personally felt comfortable joining the organization," said Sigma Phi Epsilon President Jack Godlewski. "After we had that discussion and he assured us he was ready to join, nothing held us back. SigEp does not discriminate against transgendered students and we believe that everyone should have the opportunity to join Greek life."
Moving forward, Shayne is still a bit timid towards the future. "I am very nervous. Everyone's been telling me to be happy, it's gonna be easy, and everything's going to feel better, but it's hard not knowing if everyone is going to accept your future, and also giving up your past. I had no problems growing up. I don't regret who I was, I was happy and I had a loving family. Moving forward, I'm nervous because I still want to have those connections."
Despite going through these changes, Shayne assured that even though he will be changing, he won't be a new person. "I'm not necessarily going to be a new person; I'm just going to be living my life in a different way."
"All of the support I've gotten has been incredible," Shayne said. "The people in my life have been some of the best people to walk this earth. It's good to be an advocate, but it's better to just be a friend. It's the little things that have helped this go over smoother. Having support at Monmouth has helped too. It's helping pave a way for other kids who are struggling with this."
Shayne will compete for the men's swimming and diving team next season, and is currently serving as the VP of Communication for Sigma Phi Epsilon.
Reprinted with permission of Monmouth College's student newspaper, The Courier.