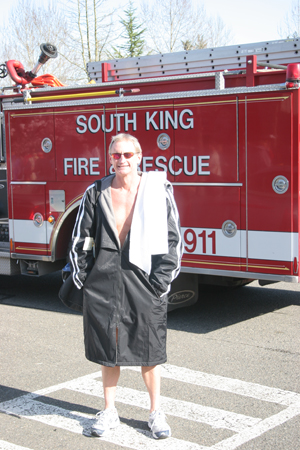 By Nathan Jendrick
FEDERAL WAY, Washington, March 28. THE Spring National Championships are already on fire in Federal Way, Washington. That much was apparent even before the first heat even hit the water.
During warmups for Tuesday's events (women's 800 meter freestyle and men's 1,500 meter freestyle), the fire alarm sounded in the Weyerhauser King County Aquatic Center. For those who have been around the pool, they knew this sort of thing tends to happen accidentally and as such, most swimmers, coaches and volunteers were slow to move toward the marked exits.
After a quick announcement over the speaker system though, it was realized that there was indeed smoke in the building. As people made their way up the stairs – the pool is on a lower level than the entryways – they found smoke resulting from an overheated ventilator near the scoreboard end of the pool.
Federal Way's Finest, in the form of members from the South King County Fire & Rescue, made their way to the pool and after about two hours outdoors, everyone was allowed back inside. Worth noting, at the last major competition held here, the US Open a couple of years ago, the power went out just before the championship final of the women's 200 IM was set to go off.
If nothing else, this sends a signal that this meet is definitely going to be full of action with athletes such as 2004 Olympian Katie Hoff and 2000 Olympian Megan Jendrick competing in multiple events. The meet runs today through Saturday.
In preliminary action, The FISH's Kate Ziegler led qualifying in the women's 800 freestyle. The double-world champion breezed 8:35.20 and was followed in second position by Germantown Academy Aquatic Club's Kirsten Groome (8:43.36). Chip Peterson led qualifying in the men's 1,500 free with a swim of 15:32.32.