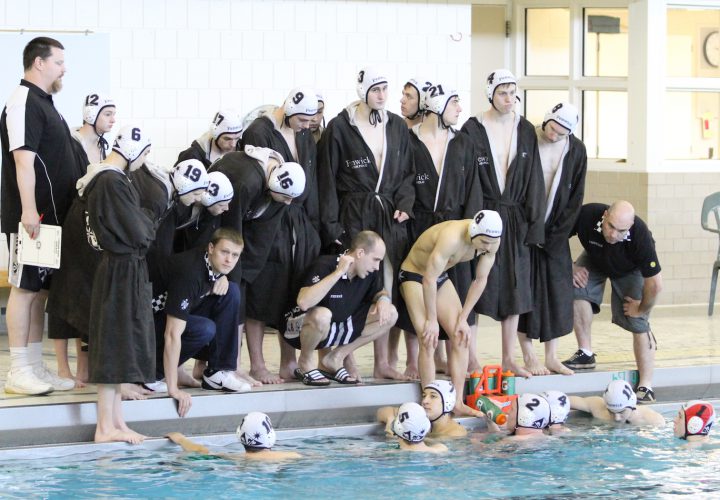 Photo Courtesy: Kyle Perry/Fenwick Athletics
Michael Randazzo, Swimming World Contributor
Ike Marshall. Moose Mulcrone. Dave Perry. Phil Stelnicki. Joe Wendt. These are just a few of the coaches and parents who helped build Chicago into one of the country's most fertile area outside of California for youth water polo development. Over the past six decades, these movers and shakers—along with many others—have created a network of age group clubs, high school teams and a knowledge base of shared experience that has propelled boys and girls from the Windy City into the top varsity programs in America.
Chicago high school graduates playing at the sport's highest intercollegiate level include Matt Farmer, a product of Fenwick High School in Oak Park who won back-to-back NCAA titles with UCLA in 2014-15, and Dani Jackovich, a graduate of Lincoln-Way Central High School in New Lenox, IL, now a senior playing for Stanford, the #2 women's team in the nation. Farmer and Jackovich are at the pinnacle of a pipeline of Midwestern athletes playing all over the U.S.
Swimming World spoke with select representatives of Chicago water polo about their experience with the sport: Jim Farmer, Matt's father and now a high school referee in Illinois; Brian Kelly, a star in the 1980's at Brother Rice High School on the South Side; Kyle Perry, head coach for the Fenwick boy's water polo team; and Claire Muller, a freshman for the St. Francis Brooklyn women's varsity team who played at Mother McAuley, a Catholic all-girls high school also on the South Side.
The Dad:
Jim Farmer—whose sons Matt and Danny (Bucknell) both played varsity polo—is a veritable font of wisdom. Farmer was introduced to the sport in 1975 at Fenwick, located in a Chicago suburb more renowned for its Frank Lloyd Wright architectural masterpieces than star water polo players.
In a recent phone conversation Farmer explained what makes Chicago polo distinctive.
"For one thing the kids have a great work ethic," he said. "It's just a Midwest, work hard ethic. Plus the parents are very involved in the development of the sport. I didn't start playing polo myself until I was freshman in high school because I'd never heard of it. But the Chicago Park District used to have different park districts—including Portage Park—where Eastern European people [introduced polo]. That's how it started in Chicago.
Brian Kelly, who starred for Fenwick's rival Brother Rice before going East to play polo for Iona College in New Rochelle, NY, got his start in the city's water polo program.
"The Chicago Park District operates out of a centralized location now," he said recently about his experience of Chicago polo in the 1980's. "When I grew up you represented your local park. Mine was Ridge Park on the South Side.
"You'd go neighborhood to neighborhood throughout the city—if you had a pool you most likely had a water polo team. You created some great friendships and there were some really intense matches. It was great fun."
"The Chicago Park District still has a huge program; they've always had the same coaches," Farmer said "There's a lot of dedication by those coaches to see these kids develop… coaches [that] are also coaching at the high school level."
Chicago high school play started in 1958 with Phil Stelnicki at Weber High School. In 1963 Fenwick Athletic Director Dan O'Brien brought Stelnicki over to Fenwick and a polo program was born.
High school is where Farmer started playing, but his son was introduced to polo at an earlier age.
"When Matt turned eight, we belonged to Lyons Swim Club and saw kids playing polo. I said to the coach: 'Can Matt try this?' He didn't really want to do it, he just wanted to swim. I said: 'Just try it. If you don't like it you don't have to do it.'
"He came out of that first practice and said: 'This is my sport.'"
Key to Matt's success was Joe Wendt, who played with Farmer at Fenwick and coached locally, and his son Chris.
"Joe has a pool in his backyard and keeps it heated at 88º in the winter when the kids go out and play polo," Farmer said.
Chris Wendt was a Fenwick senior when Matt was a freshman, then went to UCLA (2010-13), blazing a path for his younger teammate that resulted in Matt contributing to back-to-back NCAA champions.
Farmer acknowledged that it's difficult for Midwesterners to succeed out West. But Chicago players have made rosters at Pomona, Santa Clara, Stanford, UC Santa Barbara, UC Irvine, University of the Pacific, UCLA and other California schools.
The Coach:
Kyle Perry has been head coach for Fenwick High School since 2011, posting a remarkable 181-28-1 record over six seasons. From March 2010 until April 2012, the Friars won 82 straight matches with two coaches: Dave Perry, one of the most beloved and successful coaches in Chicago water polo history, and Kyle, who assumed the head coaching reins following his father's death in 2011. Perry not only coached with his father at Fenwick, he played for him as well, graduating in 2001.
In 2011 Perry extended the school's dominance in the sport, leading the Friars to their eighth-straight Illinois High School Association title. Fenwick has won 20 state titles overall including 10 of the 12 state championships since water polo became an IHSA sport in 2002.
"There's lots of commitment from the coaches here on a variety of levels," Perry said about youth water polo's success in Chicago. "Our crown jewel in Illinois is the high school level [because] our sport is sponsored by the IHSA. We have a state championship like all your major sports—basketball, football, baseball. Coaches are very much drawn to that because that's where the top level is.
"But they're aware that if you want to get to the top and stay there you have to get younger kids excited about water polo.
"Our sport is still small enough that you could take a freshman who's never played before and turn him into an all-state player or a kid who plays in college and does great things. Coaches are aware that if they invest some time with younger players it's going to pay off big dividends at the high school level."
Like Farmer, Perry gave credit to the city of Chicago parks department, which annually introduces hundreds of kids to the sport.
"The Chicago Park District has a huge water polo program for all levels. They run things through their parks for 10 and under, 12 and under, 14 and under. They have a national level program where they send a team to Junior Olympics, they'll have a team in our local Illinois league. They even host senior men's and women's events throughout the year"
According to Perry, it was selfless coaches and administrators—including his father, Jim Mulcrone, a former Olympian and for three decades the boys and girls water polo coach at Brother Rice, and Isaac Marshall, then-athletic coordinator for Chicago public schools—who in 2001 transformed polo in the state by convincing the IHSA to make boys and girls water an official state sport.
Mulcrone was the Crusaders coach when Brother Rice won nine Illinois titles in the 80's, including wins in 1988 and 1988. The Fenwick Friars ended the Crusaders dynasty in 1990 and started a dynasty of their own.
Brian Kelly has fond memories of the Brother Rice coach, who he played for from 1987-90.
"His athletes were always fundamentally sound on offense and defense," said Kelly, now the head men's and women's polo coach for Iona. "He ran practices that way. He was a great motivator—both psychologically and athletically."
According to Perry, it was Marshall, an inspired administrator that made state recognition possible.
"Ike Marshall got Chicago public city schools to commit to water polo. Not all—there's tons of them—but every one that came in he was the driving forces behind that. He really saved the day because that first year they had maybe 15 Chicago city schools playing water polo and numbers-wise it was enough to go to the IHSA and say: 'Look, here's what we have numbers-wise. Adding our sport would be a great help for our school but also would be great for the state of Illinois.'"
Perry also spoke about the influence his father Dave—who from 1980-2011 won 793 matches, including a 711-70-1 mark and 17 state titles in 24 seasons at Fenwick—had on both the sport and his son.
"He's got a great 'rags to riches' story in that he never played water polo before. He came from a small town in Michigan where he grew up on a lake and learned to swim. He was a football, basketball, baseball player in high school and got into swim coaching.
"When he got his first job teaching he knew he would be coaching swimming. [Then] the athletic director said: 'The water polo season starts next week.'
"At that point he dedicated himself to both swimming and water polo and, because he was already an accomplished swimming coach, went to every water polo clinic and read every book he could find. He was always consuming water polo.
"There's very few people who have anything negative to say about Dad. He was caring and loving to everybody—my mom, my sister, me. If you needed something he would help any way he could.
"A lot of the things I do as a coach mirror things that he did. Hopefully I have the same impact he had."
Key to the Friars' success is a strong bond between Fenwick players and water polo.
"A lot of our alums fall in love with aquatics. And the beauty of it is: you can do it forever. You can swim until you're 100 years old.
"That's the biggest thing. These guys form a love of water polo and it creates these great connections with their coaches and their teammates who become their friends, some of them for life."
The Player:
Claire Muller, one of six children of Noreen and Kenneth Mueller, was eager to leave her Midwest comfort zone. Heeding the advice of siblings who suggested she get "far away" from Chicago, the 5-10 utility player took advantage of her polo skills to come East. Now a freshman for the St. Francis Brooklyn varsity water polo team, Muller is excited to take a bite of the Big Apple.
"I started when I was nine," Muller, on the St. Francis pool deck, said about her Chicago polo experience. "I played on a co-ed team at a country club. It wasn't that big of a deal; we all just wanted to have fun. I went to Mother McAuley and it was a big competitive jump.
"Something we focused on in high school was team effort. Me and the other players on the Terriers that are from McAuley [senior Kristin Kleist and freshman Julie Oliveras] grew up learning how to become a team before we learned how to play individually.
"California's very physical, very tough—and Chicago's getting more like that. Illinois water polo started out small but it's getting bigger.
"What I learned is you have to be a team before anything. The fact that I come from somewhere that really focuses on being a team, that's important."
For Muller, a love of the sport, a key friendship and a belief in her ability all combined to make it possible to play varsity polo in New York City.
"Right from the start I knew I wanted to play in college. Kristin, a senior on my team went to St. Mary's [South Bend, IN] and then transferred to St. Francis. I wanted to be on the East Coast, so I stated to look at all the schools. Kristin was a good friend of mine so I learned a lot more about St. Francis.
"Once I believed in myself I knew I could do anything I wanted to—and I wanted to play on a Division I team and I've made it here. It's pretty awesome!"
It's all about confidence, the Chicago native said.
"If you don't believe in yourself you're not going to go anywhere."