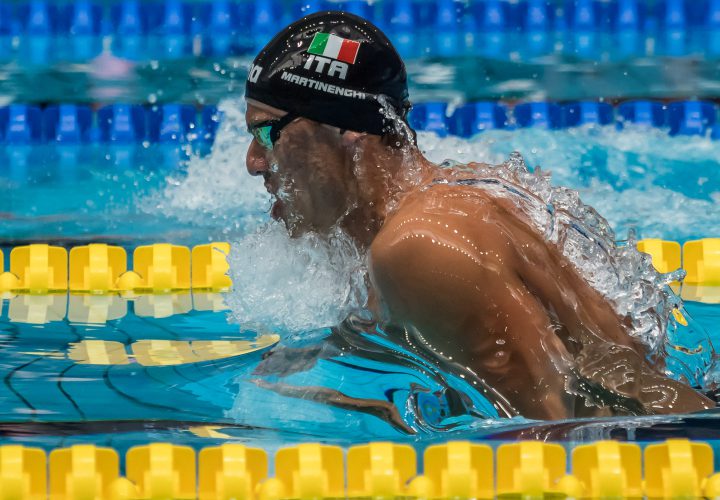 Photo Courtesy: Peter H. Bick
Men's 100 Breaststroke
Italy's Nicolo Martinenghi swam to gold in the 100 breast, racing just off his best from the semifinals. His 59.01 from earlier in the meet still stands as the World Junior Record. Comparatively, Martinenghi split 27.48-31.53 in the heats, while he split 27.54-32.04 in the final.
American powerhouse duo Reece Whitley and Michael Andrew claimed the remaining two podium spots in 1:00.08 and 1:00.37, respectively with the former being a lifetime best swim. Andrew was also out under 28, but could not hold off a 31.68 back fifty from Whitley, the fastest in the field.
Russia's Evgenii Somov broke 1:01 for the first time, finishing fourth in 1:00.93. Italy's Alessandro Pinzuti also scored a lifetime best in 1:01.01.
Australia's Zac Stubblety-Cook (1:01.14), Germany's Wassili Kuhn (1:01.23) and South Africa's Michael Houlie (1:02.06) rounded out the heat.
Swimming World Radio
Reece Whitley, United States
---