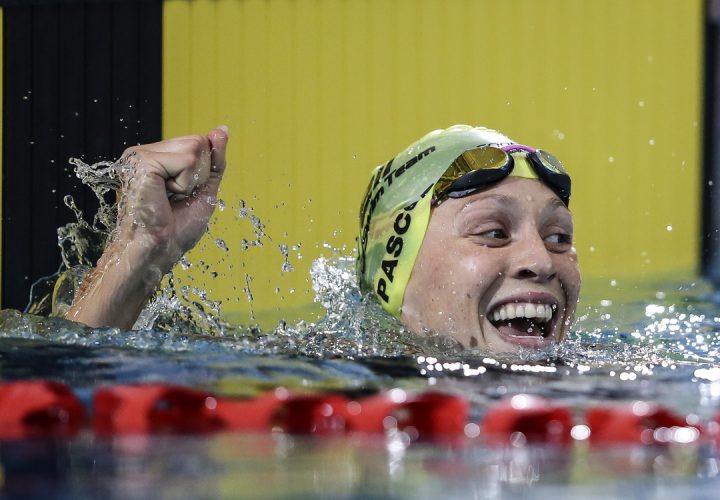 Commentary by Dave Crampton, Swimming World Contributor.
Sophie Pascoe smashed two more para swimming world records in a record-breaking frenzy on the third evening of the New Zealand short course championships in Auckland.
In the space of an hour, swimmers lowered eight world, open, or age group marks, with a further record later that evening.
Two younger swimmers got their first ever national titles – one in a national open record.
Pascoe dropped more than 1.5 seconds off her SM10 100m individual medley world mark, clocking 1:05.01, and lowered the S10 50m freestyle record of 28.27 held by Dutch swimmer Chantalle Zijderveld, to 27.22. This followed world records in three other events this week.
"We have been working on my freestyle for the past few months. We've been looking at the stroke rate, shortening the stroke rate, to be able to get that drive from the front and obviously the work has been paying off," she said.
"I'm super-happy with how my freestyle has come along this year."
Two teens who medalled at the Commonwealth Youth Games in the Bahamas in July headed off Olympians to break national records. Ciara Smith, 16, achieved her goal of breaking the 200m breaststroke national open record, more than half a second ahead of Helena Gasson.
Smith clocked 2:25.82, lowering that record by more than a second, and the national age group record my more than three seconds, in an astonishing performance.
"When I touched the wall, and turned around and saw the time I was really happy and surprised," Smith said.
"I then looked around for Mum and she had a huge smile on her face."
Zac Reid, 17, set a national age group record of   3:46.11 in the 400m freestyle, ahead of Bradlee Ashby, setting himself up nicely in his favoured 1500m event tomorrow, an event he won in the Bahamas.
"We worked on the splits, and the last 100m – I wanted to go 57 seconds in the last three 100s but went 55 seconds in the last 100m – I didn't expect that," Reid said.
"I'm pretty stoked –  it's my first open title. It gives me a lot more confidence for the 1500m."
Gasson got her second open national record of the meet, clocking 1:00.45 in the 100m individual medley. Gabrielle Fa'amausili, 17, set a national age group record of 1:02.04 for second,  before winning the 50m freestyle 30 minutes later, lowering her 25.66 record set earlier in the day to 24.95.
Open freestyle record holder Daniel Hunter won the men's 50m event in 22.16 after coming off antibiotics and scratching the rest of the meet, which irritated him.
"Being under the weather and not being able to perform at my best is really annoying, with the timing and all, it's frustrating more than anything," he said.
Several younger swimmers have showed real promise at this year's championships. Michael Pickett, 15, lowered the 50m freestyle national age group record twice, clocking 23.20 in the morning, and 23.15 last night, to be eighth fastest overall in finals.
Erika Fairweather, 13, broke the pre-meet age group 200m freestyle record twice, clocking 2:03.57, and lowered the 400m freestyle record by more than a second, to 4:22.52. She also holds the age group record for today's 400m individual medley, and is aiming for another top overall placing in her first national short course championships.
"I`ll be swimming my own race and not focusing on what everyone else does," she said.
Her coach, Gennadiy Labara, has high hopes of more age group records.
"Her training plan is definitely faster than the national records – she's ready for this," he said
Gina McCarthy, 15, was the third fastest of all ages in the 200IM, clocking 2.15.25, with Bre Crawford, 14, sixth fastest overall, three seconds behind, as well as sixth fastest in the 50m butterfly on 27.61.
The meet concludes tomorrow.