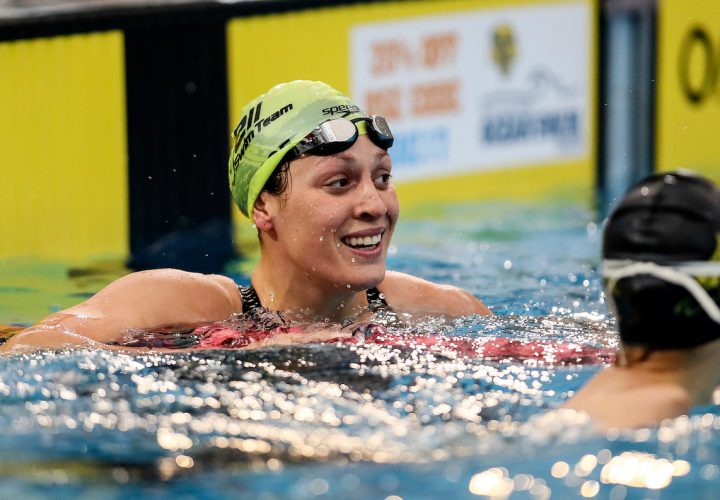 Photo Courtesy: Simon Watts, BW Media Photography
Commentary by Dave Crampton, Swimming World Contributor. 
Two world records and two further national records highlighted the first day of the New Zealand Short Course championships in Auckland.
Para swimmer Sophie Pascoe lowered two world marks, in the 200m freestyle and the 50m butterfly, clocking  2:06.58 in the freestyle, lowering the previous mark of 2:10.55 seconds set by Dutch swimmer Marije Oisterhuis in 2015.  
Pascoe lowered her butterfly record she set at the 2013 New Zealand Short Course champs from 29.08 to 28.42.
She chose to return to New Zealand from Colorado Springs instead of swimming at the Canadian championships this week against para-swimmers from Australia, the US and Canada after the world champs in Mexico were postponed due the recent earthquake. She said the order of events at the New Zealand champs suited her. While expecting personal bests, she was particularly pleased with her freestyle at home.
"I'm very happy with the 200m free – I   paced it really well," she said. "I've had had the benefit of getting some good racing in New Zealand."  
"Short course obviously isn't in my favour with missing my leg and turning a lot, so it's been a great challenge to make sure all the turns have to be fast and sharp to get PBs."
 Timed age-finals and open champions were contested in the mornings, with the top 40 swimmers in each event competing in open finals in the evening sessions.
In the morning session, Olympian Helena Gasson broke the New Zealand open record in the 100m breaststroke event by the narrowest of margins.  She clocked 1:07.78, ahead of former record holder Bronagh Ryan, who broke her own record last month, clocking 1 min 7.79.
However, Ryan turned the tables in the finals, lowering the mark to 1:07.35, with Gasson again under the pre-meet national mark, clocking 1:07.38.  
"It's great to see Bronagh and Helena, who are a little older, in a close final like that pushing each other right to the finish, it's great for the sport," Ryan's coach Nevill Sutton said.
While she lost her record, Gasson was pleased to swim under the old national mark twice in one day.
"I expected a personal best but probably not the record," Gasson said of her morning swim, "But I was hoping to go for 1:06 (in the final)."
Gasson almost quit the sport after a difficult world championships, but a change to her coach of the past six weeks, John Gatfield, has paid dividends.  Gatfield puts Gasson's increased breaststroke performance down to a change in technique, with her favoured medleys to come later in the week.  
"It should help in the medley quite a lot. She's a very powerful swimmer, and breaststroke is very powerful stroke," he said.
However, the males missed out on a record-breaking day. A much anticipated matchup between top Commonwealth Youth Games swimmer Lewis Clareburt and Olympian Bradlee Ashby never eventuated when Clareburt was one of 13 males to be disqualified in the 400m IM, after he took an extra butterfly kick.  The pair were seeded 0.10 seconds apart, with Ashby clocking 4:10.12 in the final, eighth and a half seconds clear of the field, after winning all three of his morning swims.
Both Ashby and Clareburt  -along with Wilrich Coetzee, are seeded under two minutes in the 200m IM tomorrow.
The championships, held at the Sir Owen G. Glenn National Aquatic Centre in Auckland, conclude on Saturday.
Click here to view full results from day one finals.