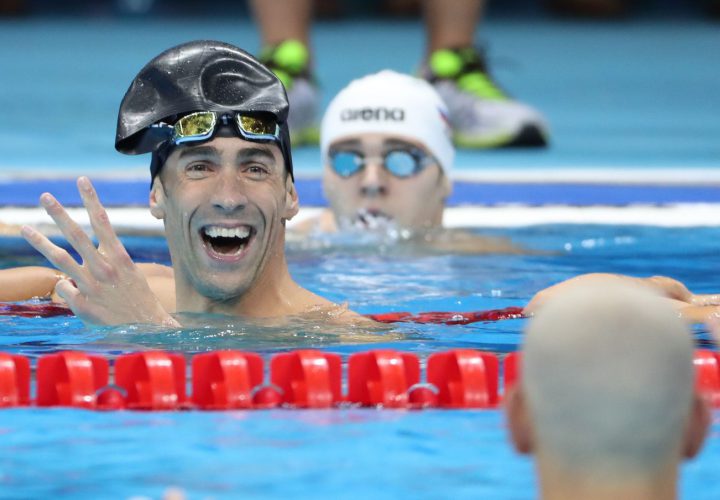 Editorial Coverage Sponsored By FINIS
By David Rieder.
The 100 fly was supposed to be the perfect cap on Michael Phelps' career in individual events. The story had already been written—Phelps would come from behind as he so often has in major races in the 100 fly. After winning the previous three Olympic golds in the event by a combined 28 one-hundredths of a second, Phelps would win his fourth straight gold medal in the event.
Phelps started the final in lane two—the first time he had been in that lane in 18 individual Olympic finals—two lanes over from Joseph Schooling, the 21-year-old from Singapore, who had blasted a top-seeded 50.83 in the semifinals.
In the next two lanes, two of the biggest rivals of Phelps' career, Chad le Clos—he who beat Phelps for gold in the 200 fly four years ago in London and then four days ago sparked the social media phenomenon known as #PhelpsFace—and Laszlo Cseh, the man who had won five Olympic medals, none of them gold and all behind Phelps.
The script was written, the "Publish" buttons waiting to be pressed.
But sports have a way of producing truly magical moments, and the seventh night of swimming produced four. In the second of those, the greatest swimmer of all-time passed the torch.
Schooling went out in 23.64, three tenths of a second ahead of Aleksander Sadovnikov and more than a half-second ahead of runner-up Phelps.
Phelps was used to those deficits. What was one more?
But Phelps was not catching up—sure, he had pulled even with just about everybody else in the field, but Schooling was maintaining the advantage and even pulling ahead.
After three straight photo finishes in the event, this one was not even close. Schooling won in 50.39, three-quarters of a second ahead of the three silver medalists.
Yes, three silver medalists. Phelps, le Clos and Cseh all touched in 51.14, the first time ever that three swimmers had shared one medal at the Olympic Games.
In previous years, a scathing Phelps would have arrived to speak with the press after a loss and nitpicked the little details of the race with a scowl. Nothing was ever good enough. That was the drive that carried Phelps—at ages 19, 23 and 27—to the top of an Olympic podium a record-22 times, 13 of those instances for his own work and nine as a contributor to a group effort.
But for this 31-year-old Phelps, that would do no good. Phelps' start was not great—his 0.70 reaction time was tied for second-slowest in the field—but Phelps will never again stand on the blocks, swing his arms over his back three times and hear the starter say "Take your marks."
This Phelps walked through the mixed zone and called out to a familiar black-capped figure walking away from the scrum.
"Maya!" he called out.
And Maya DiRado, the newly-crowned Olympic gold medalist in the 200 back, turned around, and she and Phelps embraced.
When Phelps emerged to face reporters as a silver medalist for the third time in his career, one reporter asked, "What did you think?"
"Of what?" Phelps replied, his pure joy and pride for DiRado beaming from his face.
"It's what I had," Phelps said. "It's been a really long week, and I knew this was going to be a tough one. Joe has great underwaters—he's a good swimmer. He was the most prepared one in that field. Nothing I can do."
Phelps laughed about the irony of the entire situation of his three-way tie for silver.
"With Laszlo and I, we've had just about as long a history as Ryan [Lochte] and I have. Me, him and Ryan have been through some wild IMs together," Phelps said. "And obviously Chad over the last four years. I think it's a wild ending to the story for all three of us being on the silver medal podium."
But then there was Schooling, who actually beat Phelps 51.58 to 51.65 in the latter's final tune-up for U.S. Olympic Trials two months ago, and Phelps gushed about what he believes to be Schooling's unlimited potential.
"I think it'd be pretty cool to see someone else break 50," Phelps said. "It's up to him where he wants to take it. Ball's in his court. As big as he wants to dream and as hard as he wants to work to do whatever's in his head."
Schooling took in Phelps' praise, still coming to terms with the fact that he had won Olympic gold, in the process beating the man he first met as a 13-year-old when Phelps and the 2008 U.S. Olympic team trained for the Beijing Games in Singapore.
Schooling called Phelps his idol, his driving force in the pool and the man after whom he modeled his own burning need to win. But quietly as he listened to Phelps speak, Schooling was humbled.
"If it wasn't for Michael, I don't think I could have gotten to this point. I wanted to be like him as a kid," Schooling said. "I don't think I'm anywhere close to those three guys next to me. Today just happened to be a good day for me. I think Chad, Laszlo and Michael should still be the face of butterfly."
For sure, Phelps will remain the public face of swimming for some time—his accomplishments, after all, have put him in the conversation among casual sports fans as one of the greatest athletes ever—in any sport.
But Phelps' time in the water will come to an end Saturday night after he competes in the men's 400 medley relay, and even after he broke his promise to stay retired four years ago, Phelps insists that this time, it's for real.
Phelps swam three individual events at the Olympic Games, and to each he responded differently. There was the passion that poured out when Phelps reclaimed his gold in the 200 fly, the event that mattered most to him. Next up was the four-finger wag after his 200 IM gold medal, Phelps well aware of his newly-captured place in history.
And after the 100 fly, Phelps' first medal these Games of any variety aside from gold, there was laughter in an ironic scene where Phelps, le Clos and Cseh all held hands as they stepped onto the podium to accept their silver medals.
Sure, Phelps would have loved to win his final individual race—he even admitted that. But instead, Phelps shared a medal with two of his biggest rivals and watched a young man for whom he has the utmost respect introduce himself to the world with stunning authority.
Phelps smiled for himself, for his rivals and for fellow Americans DiRado, Katie Ledecky and his fellow 2000 Olympian Anthony Ervin, all gold medalists on the night.
On this night, Phelps' time was slower, his medal was silver, but his legend never stronger.