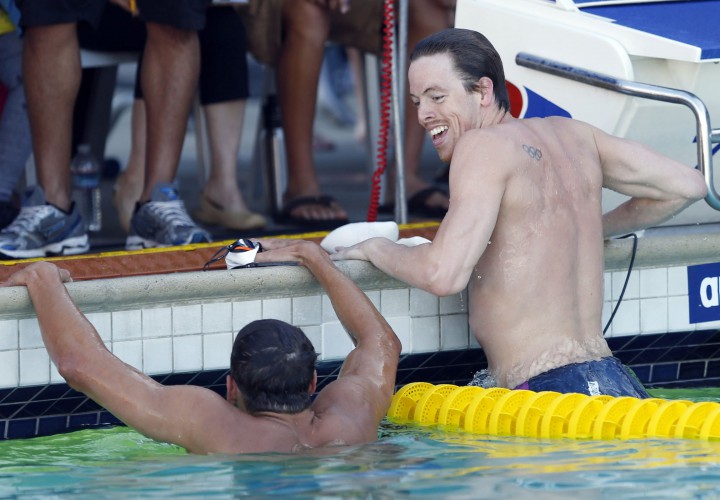 Photo Courtesy: Robert Stanton/USA Today Sports Images
Welcome to Swimming World's Set Of The Week! This week's set is a distance based aerobic freestyle and kick set. Great for high school swimmers and above, this set emphasizes consistent paced swims and descending kicks to get the legs moving. Take a look at the set below:
5 x 300 swim on :30 SR
8 x 100 kick descend 1-4, 5-8 on :15 SR
8 x 200 swim on :20 SR
12 x 50 kick descend 1-4, 5-8, 9-12 on :15 SR
16 x 100 swim :10 SR
16 x 25 kick descend 1-4, 5-8, 9-12, 13-16 on :15 SR
Totaling 5,500 yards, this set is not for the faint of heart. Consistency is the name of the game, with each successive set of swims getting shorter on tighter rest. You can easily substitute equivalent intervals for the swims, but the focus should be on holding a consistent pace while steadily getting less and less rest as the set progresses.
The kicks in between the swims, while still decreasing in yardage, actually get more rest per swim as the set progresses. All rounds of the kicking have a descend focus, with the idea that you really challenge the legs before asking your swimmers to go back to holding their swim pace in the following portion set. The idea behind this is that your swimmers will learn to develop a big finishing kick in their swims that will enable them to come home fast no matter what distance they are competing.
While this set is written with a freestyle focus in mind, it can easily be modified to include stroke alternated with freestyle or IM options. The kick portions of the set can also be modified to include fins or an underwater focus. However the set is modified, the basic template is a great way to get in a considerable amount of yardage in an engaging way for your distance group. Happy swimming!