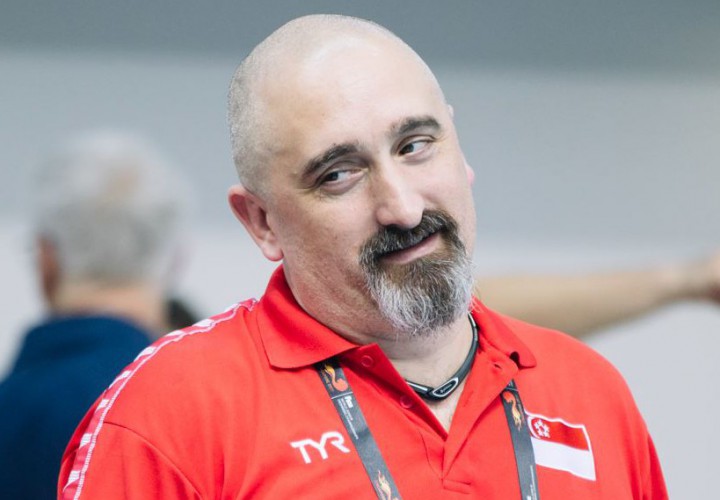 Photo Courtesy: Singapore Swimming Federation
NCAA DI Championship Editorial Coverage is proudly sponsored by Adidas. Visit All-American Swim for more information on our sponsor. For all the latest coverage, check out our event coverage page.
In what is likely a first at the NCAA Division I Men's Championships, a trio of former Bolles Swim Club standouts shared the CSCAA Swimmer of the Year award this year.
California's Ryan Murphy, Texas' Joseph Schooling and Florida's Caeleb Dressel each spent their prep years at the Bolles Swim Club, swimming for former head coach Sergio Lopez, prior to heading off to college and winning the Swimmer of the Year award last night.
Murphy and Schooling were part of arguably one of the best high school teams of all time in 2012 when they destroyed the national high school record, while Dressel still maintained his ties to the public school system as he swam for Clay High School in Florida.
Lopez, who has since moved on to coach the Singapore National Team through his connection and development of Schooling, took to Facebook/Instagram last night to reflect on the historic effort by the Bolles trio.
Watching these past three years, the men's NCAA Championships is a confirmation that the work our coaching staff did at Bolles was right. When I got to Bolles, I told the coaching staff that our job was going to develop a well-rounded student-athlete that the next coach (college) will take him/her to the next level.

It is a hard task, because as a coach you always want the swimmer to swim faster and faster under you, and many times we forget the long-term career of that swimmer.

I could not be prouder of Ryan Murphy, Joseph Schooling and Caeleb Dressel for being named Co-Swimmers of the 2016 NCAA Championships. I believe the first time in history that three swimmers get the award, and that between all of them they set so many records and win 6 individual events and all of them coming from the same club #BollesTradition

I also want to congratulate Coach Dave Durden, Coach Eddie Reese and Coach Gregg Troy and their staffs for the amazing jobs that they have done with their swimmers and teams.

I also want to mention another swimmer from our #BollesFamily Teo D'Alessandro that had an amazing career as a student-athlete at Princeton leading the team in and out of the pool and was able to represent #PrincetonSwimming at this NCAAs

Last but not least I want to thank Jon Sakovich, Jason Calanog, Michael Walker, Payton Brooks, Dale Porter, Christian Bahr, Clare Blackwell and many others that worked together with the same goal to help #BollesSwming develop well-rounded swimmers.

I am very humble and thankful to have been able to be part of coaching and working with such special and dedicated swimmers, coaches and families. I like to say #InLifeThereAreNoOrdinaryMoments and these past three days had nothing of ordinary

#NeverGiveUpOnYourDreams #SharingThePowerOfSwimming