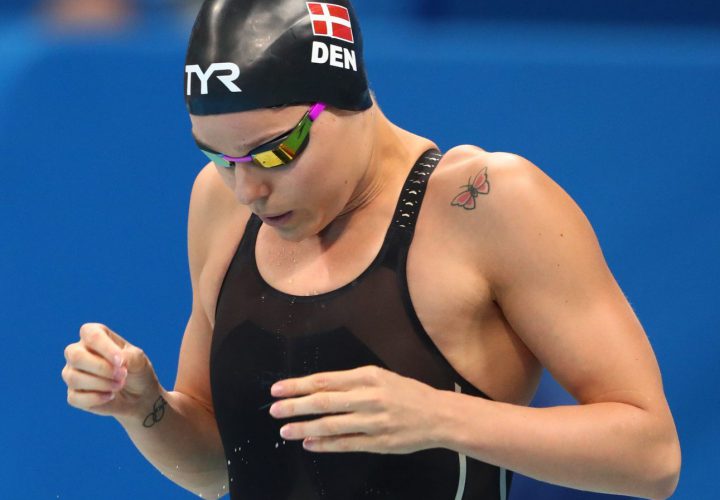 Photo Courtesy: Rob Schumacher-USA TODAY Sports
Editorial content for the 2017 FINA World Cup is sponsored by TritonWear. Visit TritonWear.com for more information on our sponsor. For full Swimming World coverage, check event coverage page.
Several Olympic gold medalists, particularly on the women's side, posted strong efforts during day two prelims at the FINA World Cup Tokyo. Among the highlights, the Olympic gold medalist set up a showdown against two World Champions in the women's 50 free, while a 15-year-old American topped one of the world's best swimmers in the prelims of her best event.
Japan's Sakiko Shimizu was the only swimmer under 2:10 in the women's 200 IM, touching in 2:09.99. She was followed by countrywomen Miku Kojima (2:10.23) and Yui Ohhashi (2:10.29). Japan's Tomoni Aoki topped prelims of the women's 100 free in 54.47, just ahead of Nagisa Ikemoto (54.49) and Sayuki Ouchi (54.54).
Japan's Hiromasa Fujimori posted the top time in the men's 200 breast at 2:06.77. Long course world record-holder Ippei Watanabe tied with Kazuki Watanabe for second at 2:07.02. Japan's Naito Ehara finished well ahead of anyone else in the men's 400 free at 3:42.48, ahead of countrymen Taketomo Tani (3:47.23) and Kaito Tatsumi (3:47.73).
Japan's Hiromasa Fujimori clocked a time of 53.57 to qualify first in the 100 IM, leading Meguru Hotta (53.97) and Yuuma Edo (54.10). Japan's Kousuke Matsui was easily atop the 50 free with his time of 21.45. Katsumi Nakamura qualified second (21.85) and Masayuki Kishisa third (22.14).
In the women's 100 IM, Hungary's Katinka Hosszu and Australia's Emily Seebohm set up a showdown for the finals as Hosszu qualified in 57.09 and Seebohm in 59.31. American teenager Alex Walsh qualified third in 1:00.41.
Japanese Olympic silver medalist Masato Sakai topped prelims in the men's 200 fly, finishing with a time of 1:53.32. China's Li Zhuhao was second in 1:53.49, and Japan's Nao Horomura took third (1:53.56).
The USA's Regan Smith took the top seed in the women's 200 back in 2:03.81, but World and Olympic silver medalist Hosszu was just behind in 2:04.67. China's Liu Yaxin qualified third in 2:05.94. Hosszu later topped the 100 fly prelims in 56.50, with Japan's Rikako Ikee second (57.09) and Smith third (57.40).
In the men's 50 breast, Russia's Kirill Prigoda qualified two tenths ahead of Japan's Yasuhiro Koseki, 26.25 to 26.45. Brazil's Raphael Rodriguez took third in 26.48.
Australia's Cate Campbell finished one hundredth ahead of Danish Olympic gold medalist Pernille Blume in the women's 50 free, 24.04 to 24.05. Long course world record-holder Sarah Sjostrom of Sweden came in third at 24.18. The Japanese duo of Chihiro Igarashi (4:05.87) and Mayuko Gotou (4:06.06) topped prelims of the women's 400 free. Hungary's Boglarka Kapas took third (4:06.75).
Australia's Cameron McEvoy put up a strong 1:44.23 for the top spot in the men's 200 free, ahead of France's Clement Mignon (1:45.13) and Japan's Katsuhiro Matsumoto (1:45.42). Japan's Masaki Kaneko finished just ahead of more-heralded countryman Ryosuke Irie, 50.63 to 50.66, in the men's 100 back. Germany's Christian Diener qualified third (51.18).
In the final individual prelims race of the day, Alia Atkinson topped the field in the women's 100 breast in 1:04.75, ahead of Japan's Kanako Watanabe (1:05.58) and Spain's Jessica Vall (1:05.85).
Ippei Watanabe returned after his 200 breast to post the fastest time in the early heats of the men's 400 IM, touching in 4:05.35. He was followed by fellow Japanese swimmers Kouhei Itou (4:07.87) and Keita Sunama (4:09.00).
The Australian team of William Stockwell, Louis Townsend, Cate and Bronte Campbell qualified first in the mixed 200 free relay in 1:31.79. The Netherlands (1:32.18) and Russia (1:34.05) rounded out the top three.