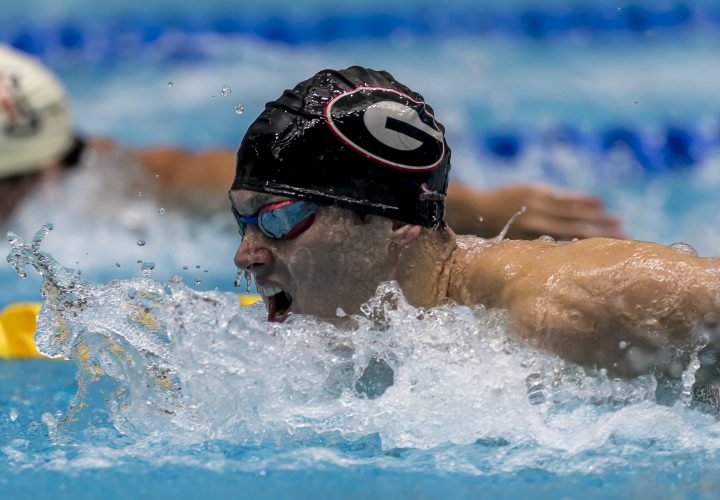 Gunnar Bentz
Photo Courtesy: Peter H. Bick
By Dan D'Addona.
The SEC swimming & diving season continues with just three meets this week.
The conference saw plenty of key graduations from every school and should be in for another close race with Georgia, Texas A&M, Florida, Alabama and Auburn.
But this week will see a trio of meets as teams gear up for SEC competition.
Here is a look at the meets this week:
North Carolina at Georgia
Two of the top programs on the East Coast will square off this week as North Carolina travels to Georgia on Oct. 6
The Georgia men lost Chase Kalisz and a host of point scorers, but still have Javier Acevedo, Gunnar Bentz and the Litherland triplets, now seniors.
Meanwhile, the Georgia women lost national champion Olivia Smoliga and Chantal Van Landeghem, but return Meaghan Raab, Kylie Stewart, Veronica Burchill and add her sister Sammie, a freshman.
The Bulldogs are up against a program that has had strong showings in the ACC in recent years, but has been overtaken by Virginia and North Carolina State the past two years. The Tar Heels will use this meet to see their progress, and what it will take to make a run at the conference title in the near future.
Vanderbilt at Kentucky
On Oct. 4, Vanderbilt and Kentucky will meet for the only all-SEC meet of the week. Both teams are looking to build on past seasons and this meet will be a good gauge of where they stand before meeting stronger conference competition.
Tennessee at UNC-Wilmington
On Oct. 6, Tennessee will travel to UNC –Wilmington for a dual meet.
The Volunteers had a solid showing last year, but the women will have to make up for the barrage of points that Kira Toussaint provided each week. She has graduated, but not stopped swimming, winning gold at the World University Games.