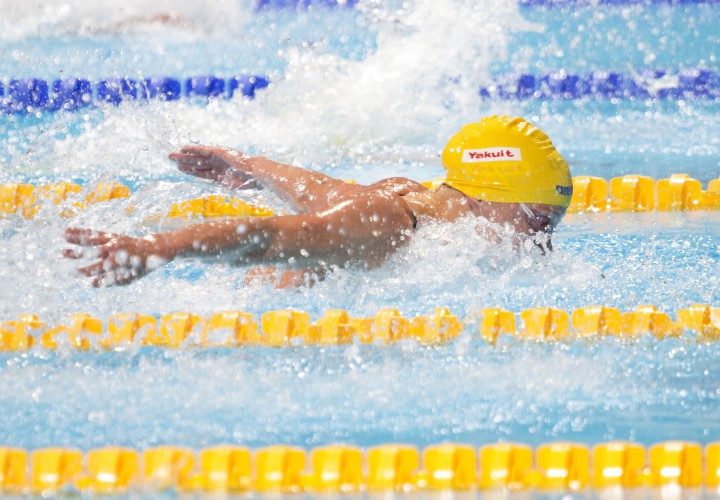 Photo Courtesy: Joao Marc Bosch
Coverage of the 2015 FINA World Championships is sponsored by Wylas Timing. Visit our coverage page for more.
Sarah Sjostrom certainly put herself in position to make a run at Dana Vollmer's world record in the women's 100-meter fly at the 2015 FINA World Championships during prelims.
Sjostrom clocked a swift time of 56.47 to dominate qualifying by more than a second. She already challenged Vollmer's world record of 55.98 from 2012 with a world-best 56.04 earlier this year at the Sette Colli Trophy Meet.  That time already is faster than Sjostrom's meet record of 56.06 from 2009.
Sjostrom is the only Swedish swimmer to have ever won gold in this event with wins in 2009 and 2013, and she's on path to do it again.
Denmark's Jeanette Ottesen qualified second with a 57.79, this after sustaining a broken finger during a road rage attack earlier this summer.
The Netherlands' Inge Dekker (57.82), China's Lu Ying (57.84) and Canada's Katerine Savard (57.96) also cleared 58-seconds to make it into the semis.
Germany's Nathalie Wenk (58.05), USA's Kendyl Stewart (58.06) and Australia's Emma McKeon (58.12) rounded out the top eight.
South Korea's An Sehyeon (58.24), Australia's Madeline Groves (58.31), China's Chen Xinyi (58.34), Canada's Noemie Thomas (58.35), Belgium's Kimberly Buys (58.36), Italy's Ilaria Bianchi (58.37) and Japan's Natsumi Hoshi (58.47) secured semifinal spots as well.
Egypt's Farida Osman and Great Britain's Rachael Kelly set up a 16th-place swimoff with matching 58.48s. Kelly won the swimoff, 58.17 to 58.22.
SCHEDULED EVENTS
Women's 100 fly
Men's 400 free
Women's 200 IM
Men's 50 fly
Women's 400 free
Men's 100 breast
Women's 400 free relay
Men's 400 free relay