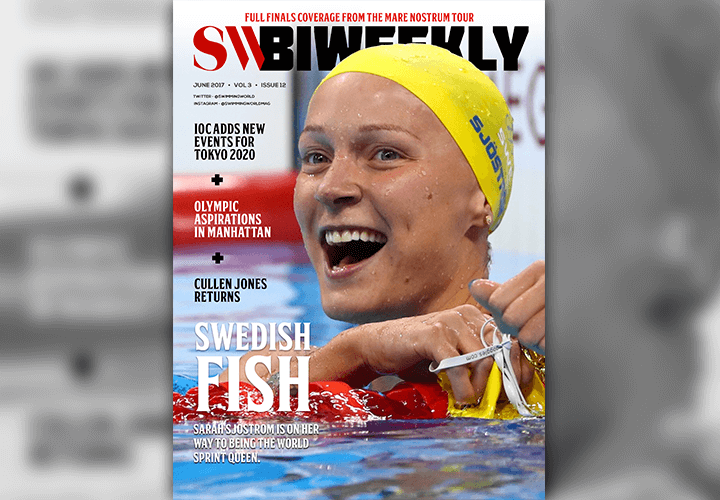 Olympic gold medalist Sarah Sjostrom shines on the cover of the current Swimming World Biweekly. Sjostrom, a two-time Olympian from Sweden, recently threw down top times in the 50, 100 free and 50, 100 fly while swimming in the 2017 Mare Nostrum Series. In addition to posting the top times in the world for 2017, Sjostrom also flirted with several world record marks.
Current subscribers can visit the Swimming World Vault to download this issue and the latest Swimming Technique Magazine! Non-Subscribers can download and sample the current Swimming World Biweekly for FREE!
Swimming World recounts the news of the Olympic events being added to the lineup for the 2020 Tokyo Olympics, followed by a commentary by staff writer David Rieder questioning whether or not there are too many Olympic events. Additional IOC news includes the sudden ending of a partnership with McDonalds and a commentary by ISHOF CEO, Bruce Wigo, regarding the removal of the last vestige Victorian morality from the Olympic swimming program.
Full recaps of the 2017 Mare Nostrum Series are available in this issue, plus a closer look at the controversy that follows Russian Olympian Yulia Efimova. Also included in this issue are features on Olympians Ryan Murphy, Cullen Jones, Thomas Fraser-Holmes, and Michael Phelps. 
Special $4.95 Offer For New Subscribers!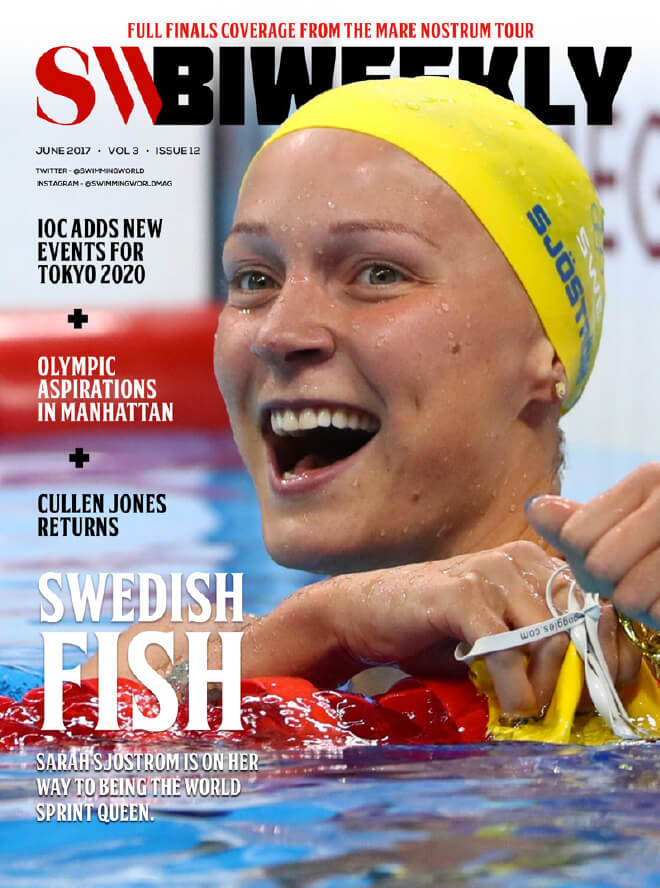 Save 25% on a 1 year subscription and download more issues from the Swimming World Vault and get the following:
Use Coupon Code: realnews and save 25%
A monthly print copy of Swimming World Magazine in the mail for 1 year!
Free download of the next 12 issues and the past 12 issues of Swimming World Magazine!
Free download of next 24 issues and the past 24 issues of Swimming World Biweekly!
Free download of next 4 issues and the past 4 issues of Swimming Technique Magazine!
Click Here For This Special Offer with coupon code "realnews"
FEATURES:
SARAH SJOSTROM GRABS AT WORLD RECORDS IN CANET-EN-ROUSILLON
by Katie Wingert
The first night of competition in Canet-en-Rousillon, starting off the final leg of the Mare Nostrum Series, proved to be the property of Sweden's Sarah Sjostrom.
SARAH SJOSTROM SHINES AT MARE NOSTRUM MONACO
by David Rieder
Sarah Sjostrom has been on fire so far in 2017 in the 50s and 100s of free and fly, and that trend continued on day one of the Mare Nostrum tour in Monaco…
YULIA EFIMOVA SCARES 200 BREAST WORLD RECORD AT MARE NOSTRUM BARCELONA
by Diana Pimer
The usual suspects were at it again at the 2017 Mare Nostrum Barcelona round. After successful stops in Monaco, Sarah Sjostrom, Yulia Efimova and Katinka Hosszu all added more victories to their tally…
CONTROVERSY FOLLOWS YULIA EFIMOVA TO WORLD CHAMPS
by David Rieder
When it comes to the women's breaststroke events this summer at the World Championships in Budapest, Yulia Efimova will be front and center. She has even earned the status of "favorite" in the 200 breast. But wherever Efimova goes, controversy and attention will follow…
IOC ADDS WOMEN'S 1500, MEN'S 800, MIXED MEDLEY RELAY FOR TOKYO 2020 OLYMPICS
by David Rieder
The International Olympic Committee has added three new races to the Olympic program for the Tokyo 2020 Olympic Games, according to a report from Inside the Games. A press release from Olympic.org confirmed that report…
FINA AND IOC REMOVE LAST VESTIGE OF VICTORIAN MORALITY FROM THE OLYMPIC SWIMMING PROGRAM
by Bruce Wigo
From the Middle Ages to the dawn of the 20th century, women were discouraged from participating or even watching physical activity. This view was held because a woman was supposed to be passive, obedient and the "weaker sex."…
ARE THERE NOW TOO MANY OLYMPIC SWIMMING EVENTS?
by David Rieder
Of the three new Olympic swimming events added to the program this week, none will draw more attention in 2020 in Tokyo than the women's 1500 free—mostly because of Katie Ledecky…
THOMAS FRASER-HOLMES SENT HOME FROM MARE NOSTRUM AFTER SUSPENSION
by David Rieder
Swimming Australia sent Thomas Fraser-Holmes home from Monaco, where he was in town to compete in the first stop of the Mare Nostrum series, after he was officially suspended one year for missing three out-of-competition anti-doping tests.
RYAN MURPHY SIGNS WITH SPEEDO
by David Rieder
Speedo has announced their deal with three-time Olympic Gold Medalist and 100 backstroke World Record holder Ryan Murphy. The backstroker went pro this month after the completion of his NCAA eligibility at the University of California-Berkeley.
UCLA'S BROOKS STEPS DOWN AFTER 8 SEASONS; STANFORD IS LIKELY CULPRIT
by Michael Randazzo
Last month when Maggie Steffens ended her Stanford career by burying the game winning goal to lead the Cardinal to an 8-7 win over UCLA in the 2017 NCAA Women's Water Polo Championship match, she likely also ended Brandon Brooks' career coaching the Bruins…
MICHAEL PHELPS, TOO GOOD FOR HUMANS, TO RACE GREAT WHITE SHARK
by James Sica
While Michael Phelps has taken on (and beaten) his fair share of competitors throughout his storied career, the Olympic legend apparently isn't done making history. Phelps plans to race a great white shark in this year's Shark Week on the Discovery Channel.
CULLEN JONES RETURNS WITH UNFINSIHED BUSINESS
by David Reider
Cullen Jones never figured he wouldn't make the Olympic team in 2016, even with the talented field that was waiting for him in the 50 free at Olympic Trials…
OLYMPIC ASPIRATIONS FLOURISH ON MANHATTAN'S UPPER EAST SIDE
by Michael Randazzo
For those unfamiliar with New York City's once-abandoned, now landmarked, Municipal Asphalt Plant—it may come as a surprise that the athletic complex  houses the city's finest age group swim program.
FOR THE LOVE OF THE SPORT—PASSION VERSUS POLITICS
by Maddie Strasen
Almost everything we do in life is based on our language. We can either wake up, tell ourselves we're going to have a good day, and make the most of every moment, or we can beat down on ourselves or others to foster a negative environment.
INTERNATIONAL OLYMPIC COMMITTEE ENDS PARTNERSHIP WITH McDONALDS
by David Rieder
The long-term partnership between the International Olympic Committee and McDonalds has ended. The American fast food chain had been one of the 13 companies participating in "The Olympic Partner" program and had been sponsoring the Olympics for 40 years…
A COST BENEFIT ANALYSIS OF A LIFELONG SWIMMING CAREER
by Ailish Dougherty
As any swim parent knows, the costs of a lifetime of competitive swimming can be hefty. From humble beginnings in a learn-to-swim program, to earning a spot on a college team, there are many prices to be paid to ensure a happy, successful swimming career…
4 IMPORTANT REASONS FOR YOUNGER ATHLETES TO SWIM EVERY EVENT
by Robert Griswold
In swimming, the topic of specialization of young athletes is often contentious and controversial. At the beginning of my career, I was extremely fortunate to grow up and participate in a program that put an emphasis on doing all different types of events…
3 WAYS TO PREVENT SWIMMER'S SHOULDER
by Shunichi Fujishima
Research done by the North American Journal of Sports Physical Therapy suggests that one third of competitive swimmers experience what is known as Swimmer's Shoulder, which is a term used to describe a shoulder that is inflamed due to overuse…