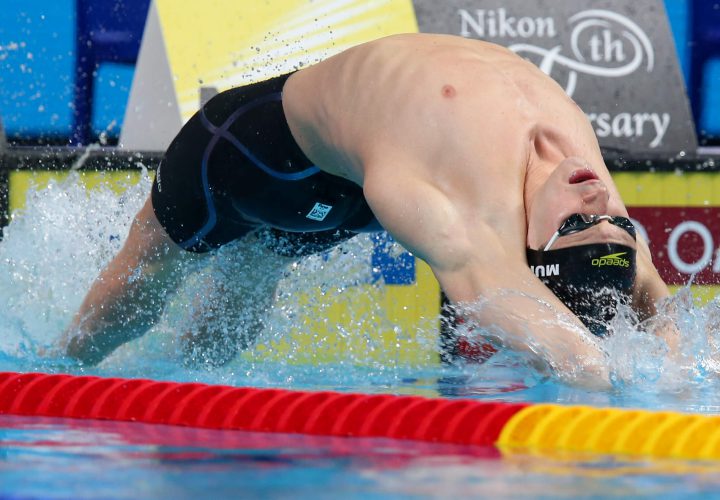 Editorial Coverage provided by

Men's 200 Back
American Ryan Murphy was beat out for the World title in the 100 back, but his 200 appears to be on point in the early goings in Budapest. He trailed Hungary's Peter Bernek by a full bodylength heading into the final 50 of their prelim heat, but Murphy accelerated down the stretch and posted the top time of the morning in 1:56.11.
Bernek qualified second in 1:56.56, ahead of Lithuania's Danas Rapsys (1:56.67) and Russia's Kliment Kolesnikov (1:56.74). China's Xu Jiayu, the World Champion in the 100 back, was fifth in 1:56.92.
Japan's Ryosuke Irie qualified sixth in 1:57.21, and Russia's Evgeny Rylov was seventh in 1:57.28. They were followed by Hungary's Adam Telegoy (1:57.41), China's Li Guangyuan (1:57.66), Great Britain's Luke Greenbank (1:57.67) and Australia's Josh Beaver (1:57.67).
A trio of big names had to squeeze into the semi-finals as Japan's Kosuke Hagino was 12th in 1:57.97, while Australia's Mitch Larkin, the reigning World Champion, qualified 13th in 1:58.00. The USA's Jacob Pebley took 14th in 1:58.05.
Brazil's Leonardo De Deus (1:58.33) and New Zealand's Corey Main (1:58.34) earned the final two spots in the top 16. Poland's Radoslaw Kawecki, the Short Course World Champion, was 18th in 1:58.41.