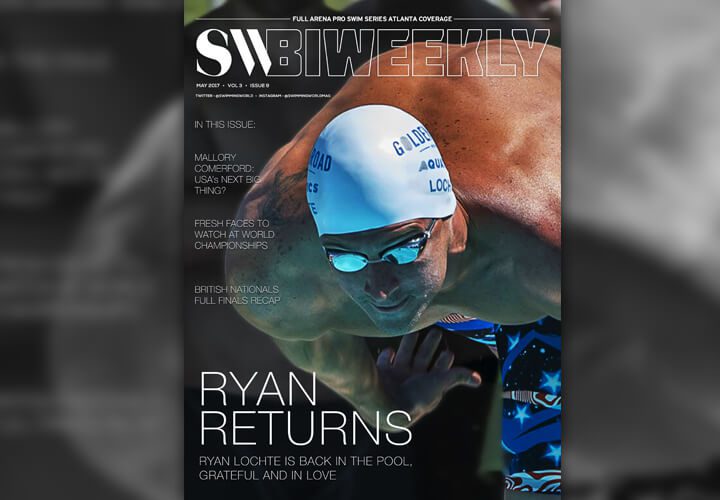 Ryan Lochte made his return to competitive swimming at the U.S. Masters Nationals meet in sunny Riverside, California. He returned to the pool with a new passion for the sport and a new love.
Featured alongside Lochte in the ninth edition of the 2017 Swimming World Biweeklys, are recaps of the Arena Pro Swim Series stop in Atlanta, the British Nationals, and the U.S. Masters Nationals.
Additional items featured include the obituaries of swimming greats Adolph Kiefer, a 1936 Olympic gold medalist, and Chuck Wielgus, former CEO of USA Swimming.
Current subscribers can visit the Swimming World Vault to download this issue now!
Non-Subscribers can download for FREE by clicking HERE.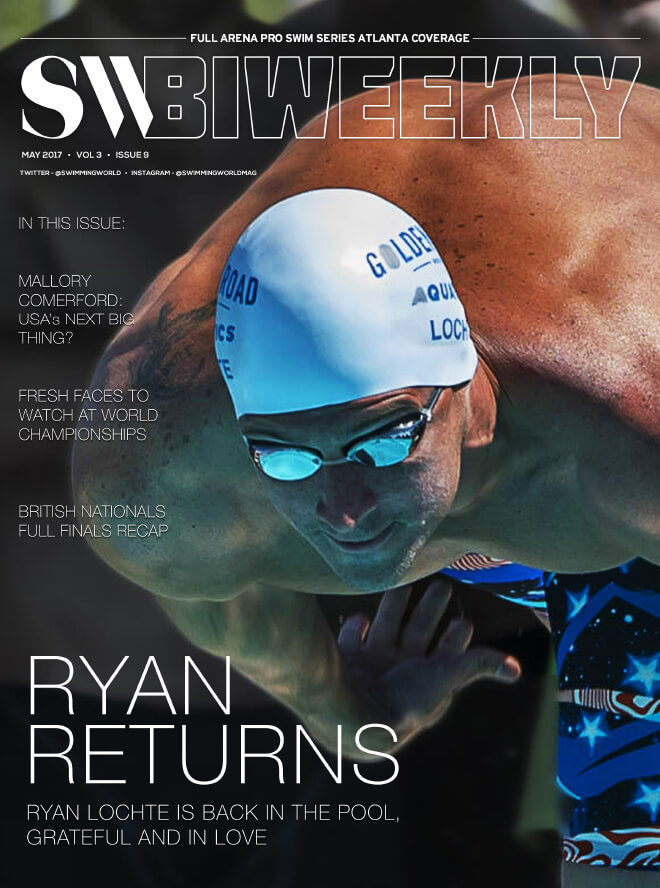 Be sure and download your FREE copy of Swimming World Biweekly today!
Save 25% on a 1 year subscription and download more issues from the Swimming World Vault and get the following:
Use Coupon Code: realnews and save 25%
A monthly print copy of Swimming World Magazine in the mail for 1 year!
Free download of the next 12 issues and the past 12 issues of Swimming World Magazine!
Free download of next 24 issues and the past 24 issues of Swimming World Biweekly!
Free download of next 4 issues and the past 4 issues of Swimming Technique Magazine!
Click Here For This Special Offer with coupon code "realnews"
FEATURES:
008 ADOLPH KIEFER, 1936 OLYMPIC GOLD MEDALIST, PASSES AWAY AT AGE 98
by David Rieder
Adolph Kiefer, the legendary backstroker who won gold in the 100 back at the 1936 Olympics before going on to a successful career in the U.S. Navy and in business, has passed away at his home in Wadsworth, Illinois.
009 CHUCK WIELGUS PASSES AWAY AT AGE 67
by Brent Rutemiller & David Rieder
Chuck Wielgus, the Chief Executive Officer for USA Swimming passed away April 23, 2017. Wielgus announced his retirement earlier this year. He has also served as CEO of the USA Swimming Foundation since 2004…
010 ARENA PRO SWIM SERIES ATLANTA FULL FINALS RECAP
by David Rieder & Taylor Brien
All the finals action from Atlanta as the Arena Pro Swim Series makes its annual stop in Georgia.
016 ARENA PRO SWIM SERIES: TO RACE OR NOT TO RACE?
by David Rieder
Bob Bowman, the longtime coach of Michael Phelps and the head coach of the 2016 U.S. men's Olympic swim team, has a saying: "Those who know don't predict, and those who predict don't know."
018 BRITISH NATIONALS FULL FINALS RECAP
by Andy Ross
Full finals recap from British Nationals as the rosters are set for the World Championships this summer in Budapest.
024 U.S. MASTERS NATIONALS FINALS RECAP
by David Rieder
Olympic gold medalist Ryan Lochte had not competed since last year's Olympics in Rio, as he is currently suspended for his role in an outside-the-pool incident in Brazil, but he competed for the first time at U.S. Masters Nationals in Riverside, California…
028 USA SWIMMING ANNOUNCES 2020 OLYMPIC TRIALS WILL RETURN TO OMAHA
by David Rieder
USA Swimming has announced that the 2020 Olympic Trials will return to the CenturyLink Center in Omaha, Neb., for the fourth time…
030 HOW MALLORY COMERFORD CAN REPRESENT THE USA AT THE WORLD CHAMPIONSHIPS
by David Rieder
In March, Mallory Comerford went head-to-head with two Olympic gold medalists, taking down one and tying the other…
032 FRESH FACES POISED TO CHALLENGE FOR WORLD TITLES
by David Rieder
With some key exceptions, most of the world's top swimming countries have held their World Championships qualification meets already, and in the grand scheme of things, there were no shocking upsets…
034 THREE WORLD RECORDS FALL AT BRITISH PARA-SWIMMING INTERNATIONAL MEET
by Diana Pimer
The British Para-Swimming International Meet 2017 took place at Ponds Forge International Sports Centre in Sheffield, Great Britain from April 27-30. The meet ran a mixed-class format with a Disability point system to determine the winner of each event.
035 GREG LOUGANIS NAMED SPORTS DIRECTOR OF RED BULL CLIFF DIVING WORLD SERIES
The only male to sweep both the 3m and 10m diving events in consecutive Olympic Games ('84 and '88), Greg Louganis, a regular on the Red Bull Cliff Diving World Series judging panel up until now, has observed the sport's progression over the past years.
036 RYAN LOCHTE RETURNS TO THE POOL WITH A NEW LOVE
by David Rieder
Ryan Lochte has done more than just about anyone else in the sport of swimming. He has made four U.S. Olympic teams and won 12 Olympic medals. But the Rio Olympics did not go as planned, in the pool or out of it…