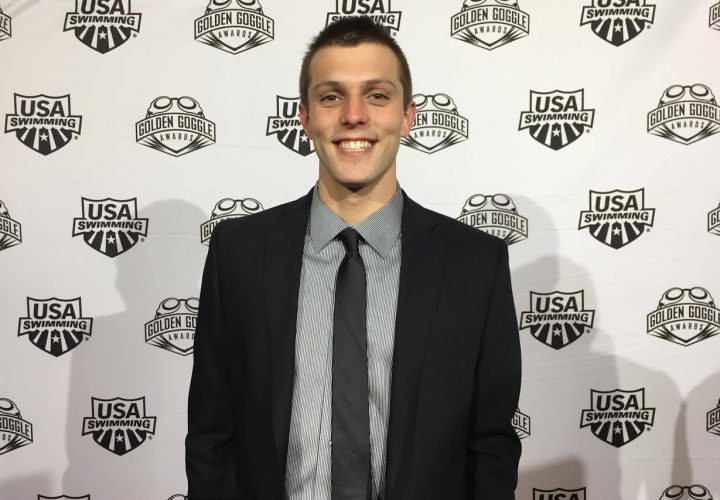 Ryan Held -- Photo Courtesy: Swimming World
Ryan Held, Will Licon, Ella Eastin and Ali DeLoof have been voted captains of the American swim team at the World University Games in Taipei. The swimming competition begins Sunday, Aug. 20.
Held, an incoming senior at NC State, is the team's only Olympian, and he swam alongside Caeleb Dressel, Michael Phelps and Nathan Adrian in the 400 free relay final at the Rio Games last year. He missed making the World Champs team by one spot and four hundredths, taking seventh in the 100 free at U.S. Nationals.
Licon recently completed his NCAA eligibility at the University of Texas, and he will swim the 200 breast and 200 IM in Taipei. He is a past NCAA champion in the yards versions of both events and was third in the 200 breast at Olympic Trials last summer.
Eastin, a junior-to-be at Stanford, originally finished second in the 400 IM at U.S. Nationals but was disqualified for a violation of the "Lochte rule" on her final turn. Because of the DQ, she cannot swim the 400 IM at WUGs, but she will have the 200 IM (in which she was third at Nationals) and 200 fly on her plate.
Eastin previously won silvers in both the 200 and 400 IM at the Short Course World Championships last December in Windsor.
The fourth captain is DeLoof, a former standout for the Michigan Wolverines, will swim the 50 and 100 back at WUGs, as well as (likely) the 400 free relay. She placed fourth in the 100 back at both Olympic Trials and this year's World Championship Trials. DeLoof also swam at Short Course Worlds, where she collected golds in both the 200 and 400 medley relays.
The full U.S. roster for WUGs, led by head coaches Carol Capitani and Whitney Hite, can be found here.