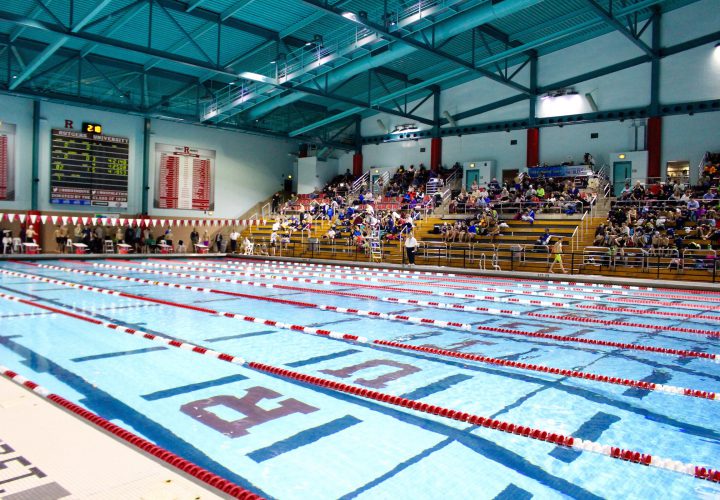 Photo Courtesy: Taylor Brien
PISCATAWAY, N.J. (August 10, 2016) – Rutgers swimming and diving announced its schedule for the 2016-17 season, which includes five meets at the RU Aquatics Center and showdowns with multiple Big Ten Conference opponents.
"We compete in one of the best conferences in the country, so we need to prepare and contend on the highest level the whole season," said head coach Petra Martin. "Our schedule is exciting and competitive. It provides great opportunities for our student-athletes to challenge themselves physically and mentally on the highest level while getting us ready for the Big Ten Conference and NCAA Championships."
The Scarlet Knights see four Big Ten opponents (Illinois, Northwestern, Penn State and Purdue) and three teams ranked in the final 2016 CSCAA Coaches Poll (No. 18 Purdue, No. 21 Penn State and No. 25 Yale).
RU participates in its intersquad meet on Sept. 27 before it begins the season at the Florida Gulf Coast Classic (Oct. 7-8) in Fort Myers, Florida. At last year's FGCU Classic, Rutgers finished fourth out of six teams with three individual race titles.
The Scarlet Knights arrive home on Oct. 15 for its annual "Alumni Meet" and will then embark on a road trip that features three conference foes in the span of two days. RU meets Miami (Fla.), Notre Dame and Purdue on Oct. 28 in South Bend, Indiana, then travels to Evanston, Illinois on Oct. 29 to face the Fighting Illini and Northwestern.
Rutgers returns home for its annual quad meet with Georgetown, Seton Hall and Villanova (Nov. 4-5) at the RU Aquatics Center. Last season, The Scarlet Knights defeated the Hoyas and Pirates but fell to the Wildcats.
The program will send athletes to the Big Ten versus the USA National Team meet fromNov. 11-13 in Indianapolis before hosting the Frank Elm Invitational (Nov. 18-20). That same weekend, RU's divers compete in the V-Tech Cup at the Christiansburg Aquatic Center in Christiansburg, Virginia. Rutgers closes out its fall schedule with a trip to Providence, Rhode Island for the Big Al Invitational from Dec. 12-14.
RU begins the spring semester portion of its season with a tri-meet against Penn State and Yale in University Park, Pennsylvania (Jan. 13-14). Both the Nittany Lions and Bulldogs finished the 2016 season ranked inside the CSCAA top-25. The following weekend (Jan. 20-21), the Scarlet Knights return to Virginia Tech to face the Hokies along with Cincinnati.
Rutgers concludes its home schedule when it hosts Richmond for Senior Day on Jan. 28. The Spiders captured the 2016 Atlantic 10 Championship with 653 team points.
The Big Ten Championships take place from February 15-18 at the Boilermaker Aquatic Center in West Lafayette, Indiana. Rutgers placed 10th at last year's conference championships with seven top-eight finishes and two school records.
Rutgers returns three athletes who broke school records and three who participated in the 2016 NCAA Championships. Rising senior Alyssa Black finished as an Honorable Mention All-American in the 3-meter dive, while rising junior Addison Walkowiak and rising sophomore Francesca Stoppa also represented RU at the NCAA Championships.
The Scarlet Knight's complete schedule is listed below. The program's promotional schedule for its home meets will be released at a later date.
Date
Event/Opponent
Location
Time

Sept. 27

Intersquad Meet
RU Aquatics Center

2 p.m.

Oct. 7-8

FGCU Swimming Classic
Fort Myers, Fla.

5:30 p.m.

/10:30 a.m.

Oct. 15

Alumni Meet
RU Aquatics Center

9:30 a.m.

Oct. 28

Miami (Fla.), Notre Dame & Purdue*
South Bend, Ind.
TBA

Oct. 29

Illinois* & Northwestern*
Evanston, Ill.

1 p.m.

Nov. 4-5

Georgetown, Seton Hall & Villanova
RU Aquatics Center
TBA

Nov. 11-13

B1G vs. USA National Team
Indianapolis, Ind.
TBA

Nov. 17-19

V-Tech Cup (Divers Only)
Christiansburg, Va.
TBA

Nov. 18-20

Frank Elm Invitational (Swimmers Only)
RU Aquatics Center
TBA

Dec. 2-4

Big Al Invitational
Providence, R.I.

10 a.m.

/6 p.m.

Jan. 13-14

Penn State* & Yale
University Park, Pa.

6 p.m.

/11 a.m.

Jan. 20-21

Cincinnati & Virginia Tech
Christiansburg, Va.

5 p.m.

/10 a.m.

Jan. 28

Richmond
RU Aquatics Center

10 a.m.

Feb. 15-18

Big Ten Championships
West Lafayette, Ind.
TBA

Feb. 24-26

ECAC Championships (Last Chance Meet)
TBA
TBA

March 6-8

Zone Diving Championships
Christiansburg, Va.
TBA

March 15-18

NCAA Championships
Indianapolis, Ind.
TBA
Home contests denoted in bold
*Denotes Big Ten Conference meet
Follow Rutgers Athletics on Facebook (www.facebook.com/RutgersAthletics) and Twitter (@RUAthletics) for all of the latest news and updates. For specific updates regarding Rutgers swimming & diving, follow the program on Twitter (@RUSwimDive) and on Instagram (ruswimdive). The team is also on Facebook (facebook.com/RUSwimDive).
Rutgers University contributed this report.